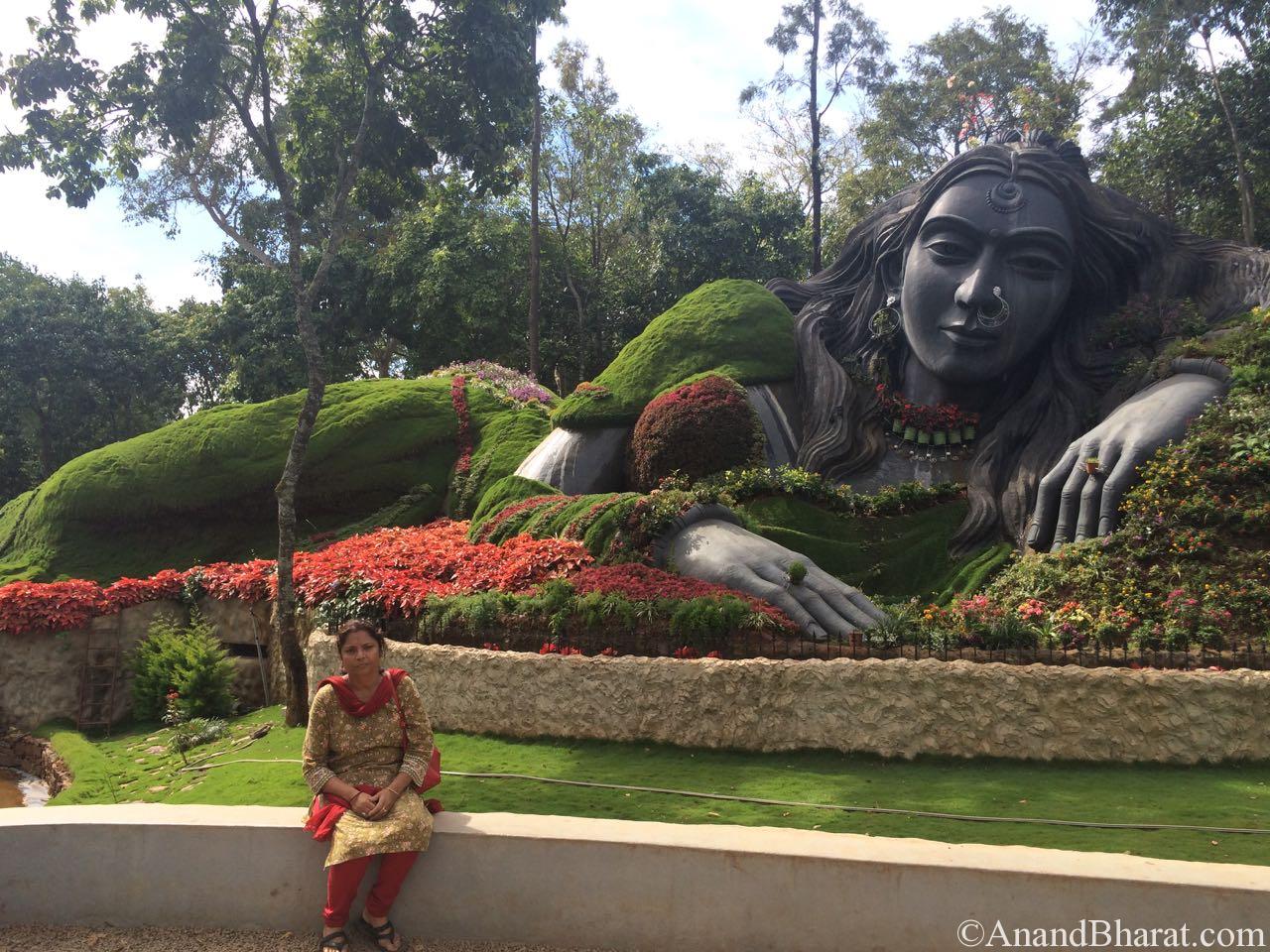 A Trip to Chikmagalur- A Sunday drive
                A Trip to Chikmagalur- A Sunday drive
As per schedule on day 1 we had completed Halebeedu visit and this was our 2nd day of trip.
Our fellow travelers could not resist visiting Halebeedu temple again in early morning of 6 AM. The temple was looking again a beauty bathed just come out of water and now bathing in golden beam of sun. The fotos were great and it is always good to take the fotos of ancient temples in early morning when there is no crowd. So 6.30 AM again we visited Halebeedu temple and came back to hotel.
Took breakfast and headed for Chikmagalur at exact 8.45 AM. The road was not so good till about 10 KM but being non highway road we could see the village, people bathing in sun in groups and performing daily chores. I found the villages in Chikmagalur are clean and maintained well. Good scenes for floriculture, maize etc. We also went through very scenic forest area.
After 10 KM from Halebeedu suddenly the road was good and traffic was low as this was not high way. So I can say it is cool and soothing, pleasant to drive from Halebeedu to Chikmagalur (about 25 KM). Reached Chikmagalur at about 9.45 AM took breakfast at "Town Cafe" after crossing MG Road. Headed towards Mullayanagiri Hills which is about 22 KM from Chikmagalur.  For about 8 KM the road was broad and not steep. At 8 KM point there is bifurcation of road to Baba Budan hills.
I followed left bifurcation to head towards Mullayanagiri. Further the road was narrow and we had stop to give pass to front vehicles several times. It was a bit hard to drive on narrow road and at times thought to return back but our greed stopped us doing so.
On way saw good scenic points but not really worth at expense of narrow and risky road.
On reaching top of hill saw good amount of white feathery clouds and nearly 100 cars parked here and there. Parking was not so difficult as enough space we found. There were a few tea shops run by locals here. A few cows here and these enjoying the cold fog and entertaining tourists. We have to walk about 0.6 Km to reach top. We went there but could not see any view due to fog. People told that there is further top a ride of 3 KM by car or on foot to reach ancient Shiva temple. But we had no courage to go there for 3 KM on foot seeing the narrow road and queue of cars waiting for road jam to clear.
Spending about 40 minutes at this beautiful spot we returned and came to same bifurcation (Board is there fortunately) and took left for Baba Budan. Baba Budan was about 30 KM from this bifurcation. The road was broader than Mullayanagiri road.
On way we saw good scenes and all hills clad with coffee and clove plants. After reaching about 15 KM, our car stranded in traffic. I wisely decided to take U-turn as I did not want myself to starve in this jungle hill.
I feel this trip we should take only in OFF SEASON. This is my learning for all hill stations.
So we returned, took lunch at good "Siri Cafe" and came to Chikmagalur at 2.30 PM  and further continued towards Belur which was about 18 KM from here.
Our Itinerary
From
To
distance
Travel time
Bangalore
Halebeedu
216 KM NH75 via Neelmangla
4Hrs.20 Mins.(I am slow driver)
                   Stay at Halebeedu KSTDC Hotel
                    Day 2
From
To
distance
Travel time
Halebeedu
Chickmagaluru
36 KM via SH57
50 Mins
Chickmagaluru
Belur
25 KM via SH57
40 Mins
                        Stay at Belur KSTDC Hotel Mayur Vellapuri
                        Day 3
Belur
Shravanbelegola
78 KM
2 Hrs.
Shravanbelegola
Bangalore
148 KM
3 Hr. 20 mins
My catch
Go only in off season as  excursions points are on narrow roads. Not so scenic at expense of facing traffic jam on narrow roads.
Distance of Excursion places at Chikmagalur
There is nothing to see in Chikmagalur. Only excursions are the options
| | |
| --- | --- |
|    Name of Place | From Chikmagalur |
| Mullayanagiri | 22 KM |
| Baba Budangiri | 34 |
| Manikyadhara falls  ( hebbe Water falls) | 66 |
| Kadambi falls | 96 |
| Kudremukh national park | 96 |
| Bhadra Dam | 78 |
The literal meaning of Chikmagalur is 'Land of the younger daughter.'
History
There is a history attached to how Chikmagalur got its name. It
is said that years ago the land of this district was given as a dowry to the younger daughter of a legendary chief who ruled Sakrepatna- Rukmangada. And that is how it was named.
Where to eat on way to Mullayanagiri
From Halebeedu I started in morning so we were feeling hungry. I did not find big restaurants on way to Mullayanagiri except a canteen Town café. But I did not prefer this as it was too crowded.
Further I went and met bigger roadside restaurant "Siri Coffee". This is very clean and all breakfast and lunch items are available.
Onway to Mullayanagiri and Baba Budan
Really great natural scenes you can see on way from Halebeedu to Mullayanagiri. The forests looked untouched, saw villages neatly maintained on way, some temples on way. Some part of road was not good but not part of highway so we moved across slow and enjoying the villages and agriculture fields. On way took breakfast at a good restaurant "Siri Coffee".
Mullayanagiri
Distance from Chikmagalur city to Mullayanagiri is 22 KM. But actual steep starts after 8 KM. When the diversion (Fork) starts one leading to Mullayanagiri and other to Baba Budan.
From this diversion I followed to Mullayanagiri which was another 15 KM.
This route was narrow and some risk in driving. I was in Honda City and at several places I had to stand, wait and give pass to other vehicles coming from front.
Please be aware that any time you can be trapped in Road jam and I am not seeing any traffic department help there. So please be sure of this fact especially if you are with small children.
After about 12 Km from diversion I saw lot of cars parked and people walking up a hill. Fog was there. I did not find this place really interesting (traffic jam may be real issue any time) except that while driving I saw a few scenic nature.
I heard there is a Shiva temple at about 3 KM from this point. I did not dare to go there either by car or on foot due to narrow road and fear of traffic jam. In fact already movement of cars to Shiva temple was stopped by local traffic police man installed there. So in general trip to Mullayanagiri was not interesting and I think better to come here in week days to avoid crowd.
Baba Budan
Somehow I returned from Mullayanagiri and traversed 15 KM to reach diversion point to Baba Budan hills. Baba budan hill was 22 KM from here further. This route was somewhat broader than Mullayanagiri and 2 cars passing was quite possible. On way there were some scenic points but not as good as you can see in ooty\Kodaikanal \ Mahabaleshwar \ Nainital etc.
After traversing about 12 KM I was caught in traffic jam and luckily I decided to go back to Chikmagalur. That was right decision. So in general trip to Chikamagalur was not so good. But I am sure it will be great if you go in off season.
Other places
Seeing the narrow roads I had no courage to go other excursion spots around and headed for Belur which is just 16 KM from Chikmagalur. If you have less time you better skip hebbe Water falls, Kadambi falls, Kudremukh national park and Bhadra Dam.
Hits: 276