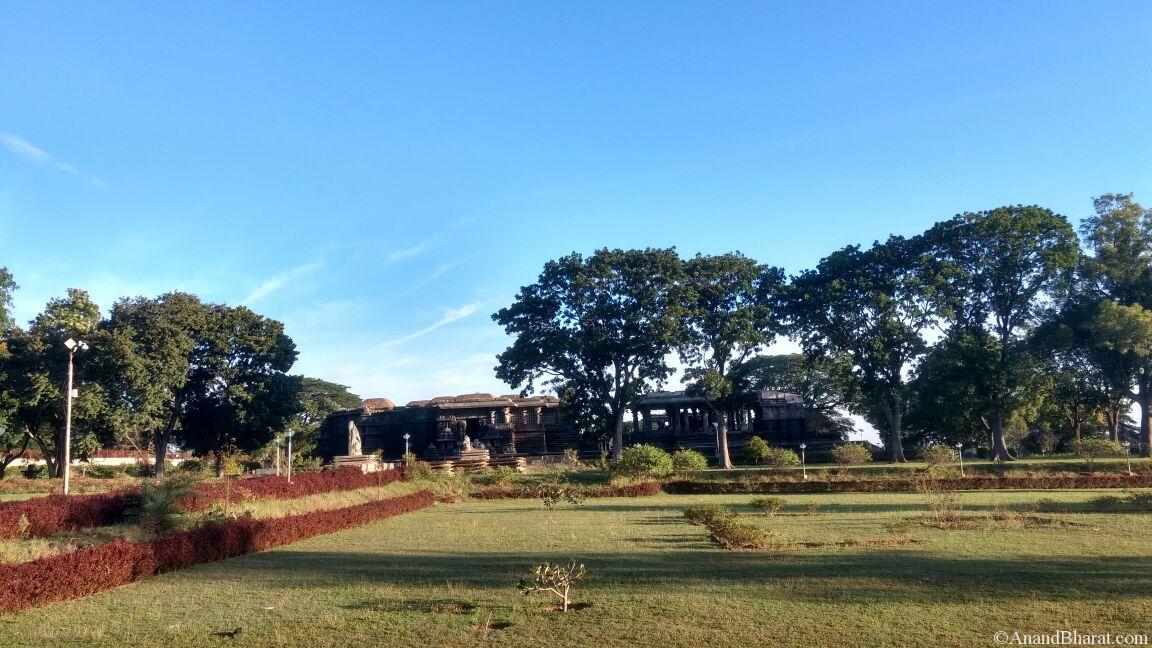 Halebeedu- The Epic of Hindu Art
                     Halebeedu- The Epic of Hindu Art
As per the schedule we had started from Bangalore at 9 AM and reached Halebeedu at 1 PM. Almost this was nonstop journey with a brief break of 15 minutes for tea.
We checked in KSTDC hotel Mayur Shantla and from my room I was seeing the North side of the temple which was just about 0.5 KM from hotel premises. As I saw Halebeedu (some spell as halebidu / Halebid) is a small village and I think stay of one day will be super here in peace and away from  noise. I did not see any other good hotel here other than this state Government run KSTDC Hotel Mayur Shantala. Since the hotel is like resort children will enjoy here amid 40 acres space and lot of trees.
We finished lunch at 2.30 and took a little rest and headed to see the temple on foot.
Just in 8 minutes we reached the temple gate and my first impression was in huge sunlight the ancient temple  looked like thoroughly washed and cleaned and was shining like a flash in a constellation. It is impossible to describe this temple in words.
It is no exaggeration in my saying this, the beautiful well maintained green lawns surrounding the temple, no trace of any smear on the temple as well as surrounding I felt I am seeing what I heard of in the books.
There was no entry fee in the temple. I got guide for Rs. 300 and he explained the temple history and intricacies of temple architecture and idols in about 45 minutes. It is worth hiring a guide and in my opinion it is absolutely necessary (absolutely necessary). Better test the guide for his knowledge and language before hiring.
The guide explained us the history of Hoyasalas and how Allauddin Khilji attacked it twice in 1117 and 1131, about Queen Shantala Devi, the description of walls of the temple and epic stories it  carries in form of carvings.
He told that temple is constructed on single platform and has actually two temples in same hall in parallel. One is Vaishaleshwar and other one is called Shantaleshwar. He also explained about the heavily carved pillars and how it is consisting of 5 separate parts, the Navrang floor round dais where queen Shantla Devi used to dance, the idol of Lord Shiva in both temples.
He told us about 40 temples inside these temples of which the idols of only 4 are remaining. Rest are taken away by British Museum. I remembered history of the Parthenon temples  of Athens with which this temple is compared had also faced the same fate by Turkey, British and even locals.
He told that front portion of temple is jeev-atma depicting various human feelings and life while rear half portion is param-atma showing God and His different incarnations.
He showed us a big Ganesh idol on the backside lawn of temple and told that there used to be a palace here about 0.5 KM and royal family when entered the temple first will see this idol. Now there are no traces of the palace.
There is a museum in the premises and we can see this museum in 10 minutes. There is an artificial pond which is dried up now and due to this pond only this temple used to be called as 'Dwar Samudra' (The ocean Door).
Earlier I had opportunity to see St. Peter's Basilica (15th century), cologne church (1880) in Germany and a few churches in Austria and in India I saw Hampi (14th century), Pattadakal (8th century), Khajuraho (10-11th century), Sun temple (16th century) etc and I think though it will be unfair to compare these as all these were constructed under different conditions and time, yet I can say the monument I rate on top was cologne church and Belur and Halebeedu.
According to Fergussen the Parthenon of Athens and Hoysaleshwara of Halebeedu are two best examples of their class and between these two extremes lies the whole range of art.
Our Itinerary
From
To
distance
Travel time
Bangalore
Halebeedu
216 KM NH75 via Neelmangla
4Hrs.20 Mins.(I am slow driver)
                        Stay at Halebeedu KSTDC Hotel
                         Day 2
From
To
distance
Travel time
Halebeedu
Chikmagaluru
36 KM via SH57
50 Mins
Chikmagaluru
Belur
25 KM via SH57
40 Mins
                            Stay at Belur KSTDC Hotel Mayur Vellapuri
                    Day 3
Belur
Shravanbelegola
78 KM
2 Hrs.
Shravanbelegola
Bangalore
148 KM
3 Hr. 20 mins
I think below one day trip will be hectic and not enough to see details of temple.
KSRTC one day Trip
06.30 am Departure from Bangalore
08.30 am – 09.00 am Breakfast
10.30 am – 11.30 am Visit Shravanabelagola & Darshan of Lord Bahubali (Gomateshwara)
01.30 pm – 01.45 pm Lunch at Karnataka Hotels Belur
02.00 pm – 03.00 pm Visit Hoysala style Chennakeshava temple, Belur
03.45 pm – 04.45 pm Visit Hoysala style Hoysaleshwara Temple, Halebeedu
10.00 pm Tour ends at Bangalore
How to reach
Halebeedu (Halebidu) It is located in Hassan District, Karnataka, India. Nearest airport is Mangalore (148 KM). Nearest railway station is Banavar which is connected with Bangalore and Hubli, Mangalore and Mysore. Well connected with road nearest big town is Hassan (38 KM).
Where to stay
Halebeedu is a small village and I think stay of one day will be super here. Only one good hotel here is that of state Government run KSTDC Hotel Mayur Shantala. Since the hotel is like resort children will enjoy here amid 40 acres space and lot of trees.
Better to book online http://www.karnatakaholidays.net/karnataka_hotels.htm
Principal Deity in this temple
Centre is Shiva. and South side are Nandikeshwara.
Who were Vishnuvardhana, Shantala Devi and Veera Ballal II
Hoysalas were the strong kings who rules for 300 years from 10th to 13th century AD. The contemporary kingdoms are shown in map below. Those days Parmars and Chandels, Afghan rulers were prominent in North India, Cholas, Cheras in south, Yadavas in Maharastra region. During this time span of 300 years Khajuraho temple, Qutab Minar were some of the prominent structures erected.
Vishnuvardhana (1108–1152 AD) who built this temple was a king of the Hoysala Empire in what is today the modern state of Karnataka, India. He ascended the Hoysala throne after the death of his elder brother Veera Ballala I in 1108 AD. Originally a follower of Jainism and known as Bitti Deva, he came under the influence of the Hindu philosopher Ramanujacharya, converted to Hindu Vaishnavism and took the name "Vishnuvardhana". Vishnuvardhana took the first steps in creating an independent Hoysala Empire in South India through a series of battles against his overlord, the Western Chalukya (Kalyani Chalukya) King Vikramaditya VI, and the Chola Empire to the south. According to historian Coelho, the Hoysalas gained the dignity of a kingdom due to the efforts of Vishnuvardhana, whose rule was packed with "glorious" military campaigns.
Who built it
Halebeedu (some spell as halebidu) was the 12th-13th century capital of the Hoysala empire. The Hoysaleswara temple was built during this time by Ketamala, a general (around 1121 AD) and attributed to King Vishnuvardhana, the Hoysala ruler. It is believed to have been completed around 1160 AD by Kedaroja, the chief architect of Vishnuvardhana's son and Successor Narasimha I (1142 – 1173). It enshrines Hoysaleswara and Shantaleswara, named after King Vishnuvardhana Hoysala and his Queen Shantala Devi. The town was sacked by the armies of Malik Kafur in the early 14th century, after which it fell into a state of disrepair and neglect.
Temple complex
First let me outline some features as told by guide to me.
The temple Hoyasaleshwara is on single platform and is divided in 2 equal parts. Vaishaleshwara and Shantaleshwara. Both contain Shiva linga. These two temples are divided in 3 sections- central (shiva ling), darshan mantap and navrang.
Both twin temples have navrang portion where queen used to dance bharat natyam on some occasions.
On the wall are 84 dancing postures of queen Shantala devi of which now only 14 are remaining. Remaining are taken by British
Total there are 108 pillars and each has different design.
There is one main pillar which is made of 5 separate parts -Base shaft, Capital shaft, central shaft and load bearing.
There are 42 mini temples inside the temple of which only 4 are remaining. Remaining are taken by British.
On west site there are 2 Nandi statues – one called Nandikeshwara and other Brungi keshwara. We can see the reflections in the pillars
Metallic sound from 2 front pillars. In total there are only 7 Nandi recognised by ASI, Lepakshi, Tanjavur, Chamundi, Basavangudi, Rameshwaram. Height is 8 ft and 9 ft respectively.
It was attacked and ruined by Allauddin Khilji in 1310 and 1326.
There used to be a palace about 0.5 KM from this temple. The palace does not exist now.
If we see the 5 feet wall from base and above we see that whole temple is lined with 5 rows. 1st row is (bottom) is elephant – stability, 2nd row-horse-speed, 3rd row -beauty, 4th row -lion -power.
There is unique legendary animal represented made of 7 animals- Trunk – elephant, mouth-crocodile, eyes-monkey, body-pig, legs-lion, tail-peacock.
There are representations of gods in form of animals such as Elephant- Indra, Buffallo- yama and goat-rain
Inside the temple
Sculptures at the temple
                                         Jain Shrines
There are three Basadis (temples) in this complex which is about 0.8 KM from main Halebeedu temple.
Parsahvanath Basasdi
This is most prominent in this complex and is known for its splendid sculptures and elaborate carvings. There are 12 pillars in navrang portion ( just in front of parshvanath idol) which are well polished.
The guide showed us the different type of reflection of same hand in pillars at the same time.
In one pillars inverted image while in other is was broken image, 4 hands, inverted 4 hands, color visible. The idol of parshvanath is 14 feet high.The head is covered with 7 headed serpent.
Shantinath Badasi
This is another big basadi just by side of parshwath basadi. Almost similar to it.
Adinath Basadi
This is a small basadi and a post of yaksha is facing this shrine.
The walls of the temple are covered with an endless variety of depictions from Hindu mythology, animals, birds and shilabalikas or dancing figures.
                       Kedareshwar temple
It is another half a kilometer from Jain shrine on same road. The temple was constructed by Hoysala King Veera Ballala II (1173-1220 A.D.) and his queen Ketaladevi, and the main deity is Ishwara (another name for the Hindu god Shiva). The outlay of the main shrine (Vimana) is star shaped (stellate) with two smaller shrines that have perforated windows on the sides.
Since the temple has three shrines, it qualifies as a trikuta, a three shrined structure. Often in trikutas, only the central shrine has a tower while the lateral shrines are virtually hidden behind the thick outer walls and appear to be a part of the hall itself. Despite being a Shaiva temple (related to god Shiva) it is well known for its friezes and panel relief that bare depictions from both the Shaiva and Vaishnava (related to the god Vishnu) legend.
The image of the deity of worship is missing in all three sanctums and the superstructure over all three shrines are lost. Some noteworthy pieces of sculpture worthy of mention are the dancing Bhairava (a form of Shiva), Govardhana (the god Krishna lifting a mountain), the god Vishnu as Varadaraja, and a huntress.
Hits: 334