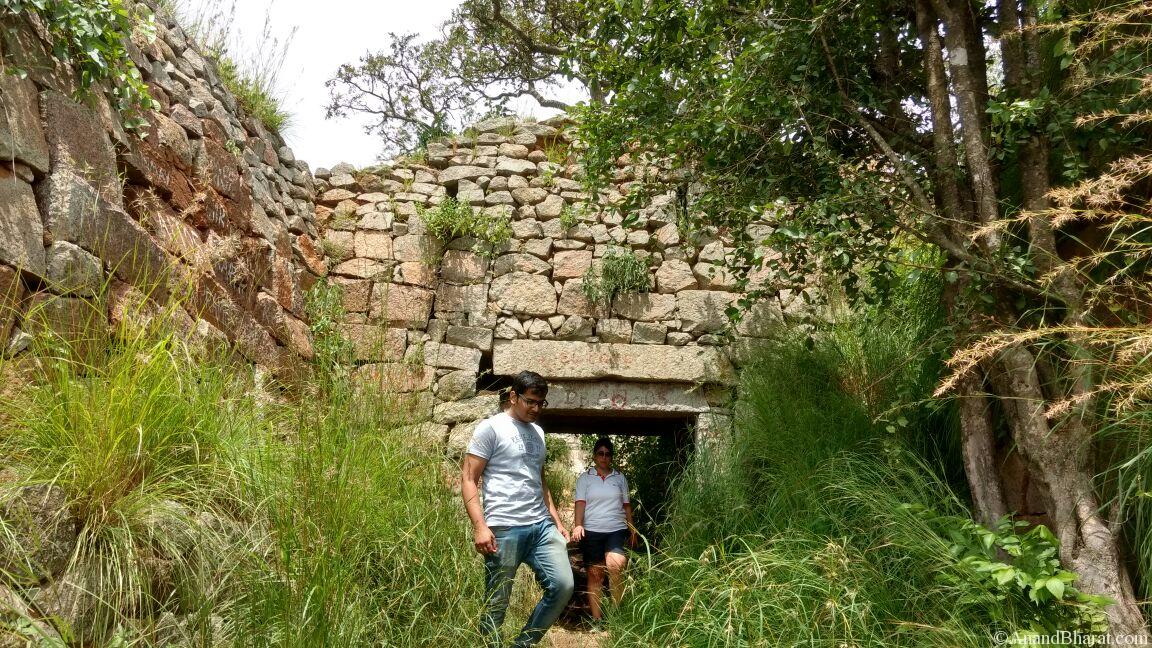 An Excursion Day around Bangalore – Part 2 (Makalidurg)
Visit to Makalidurga and Ghati Subramany
Makalidurga is a hill fort situated near the village Makalidurga. It is about 43 km from Hebbal, Bangalore 10 km after Doddaballapura on the way to Gauribidanur. At the top there is an old temple of Shiva with Nandi. Legend says Rishi Markandeya  performed penance here.
Makalidurga Fort stands at the top of a huge granite hillock, huddled up amidst the chains of hills, formed like a valley close to Ghati Subramanya, a well-known pilgrimage center. It has a fort on top, at the height of 4430 Feet.
 
Itinerary
7.30 AM
Left by car from Hebbbal to Makalidurg
10 AM
Reached Makalidurg after a pit stop for breakfast near BMSIT college in Avalahalli
12PM
Completed the trek to reach the top.
2PM
Started trekking down the hill
2.40PM
Had  packed lunch after completing the trek
3.00PM
Reached Ghati Subramanya after taking a slight diversion from Blore road
3.30 PM
Left Ghati Subramanya
4.00PM
Pit stop at a small lake on the way
6 PM
Bangalore
What more you can
If you want to extend your trip by 1 day visit in below order Ghati Subramanya-Vidurashwath 35 KM- Lepakshi further 31 KM on same route.
You can cover Vidurashwatha and Lepakshi , Ghati Subramanya on same day if you do not trek
at Makalidurg. I did not travel to these two places in this trip. I did not travel to these two places in this trip.heard that Lepakshi is an ancient temple,Vidurashwath has a tree planted (uprooted now in 2005)  by Mahabharata epic character Vidur.

It is on the do-to list of many trekking adventurers from Bangalore. The Makalidurg trek is a medium trek which would be a  difficult for non trekkers. Many people go for night trek to this place. You have a number of adventure groups organizing these treks for you online.We saw a bus of people there who had come through one of these groups. However in my opinion its not worth it .You can always come here on your own with a group of friends, dont really need a guide .
Best time to go
The cooler months of September to February are the best time to trek in Makalidurga. It can get very hot in summers, and should be avoided. The rainy months make it. You could reaaly experience it.
How to reach
Bengaluru to MAKLIDRUG ( MKL )daily train, VIJAYAWADA PASS 07.40 AM train which reached makallidurg 9 AM. On return from Makalidurg you can catch this train at 02.40 PM.
KSRTC buses regularly ply from Bangalore to Gauribidanu and stop at Makalidurga.
Come on NH7 ,Yew Yelhanka town,Dodballapur and take Gauribidnur route.
NOTE:
After you reach the Makalidurg station continue on the main road for 3-4 km before you take a clearly insignificant left which you are sure to miss if not following GPS. We missed this even as we were following the GPS so be careful.
Parking
Vehicle can be parked near the railway station if you want to trek along the railway track for 2-3 km to reach the base of the hill.You can also park your vehicle at the base of the hill without any worries.
                                      Activities at Makalidurga
Trekking
Makalidurga is an ideal one day trek making it short and sweet. One can start trekking from the Makalidurga railway station. A 3 km walk along the railway track takes one to the base of of the hill. One should look for the sign 54/100 to take a left turn. The trail leads to the top of the hill.
If one is taking his own vehicle, you can park it near the base of the hill next to the railway track.
Do carry sufficient water for the trek. You will definitely need it .We left all of it in the car as none of us wanted to carry it. Big Mistake!
You will need to cross the track the railway track. A path to the left leads to a place where there is a small temple. This marks the beginning of the trek. A further walk down leads to an open space where the Makalidurga hill is visible.
A right here will lead to the trail which gains altitude gradually and opens up great views of the horizon. There are arrow marks leading way throughout the trial. On the top, there are fort ruins ,mostly walls and a small temple Shiva temple.
Rock climbing
Some local tour operators conduct Makkaligurg trekking and rock climbing . Didn't see anyone doing it here but have read about.
Gundamagere Lake  Looks like south america continent
Gunjur lake 1 KM from Makalidurg station.
Sunrise /sunset view points
If interested you need to come early here. I think the view would be same as we see in Nandi hill.
Shiva temple It is high wind zone.
Ghati Subramanya Kshethra – A rare temple of Lord Subramanya
Ghati Subramanya has a recorded history of more than 600 years. It was first developed by the Ghorpade rulers of Sandur( 711-1713) who ruled parts of Bellary. Sandur was a very small independent princely state till India was under British rule. It is believed Lord appeared in King's dream and told about his whereabouts. King with help of villagers found the idol.
Subramanya temple with Narasimha facing back which has to be seen on the mirror fixed at the back. people have placed stone idols of snake ( Naga pratista) all around the temple, which are in thousands.The uniqueness of this temple is that the prime deity Lord Karthikeya, is found together with Lord Narasimha. According to mythology, both idols are believed to have emerged from the earth. It is also an important center in South India for snake worship. Special rituals are performed during Brahmarathotsava, i.e., on the day of Pushya shudda Shashti. Narasimha Jayanti is the other major festival celebrated here. It is a very complex story.
Location
5 KM from Makalidurga Railway station in outskirts of Bangalore near  village Tubagere, Doddaballapura
How to reach
Buses go to Ghati Subramanya via Doddaballapur. By train you can catch Vijaywada Passenger every morning from Bangalore to Makalidurg. Get down at Makalidurg and catch local transport there.
Return to Bangalore by 2.40 PM train.
Cattle fair
This famous cattle fair takes place in December every year and thousands visit here from all neighboring states.
Legend of the temple
Below reference is from https://en.wikipedia.org/wiki/Ghati_Subramanya
Lord Sri Subramanya (Karthikeya)a popular Deity in Hindu religion is worshiped across the country especially in South India. Regarded as the son of Lord Shiva, Subramanya was commander-in-chief of army of Gods who killed the demon Tharakasura. He is also popularly called as Shanmukha, Karthikeya, Saravanabhava, and Skanda etc. Guha is another name of Lord Subramanya, the one who dwells in caves and invariably we find mountains and caves as the abode of Lord Subramanya. There are several temples dedicated to Lord Subramanya spread across the country and some of them are pilgrim centers famous as Subramanya Kshethras. One such temple which is of rare significance is located at Ghati in Karnataka state about 60 km from Bangalore.
According to Sthala Purana (Temple legend) Ghati is the place where Lord Subramanya performed penance in the guise of a serpent [(there is a tradition to worship to Lord Subramanya in Sarpa roopa (serpentine form)] inside the caves in the mountain ranges of this area before going to kill the demon Tharakasura. Ghati is also the place where Lord Subramanya invoked protection from Lord Lakshmi Narasimha for the serpentine clan from Garuda's scare. Traditionally Garuda the divine mount of Lord Vishnu is known to be an enemy of Serpentine tribe.
Combining the above said episodes the temple at Ghati is uniquely dedicated to both deities Lord Subramanya and Lord Lakshmi Narasimha a rare combination. Rarity of this temple is that both Deities are carved on a single self manifested (swayambhu) idol with Lord Subramanya in a seven hooded serpentine form (cobra) facing east and Lord Lakshmi Narasimha facing west. One can view Lord Lakshmi Narasimha through strategically placed mirror inside the sanctum sanctorum.
Ghata is a Sanskrit word meaning a pot. A serpent's hood resembles that of a pot and Ghati is the place where Lord Subramanya lived in the form of Ghata Sarpa. In Hindi Ghat means mountain range and this temple of Lord Subramanya is located in the mountain ranges.  Ghati is believed to be the place where Lord Subramanya killed a demon called Ghatikasura. According to temple records the temple at Ghati Subramanya Kshethra has a history of more than 600 years and it was first built by Ghorpade erstwhile rulers of Sandur dynasty. This rare and self manifested idol was unearthed by the King with the help of local citizens as per the directions (dream) given by Lord Subramanya himself.
Ghati has become one of the major pilgrim centers of Karnataka state and due to the serpentine form of Lord Subramanya the place is also revered as a Naga Kshethra. Thousands of devotees approach this temple for worshiping Lord Subramanya as a remedy for various negative results from Kuja (Mars) especially Kuja (Angaraka) Dosha, marital related problems and prosperity, as a remedy for malefic effects from Rahu, Sarpa/Naga Dosha, for attaining progeny; as a remedy for health problems especially chronic skin diseases like leprosy, leukoderma, relief from enemies (both internal & external), relief from debts apart from overall prosperity and general well being.
Further Excursion
If you want to extend your trip by 1 day you can also visit Lepakshi a very famous ancient temple and Vidurashwatha. But at Vidur ashwatha tree planted by Vidur ( a Mahabharata Legend) is not there now. I did not travel to these places.
Vidurashwath 35 KM from Ghat Subramanya and Lepakshi 31 KM from Vidurashwath on same route
You can cover Vidurashwatha and Lepakshi , Ghati Subramanay on same day if you do not trek at Makalidurg.
Hits: 189