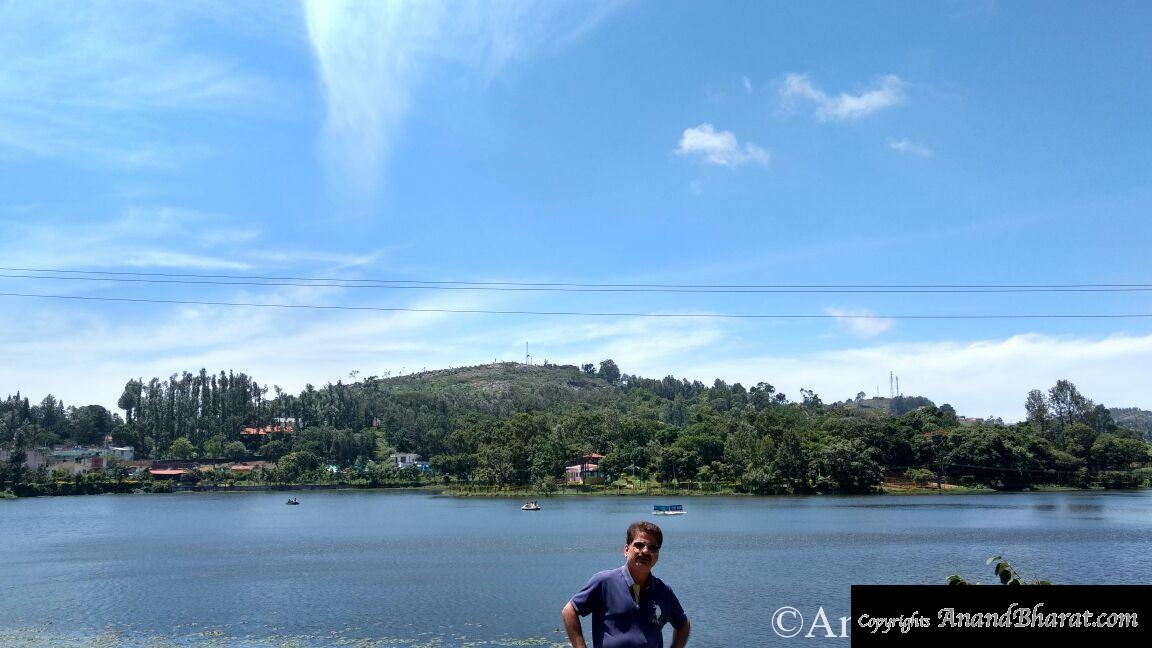 Yercaud is situated at an altitude of 4970 feet , on the Shevaroys Hills of the Eastern Ghats, located in Salem District of Tamil Nadu, India. Because of the abundance of Trees and the presence of the Lake made the locals to call this area as Yeri – Kaadu meaning Lake Forest. Later on the name turned out to be YERCAUD and it is also called as Jewel of the South.
Yercaud Taluk is spread in about 382.67 Sq.km area which also includes the Reserve Forest. To me it feels like an Oasis in Western Ghat though the Ghats are jewels of the world with eternal natural beauty, innumerable flora, fauna, beaches, temples, forts, sanctuaries, water falls, evergreen forests…the list goes on…
My catch
Of course, it was a relief from jostling city life, the traffic,the pollution and the concrete jungle. The beauty of this place is that it is still far away from commercialization than many other hill stations.Avoid going  to this place in peak season as being small will be over crowded.
I think if you are in SEARCH OF PEACE, Tranquility and live near nature then spend 3-4 days here. Roam alone or with your family on  foot or in jeep on 32 KM loop road ( no fear of animals here as told by locals), spend your valuable time at Gents seat view point, stroll on side by beautiful serene  horticulture garden. Spend some time on Servaroyan temple and visit Raja Rajeshwari temple.
I visited this place in off season as I prefer to visit hill stations only in off season.
It is not so important to visit the view points and count them. You can leave a few of the points such as I did not see Anna Park and children's park as these can be found any where.
There are very few points which can be covered in below sequence.
| | |
| --- | --- |
| Points |                         Near by points |
| Killiyur Falls | 3 KM from Lake.  Steps 268 exactly. We took (group of 9,with senior citizens) 20 minutes to reach there by steps, 42 minutes to return back. First cover this point. It is worth seeing if you love falls and nature lover. Else give a miss. Going to this falls will indeed double and complete your joys of visiting Yercaud. |
| Lake | Lake, Anna park, Bear caves. Go boating in lake. |
| Lady's Seat,Gent's seat | Children's seat, Gent's seat, Botanical Garden, Rose Garden. Gent's seat and botanical garden is worth a day spending |
| Pagoda | Pagoda, Mont Fort School  and come back to lake |
| 32 KM Loop road | Servarayan temple, come back to Rajrajeshwari temple. Ask some one bifurcation of loop road ( V type cross) and go on this road as much as you can and return to Lake point. |
| Charges | If you take auto he may charge about Rs.600-800 ( except loop road). Taxi Rs.1000 to Rs.1200. For loop road they will charge extra. |
Itinerary
Started from Bangalore on Monday by car for Yercaud which is 230 KM from Bangalore. Visited Sri Sankheshwara Parshwanath Jain temple, Krishna reservoir dam on way.
Started back from Yearcaud  on Wednesday 12 PM and reached Bangalore at 5 PM.
Sri Sankheshwar Parshwanath Jain temple
On way  I saw   Sri Sankheshwar Parshwanath Jain temple at about 40 KM from Bangalore. It is the beautiful temple spread in a few acres and I just guess many of us are not aware of this temple.
It is all constructed with white marble and all architecture from roof pillars, roof, doors are all full of carvings in silver and in marble.
Ample parking space is available. Not allowed to enter in temple in half pant.
You can pack your lunch from an Andhra hotel just 2 KM ahead from here  and eat at KRP the next target point.
Kavery Reserve Project ( KRP)
Just travelled 120th KM and just after the board " Toll Road ends here" take service road and travel about 2 KM and take right from under bridge. Just go 3.3 Km and you will see the KRP entry point. Entry fee is Rs.5 per person.
I really had not seen any dam so far from so close. It was Ganesh Chaturthi today and I saw about five to six hundred visitors gathering in the KRP dam and in park around this dam.
Government has made beautiful-beautiful  park on the base of dam and I was so glad to see that locals get so nice eco around their village for their family outing.
You have to cover about 90 steps to go to the dam and see Kaveri river on other side of dam.
Yercaud
Reached Salem at about 3.30 PM and took late lunch at one hotel named 'Sri Devi Cafe'. Unluckily We had missed a few good hotels on way.
I am just describing what I saw in Yercaud.
Killiyur Falls : This 3000 ft water falls is just 3 Km away from
the Yercaud Lake. Best suited to be visited after the Monsoon seasons. I visited this in September. There are 268 steps to reach this fall. Took 20 minutes to reach there  42 minutes to return back. It is worth visiting point and you will really enjoy this trekking. Without this your Yercaud visit will be incomplete. Car parking is possible at 0.8 KM from stair point.
Lady's Seat :  By seeing this spot we can see a live example how the tourist spot can be spoilt under nose of tourism department. Many petty and dirty shops are mushroomed around lady's seat making it difficult even for walk to tourists and place is  full of garbage spread around due to these shops.
By the team we reached here the weather was clear but within few seconds the weather changed and started hurricane and then rain. Just see the clouds in the picture.
Adjacent to Lady's seat is Children's seat. Did not visit this.
Gent's seat : Inaugurated in 1984. 10 minutes walk from Lady's seat.
Entry fee Rs.30 per person. Another view point. Unlike Lady's seat this view point is beautifully maintained and in 2012 this seat surrounding is developed by adding some more view points. The structure of view points constructed recently looks very elegant and eye soothing and gives antique look to Gents seat.
Walk further ahead Botanical Garden (Orchidarium).This is very beautiful garden maintained by Horticulture Department. It is just adjacent to Gent's seat.
Further ahead is Rose Garden. It is part of a Horticulture farm that also houses the Children's seat.
Pagoda Point : Located at about 5 KM from lake. This made the place to be also called as Pyramid Point.
I did not notice any pyramid kind of thing here. There are 2 view points.
The Servarayan Temple : It is situated on the flat top of the Servaroyan Hill. It is a narrow cave temple dedicated to Lord Shervaroyan and Goddess Kaveri.
The priest told us that the temple cave goes river Kaveri. Goddess Kaveri is worshipped as the presiding deity by all the villagers in and around this region. The Tribals gather here in thousands to celebrate their Annual Festival in the month of May every Year. Also it is believed that Lord Shiva had come through this cave to meet Goddess kaveri.
The Anna Park : I did not visit this park though it is adjacent to lake. Maintained by the Horticultural Department, is located near the Lake. It houses a variety collection of many species of plants and Bonasai found around Shevaroys Hills. Annual Flower show is the summer attraction during the month of May every year.
EXCURSION  ( I did not go for these)
Since I was going to Yercaud via Krishnagiri, I searched for krishnagiri fort in internet. All searched lead me to Gingee fort only. On further study as I understood is that Gingee fort is composed of 3-4 forts ( not covering details here) and one fort in this was called Krishnagiri Fort ( Krishna as king Krishna Dev Raya constructed it  and giri means hill). So please note that there is no fort named Krishnagiri in Krishnagiri.
I plan to go to Gingee fort soon.
| | |
| --- | --- |
| Namakkal/ Namagiri | Via Salem. 90 Km from Yercaud. The famous Rock Fort is on the single rock Hillock [also known as Saligramam]. Famous Hanuman Temple with one of the tallest worshiped Statute in the Country is also located here. It is visited by lakhs of devotees throughout the year from different parts of the country. |
| Tiruchengode | Via Salem. 74 Km from Yercaud. This temple is dedicated to Lord Ardhanareeswarar – unique concept of Saivism highlights the importance of Equality of Women with Men and to mark this concept, the deity is in the form of  Half Siva and HalfSakthi. Lord is also called as Umai or Bagan. |
| Senji / Gingee Fort |  Via Salem. 100 KM from Yercaud.  Reach Villipuram . From there this fort is 28 KM. Carries long battles behind fort.You love to see architectural monuments and love history. |
Hotels at Yercaud
We were staying at 'Sterling Rock Perch Resort'. The hotels host is good.
Other very old hotel in Yercaud which will bring you to British age is Hotel 'INDeco Lake Forest'. The rooms are costly but eco of hotel is too too good. It is just adjacent to Anna Park.
The lunch menu is 'thaali' as well as north indian type and breakfast is also south and north. Rates are very moderate. This is actually 19th century hotel and rooms are as big as 40X60 feet and children golf inside the room. My relative was staying in this and hence I also visited.
For restaurant you can opt for hotel ' Water Front' or above hotel. The Sterling food was too costly.
Epilogue
If you love peaceful, calm places and love nature this place is good to find such things in forests here and calm temples. Avoid going in season to this place as it will be over crowded.
Hits: 235