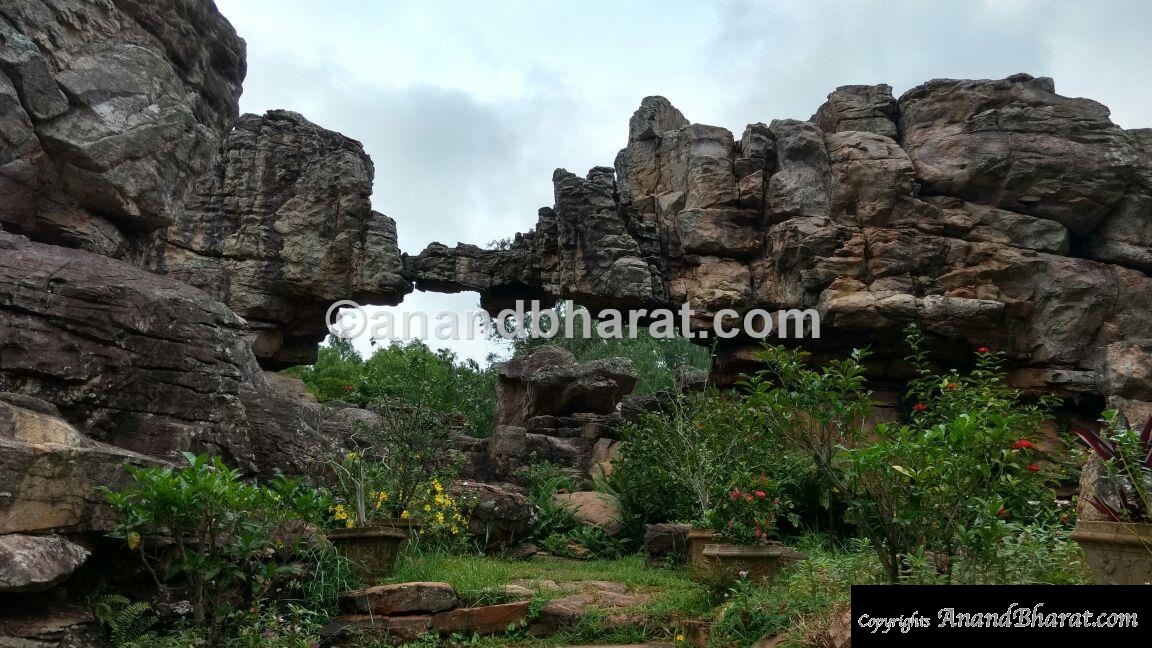 Shila Thornam at Tirumala- A wonder Arch
                 Shila Thornam at Tirumala- A wonder Arch
Instead of covering the article for this unique and millions of years old geographical site with Tirupati trip I thought of including this in my travel blog separately. This place is worth even making a separate trip to just see this place.
Location
This place is located at Tirumala, a town in Chittoor district of state Andhra Pradesh,India
My catch
This is a place worth spending 4 hours as picnic. Just imagine the age of the arch. Beautiful garden aroung along with Sri Chakra teertham temple in vicinity.  Also can visit Vedic pathshala ( School ) 12 KM from here. Take a stroll of 12 KM amid forest to make it memorable for life .
About Arch
The arch measures 8 m (26.2 ft) in width and 3 m (9.8 ft) in height. The assessed geological age of the rock arch is 2.5 million years. The hill ranges of the Tirumala rise to a height of 900 m (3,000 ft) (at Tirumala) from the average height of 150 m (490 ft) in the plains at Tirupati.
The Arch is also called Silathoranam in local language (Telugu \Hindi language: "Sila" means 'rock' and "thoranam" means Arch.
As per the ASI Board here – Reputed as the only one of its kind in Asia, it is believed to be several million years old. It is said that there are only two other sites like this in the entire world itself. The other two are the one that cuts through the headland of the Dalradian Quartzite in Ukand and the Rainbow Arch Bridge of Utah in USA .
Formation of rocks
Made of Quartzite which is originally a hard, non-foliated metamorphic rock which is sandstone ( Quartz). This Quartz is converted into quartzite through heating and pressure usually related to tectonic compression within orogenic belts. We see this particular rock pinkish due to presence of Iron Oxide in this. Other colours are also possible such as yellow,green,blue or orange depending on type of impurities present in this Quartzite.
The whole of Tirumala hill is supposed to be made of Cuddapah rock basin which is as old as about 4.5 billion years when the earth was born.
Reasons of Shape as Arch
Specifically, the arch's origin is attributed to two schools of thought namely, a) it could be the effect of a wave action from oceanic transgression or intensified climatic settings and corrosion and b) it may have been naturally carved out of quartzite. The whole Tirumala hill is formed on Cuddapah basin which are rocks up to depth of 12 KM inside earth.
History
In the 1980s, during excavations for a geological fault in the Tirumala hills, geologists found this rare geological formation of the rock arch which has two dissimilar sets of rocks with a connecting thin link. The assessed geological age of the rock arch is 2.5 million years. Formation of the arch is attributed to intensified weathering and erosion of stream action that has withstood the torque of nature.
Legend
There are a few versions of legends associated with this arch.
One version is that Lord Vishnu, known as Balaji or Venkateswara at the Tirumala temple town, is supposed to have put his first foot down at a place called Padalu or Sreevaripadalu which is the highest point of Tirumala hills, the second step at the location of the arch. Thereafter, the next step is stated to have been placed where his idol is now worshipped in the temple at Tirumala.
Tips for Visitors
The best time to visit the arch is between 6 A.M. and 8 A.M., fog permitting. There is a well maintained garden in front of the arch should visitors wish to rest or wait until fog clears. Sunset is also a good time to visit, as the arch looks even more striking and mystifying in the light of the setting sun. Seen in the light of a full moon the arch is said to be "ethereally beautiful.
You can do a pleasant morning walk ( just about 30 minutes)  to this unique beautiful place , view the arch, sit in the beautiful garden surrounding the arch.
Also just walking distance is "Chakra Teertham" Siva temple nearby.
If you have time you spend a full day here which will be really memorable for yuor life believe me.
Best time to visit the arch is 6 AM to 8 AM or during sunset.
Near by visiting places within radius of 5 KM
Excursion trips
Since this place is very near to Sri Tirumala Balaji temple there are many temples Venu Gopal Swamy temple, Akas Ganga,Papa vinasamam,Sila Thoranan,Sreevari Paadalu within 5 KM radius.
While excursion places could be Golden temple, Srinivasa Mangapuram,Chandragiri Fort, Srikalahasti, Kaanchi, Aruchanalam, Tirruttani, Horsley Hills.
Hits: 274