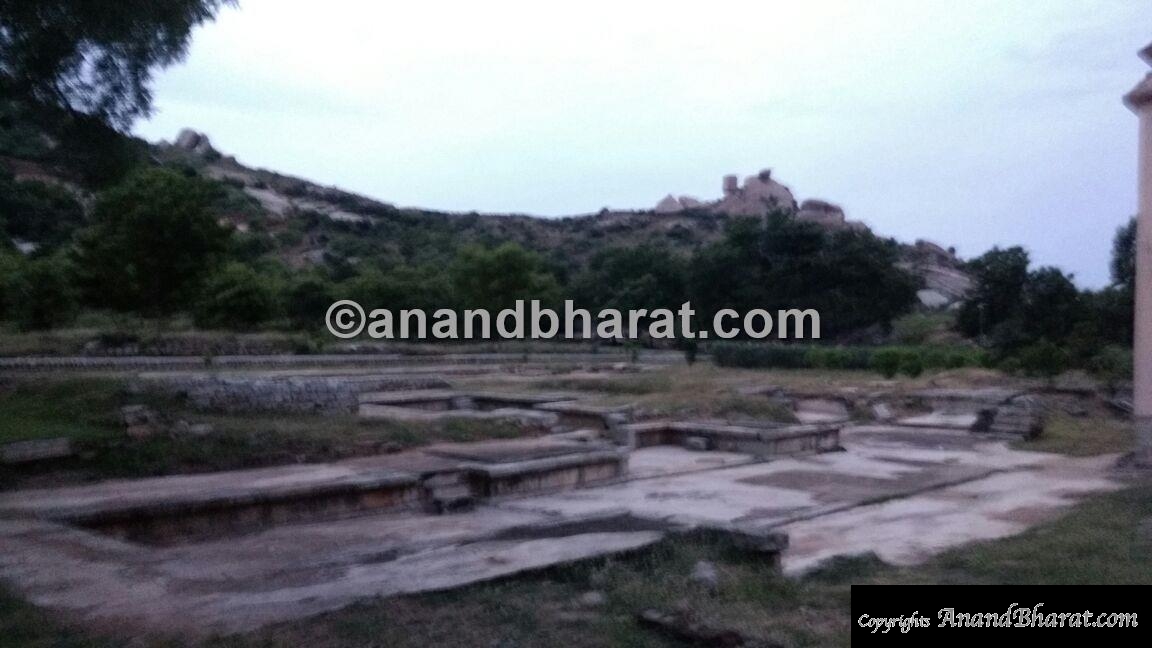 Chandragiri Fort- A fort in revival
                Chandragiri Fort- A fort in revival
After completing my visit to Tirumala temple, local sight seeing on top of hill and also in Tirupati citiy visit I asked my driver to move towards Chandragiri Fort which is about 17 KM from Tirupati railway station. It took about 25 mins to reach there. I saw a few tousrists ( about 20) there when I reached there at 5.30 PM.
Chandragiri is a village in Chittoor district of the Indian state of Andhra Pradesh. Norally a few tourists come here when they visit Tirumala Balaji temple.
On way I saw a small hill which driver told that it is the place of Vakula Devi . She was mother Yashoda in earlier incarnation of Krishna and now mother of Lord Vishnu who came to earth as Lord Srinivasan to live at Tirumala Hill.
It seems this Vakula Devi hill not preserved at all and has been eroided hugely by private excavators as can be seen by this foto.
Location
Chandragiri is a village in Chittoor district of stateAndhra Pradesh,India. Just note that there are two Chandragiri Forts. One is in Kasaragod (Kerala) and other one is this one described here which is 15 KM from Tirupati Railway station.
My catch 
If you are interested in historical places you can visit this place else give a miss to it.
On was saw the long hill and driver told me that the shape of hill is like Vishnu lying on earth. It was true I also felt the same. While travelling you can ask your driver about this. I could not photograph it.
Saw the two gates still visible and wall on the hill which I am sure must be boundary of the fort.
These are small gates deliberately made to keep check on entrant attackers as we see in many other forts of this age.
Away we saw the huge rock having 2 pillars side by and driver told this point was used for hanging the traitors and culprits. It is at high place and must have been well visible to villagers so that they can see the consequences of criminals and traitors
Reached the fort ( we can really not call it a fort but mere 2 buildings are left out called Raja Mahal and Rani Mahal. It seems these are renovated but still I felt the architecture is preserved.
This is well maintained complex with a ticket counter at entrance, well maintained garden, lighting syste, clean toilets.
When I wanted to enter the Rani mahal , the local staff stopped me saying there are bats and snakes possibility there.
Raja complex is turned into a museum which I could not see as it closes by 5 PM.
We had paid a fee of Rs.45 per person to see the Light and sound whose Telugu version time is 7 PM to 7.30 and english version from 7.30 to 8.30 PM. On rainy day the programm gets cancelled and Friday the show is closed.
The gardner told that locals and from Tirupati visitors come here and have some kind of picnics and do some boating in a small lake nearby.
History
Some historians agree that this fort was built by Shivappa Nayak after he sensed thte fall of Vijay Nagar Empire after defeat of Vijaynagar (1565) by Golkonda Sultanate. But still some people say it was constructed by Vijaynagar empire and was their fourth capital.
Some argue that this fort was under Yadava Naidu ( Telugu speaking Yadavas) and later it was captured by Vijaynagar empire in 1367.
It is said by some historians that this fort was one of the most important attacking points for Vijaynagar empire for against Golkonda sultanate.
Goldkonda had faced major defeat once from this fort. The main defence points were the attack bastions (not visible now) , river and the ditches ( still visible around the palace)
In Raja mahal basement lived the army commanders while Rani and Raja on the first floor of the building.
Now this building is converted into museum with ancient statues from 2nd century onwards., arms of that time from daggars, swors,bows and arrows etc.
Epilogue
If you are interested in historical places you can visit this place else give a miss to it.
I congratulate the ASI department for keeping it so neat , maintaining the museum ,garden , light and sound so well. They have lived this place and I am sure without their support this place might have gone to dust completely.
External reference
http://www.discoveredindia.com
https://en.wikipedia.org/wiki/Chandragiri
Hits: 183