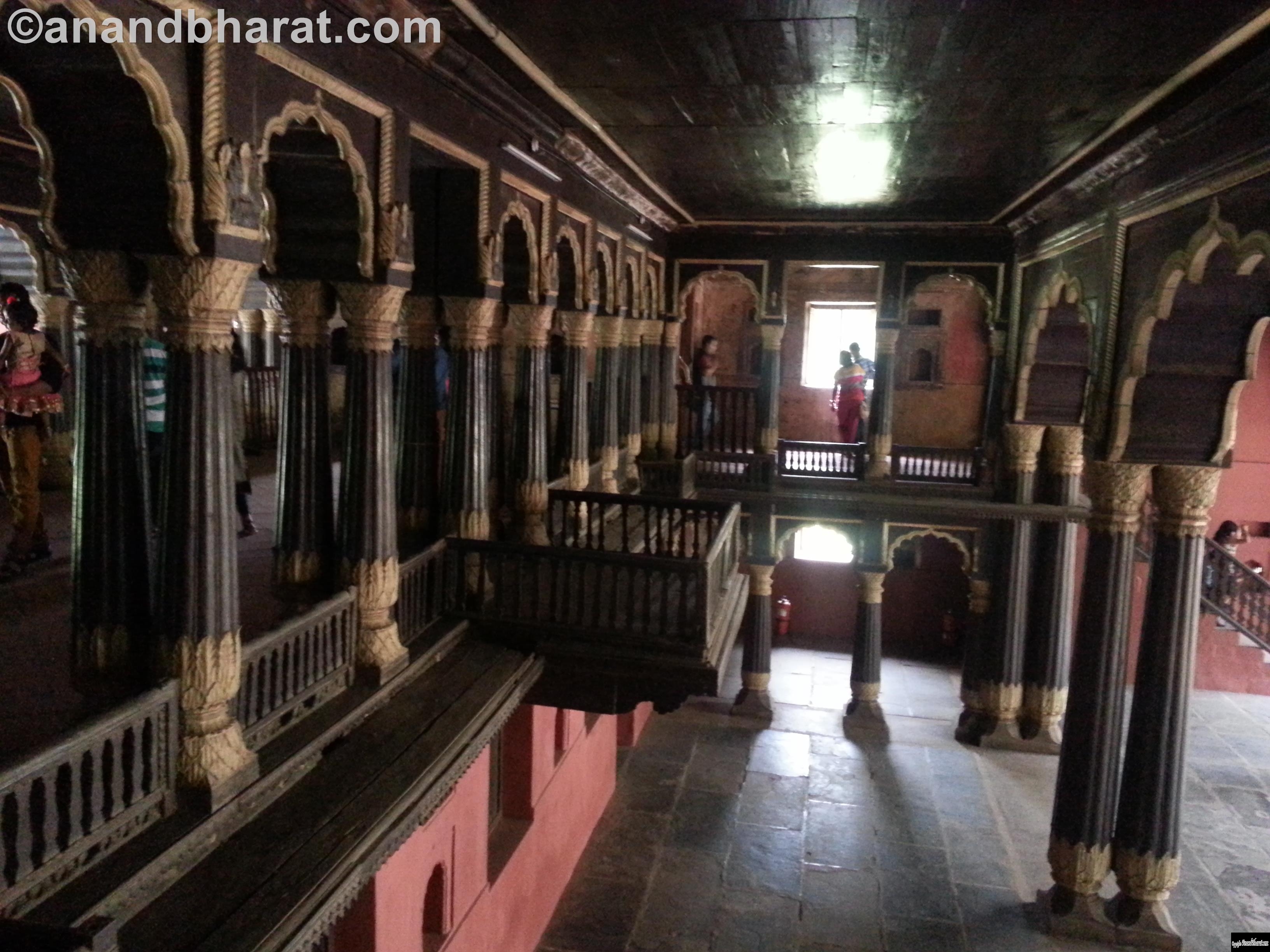 Tipu Summer Palace- Bangalore,India
                   A visit to Tipu Summer Palace
There a very few tourist spots remaining in Bangalore, the world's IT Hub. A few of them I described in article "An Excursion day around Bangalore-Part 1". Another day out or at least half day in visiting two great monuments and the gems in of history of Bangalore.
These are the Tipu Summer Palace and remnant of Bangalore Fort.
If you are in Bangalore during your trip to Mysore or south India trip I think these two monuments you should not miss. They are not so big as  Wodiyar's Mysore Palace or Agra fort or Golkonda etc but defenitely hold a unforgettable history made by Kampegowda-I, the founder of Bangalore and Tipu Sultan in 18th century.
How to reach
Location Bangalore ,State of Karnataka, India.
It is just half a KM  from "Kalasi Palya Bus Stand".
Ask any auto wala he can drop you here. It is crowded place and I wonder I did not see any car parking facility nearby though these are one of the very few tourist places in Bangalore.
Iterinarary
First visit Tipu Sultan Summer Palace,leave the car there and then walk on foot to Bangalore fort. You can see both monuments in 4 hours time total. You can also visit in order as
Tipu Summer Palace- Bangalore Fort-Lalbagh Botanical Garden-Bull temple a total distance of 4.5 KM for a full day trip from 8 AM to 7 PM.
| | |
| --- | --- |
| 8.30 AM | Reach Tipu Sultan Summer Palace. |
| 10.30 AM | Walk on foot to Bangalore Fort. Spend 1 hour. |
| 12 PM | Reach Lalbagh Botanical Garden |
| 5 PM | Reach Bull Temple at Basavangudi |
Architecture
Constructed from 1781-1791 within the four walls of Bangalore Fort whose only a bastion and Delhi Gate are remaining  though this palace withstood with time and fortunately stands as it is. It is constructed using wood,stone,mortar and plaster.
This is a good example of Indo-Islamic architecture.
Looks a single story pavillion but actually is 2 storeyed and is symmetric.
Cusped arches and brackets spring off the pillars and roof is on huge wooden beams.
The wall and wooden roof are entirely painted by floral paintings,motiff and with mostly 2 colours in prominence brown and blue. It is believed that Tipu Sultan used to conduct his durbar (court) from the eastern and western balconies of the upper floor. There are four smaller rooms in the corners of first floor which were used to known as Zenana Quarters.There are beautiful floral motifs embellishing the walls of the palace.
Purpose of the Palace
Tipu used this to host his durbar, meet is VIP guests and also as his summer retreat. He also had other palaces contemporarily around bangalore such as Srirangpattam, Nandi Hill and Devenhalli Fort.
Tipu as an Administrator
Worked for Economic prosperity of agriculture land,organised teak plantations,had trade with countries such as Turkey,France,Persia and Afghanistan, first to conceive producing mulberry from silk cocoon,maintained and developed Lalbagh Botanical garden which was commissioned by Hyder Ali, commissioned a 70 ft high dam on Cauvery river a few KM from Srirangpattam, postal messenger ( courier ) service. His administration was bifurcated in 2 offices – "asaf" and "tukries". "asaf" was for taxes, land revenues while "tukries" was for law and order.
He abolished custom of giving "jagirs" to officers and instead rewarded with cash. All civil servants were to declare their assets. He is also known for his rocket technology and had a team of experts for rocket attack.
Museum on ground floor
We have all portraits of Tipu and narration of works completed by Tipu as Administrator, description of fort.  Also a protrait of throne which he got constructed for him but never sat on this.
This gold- silver throne was ready in 1791 but some unforeseen and unfortunate incidents happened that Tipu had taken oath that he will not sit on this throne till he oust East India Company( British).
Also there is a mechanical toy shoowing killing a british. It seems this toy depicts the hatred of Tipu towards British and actully signifies death of British officier Hector Munroe by tiger. This toy prized original is kept in London's Albert Museum.
I saw Government Guest and some cars parked running behind the palace in same campus.
Epilogue
Tipu died on May,4, 1799 during war with British at Srirangpattan. He is also one of the most controversial and misinterpreted sultans of his times. After British captured this palace they used it as corporation office and later in 1868 shifted the office to building which is currently High Court of Bangalore.
Hits: 115