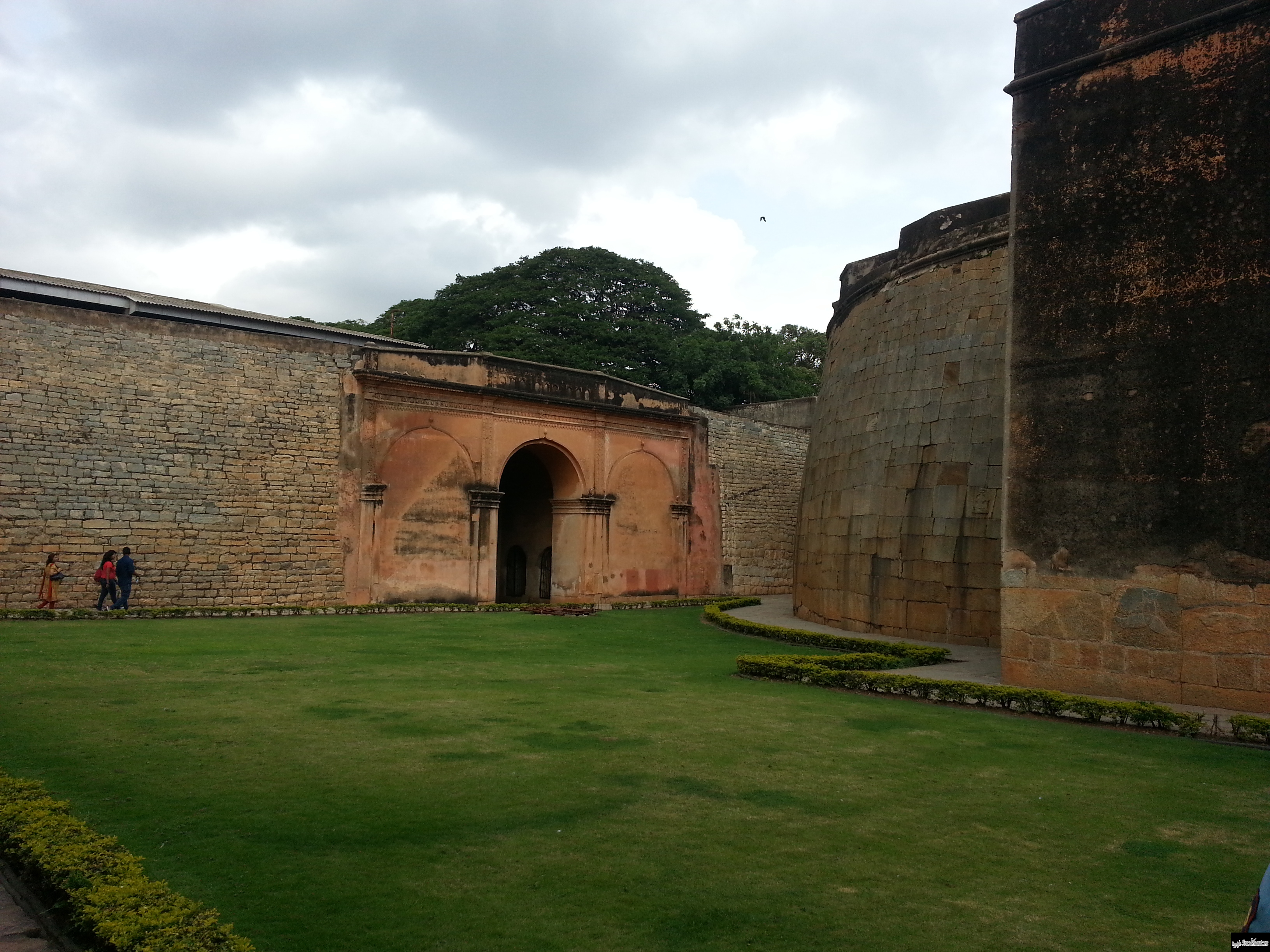 A visit to Bangalore Fort
There a very few tourist spots remaining in Bangalore, the world's IT Hub. A few of them I described in article "An Excursion day around Bangalore-Part 1". Another day out or at least half day in visiting two great monuments and the gems in of history of Bangalore.
These are the Tipu Summer Palace and remnant of Bangalore Fort.
If you are in Bangalore during your trip to Mysore or south India trip I think these two monuments you should not miss. They are not so big as  Wodiyar's Mysore Palace or Agra fort or Golkonda etc but defenitely hold a unforgettable history made by Kampegowda-I, the founder of Bangalore and Tipu Sultan in 16-18th century.
How to reach
Location Bangalore ,State of Karnataka, India.
Both these places are just within half a KM reach with each other.and at walking distance from "Kalasi Palya Bus Stand".
Ask any auto wala he can drop you here. It is crowded place and I wonder I did not see any car parking facility nearby though these are one of the very few tourist places in Bangalore.
Iterinarary
Both of these two medieval historical monuments are at walking distance from each other and in heart of city. First visit Tipu Sultan Summer Palace,leave the car there and then walk on foot to Bangalore fort. You can see both monuments in 4 hours time total. You can also visit as
Tipu Summer Palace- Bangalore Fort-Lalbagh Botanical Garden-Bull temple a total distance of 4.5 KM for a full day trip from 8 AM to 8 PM.
| | |
| --- | --- |
| 8.30 AM | Reach Tipu Sultan Summer Palace. |
| 10.30 AM | Walk on foot to Bangalore Fort. Spend 1 hour. |
| 12 PM | Reach Lalbagh Botanical Garden |
| 5 PM | Reach Bull Temple at Basavangudi |
Architecture
As per Archaelogical Survey of India Board in front ,the fort was OVAL in shape and about 1.5 KM in length.
North : Delhi Gate and Yelhanka Gate
East ; Halasuru Gate
West: Kangeri Gate
South : Mysore Gate and Kankanahalli gate
Now of these only Delhi Gate exists.
History of Bangalore Fort
Bangalore Fort began in 1537 as a mud fort. The builder was Kempe Gowda I, a vassal of the Vijaynagar Empire and the founder of Bangalore.
In 1637-38, the Bangalore Fort under Kempe Gowda's rule was very prosperous.
Under Bijapur Sultanate
Rustam i Zaman, the commander under the Bijapur Sultanate who was on a war campaign, and after he had captured the Sira Fort (Kasturi Ranga Nayak was made in-charge of this fort )close to Bangalore, wanted to capture the Bangalore Fort and the city. However, Kasturi Ranga Nayak  prevailed on Rustam i Zaman not to attack the fort even though he, after capturing the town, had surrounded the fort with 30,000 strong cavalry. Kempe Gowda managed to get Nayak withdraw the troops. Randaula Khan, who was not convinced with the action of Nayak in withdrawing the troops, met Nayak in his tent and promised him more rewards and also recognition under the Bijapur rulers, Nayak relented but advised Randaula not to attack the fort at that time and that he would manage surrender of the fort by Kempe Gowda eventually. Soon enough he prevailed on Kempe Gowda to surrender the fort with all its riches without any battle.
Under Marathas
Rustom-i-Zaman then took over the fort and handed over its management to Shahji (Shivaji Maharaj father) along with other territories, which he ( Sahaji )had recently conquered, with Bangalore as his headquarters.
Under Wodeyar's of Mysore
In 1689 Moguls leased this fort to Wodiyars which they migh have won from Bijapur sultanat\marathas . Therefore after Marathas it came under Wodeyar's of Mysore. This mud fort was enlarged during Chikkadeva Raya Wodeyar's rule between 1673 AD – 1704 AD.
In 1758 Hyder Ali got this fort and Bangalore in Jagir from Mysore king. In 1761, it was renovated by Hyder Ali,a powerful vassal of Wodeyar's of Mysore and almost defacto ruler of Mysore, who made it strong with stones.
A part of the fort was subject to bombardment by the British when they fought a battle against Tipu Sultan, son of Hyder Ali. Tipu Sultan repaired the fort later.
Inside the fort, there is temple dedicated to Lord Ganapathy. But the temple is closed now.
In March 1791 the army of the British East India Company led by Lord Cornwallis laid siege to the Bangalore fort during the Third Mysore War. Following tough resistance by the Mysore army led by the Commandant Bahadur Khan, in which over 2000 people were killed, on 21 March the British breached the walls near the Delhi Gate and captured it. In the words of the British chronicler Mark Wilks "Resistance was everywhere respectable".
With the capture of the Bangalore Fort the Army of British East India Company immediately  replenished supplies and obtained a strategic base from where it could attack Srirangapatna, Tippu Sultan's capital. Later in 1791 Lord Cornwallis haded over this fort to Tipu in treaty of Srirangpattam.
Epilogue
There is nothing so much left in this  fort of about 500 years. You can walk through in 15 minutes of this remaining one gate of once upon a big fort. You can just stand here and behold ,feel and contemplate the witness of 500 years old history from Kampegoda-I , the Bijapur Sultanate, Marathas, Wodiyars, Hyder Ali, Tipu and finally British.
Hits: 173