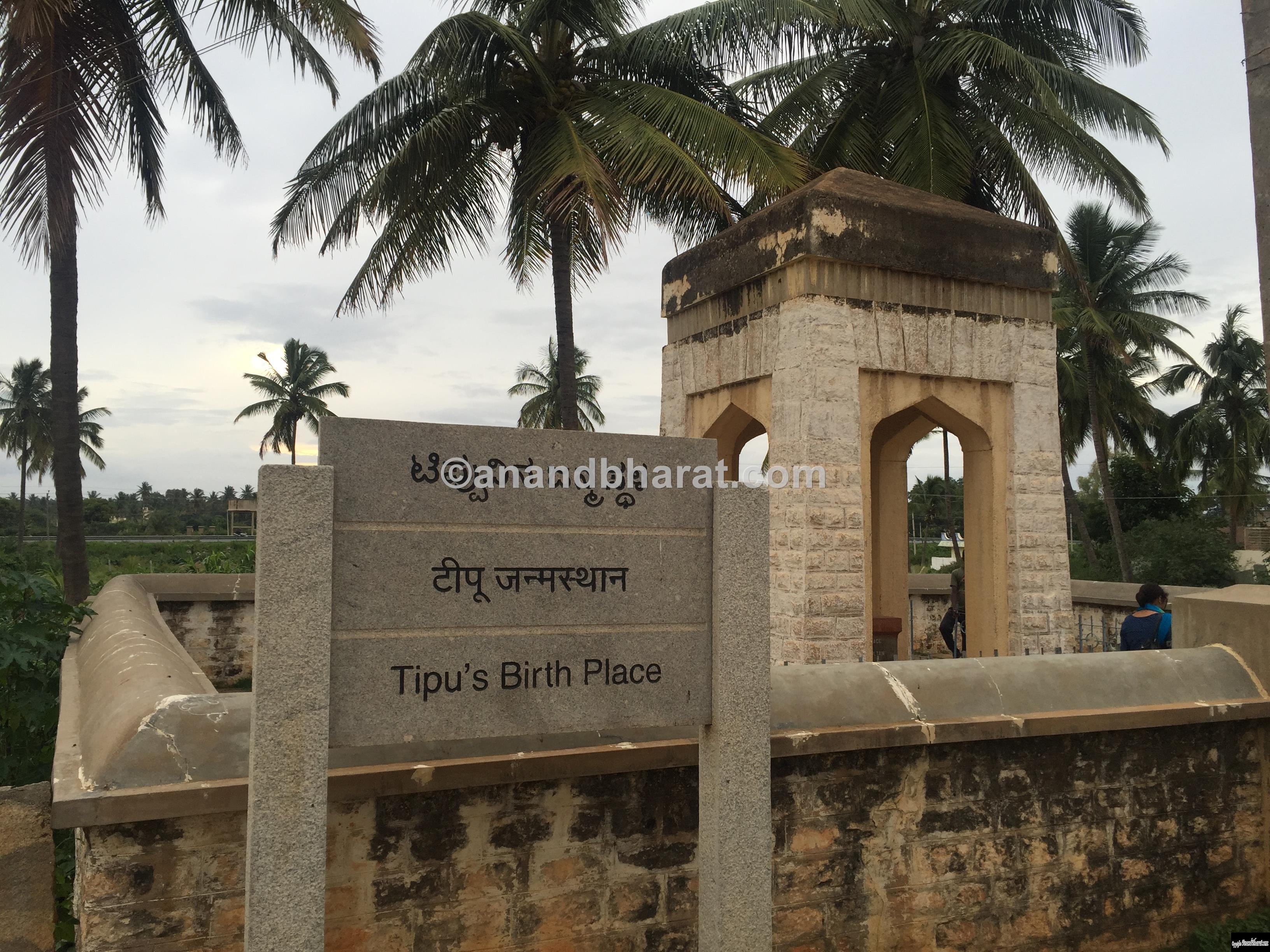 Tipu Sultan Birth Place – Devanhalli, Bangalore
             Tipu Sultan Birth Place – Devanhalli, Bangalore
I had an opportunity to see the Devanhalli Fort on NH7 about 30 KM from Hebbal, Bangalore,India.
I was trying to locate the birth place of Tipu inside the fort premises and inquired locals there residing inside the fort premises.
I came to know that this place converted into a monument by ASI is about a KM from fort.
Come out of fort, just turn left and follow the service road.
Within 15 minutes on foot  you can reach the monument.
Tipu Sultan was born here in 1751 ( some mention it as 1750) as per board here. He was the eldest son of Sultan Hyder Ali of Mysore. Tipu's mother Fatima Fakhr-un-Nisa was the daughter of Mir Muin-ud-Din, the governor of the fort of Kadapa. Tipu is popularly known as Tiger of Mysore.
Hyder Ali (Powerful Vassal of Wodeyars Kings of Mysore )though himself was not educated  appointed able teachers to give Tipu an early education in subjects like Hindustani language (Hindi-Urdu), Persian, Arabic, Kannada, Quran, Islamic jurisprudence, riding, shooting and fencing. Tipu Sultan was instructed in military tactics by French officers in the employment of his father. At age of 15, he accompanied his father against the British in the First Mysore War in 1766. He commanded a corps of cavalry in the invasion of Carnatic in 1767.
Dr  Abdul Kalam, the former President of India called Tipu Sultan the innovator of the world's first war rocket. Two of these rockets, captured by the British at Srirangapatna, are displayed in the Royal Artillery Museum in London.
It is said that Tipu had invited Ottoman Empire King in Turkey and also Napolean to fight against East India Company. He was also against Maratha.
I really could not understand why the birth place of Tipu is outside the fort.
In fact as per history Devanhalli Fort was acquired by Hyder Ali ( that time a powerful vassal of Wodeyars of Mysore) in 1747. He was given the onus of making it a stone fort.
Same time more or less Bangalore Fort was also in custody of Hyder Ali and construction of that palace was also going on to strengthen with stone.
I explored a lot about the reason of Tipu Birth place outside the fort but got no clues.
In my guess it might be that since in 1747 the fort renovation started and fort was just captured and wife of Tipu was preganant in 1750 so might be shifted to this place temporarily near the fort.
I heard that lot of research was done by ASI in determining the birth place of Tipu Sultan.
I wonder this is just about just only 250 years have passed and even the spot of Tipu Sultan Birth place is almost in shrouded.
I wonder when the guide also showed me a very old building ( Just equivalent to any ordinary house of an average) and told that here Hyder Ali and Tipu used to come and stay  temporarily.
I guess this house might be used by Hyder Ali to camouflage himself in case of some emergencies.
Tipu as an Administrator
Worked for Economic prosperity of agriculture land,organised teak plantations,had trade with countries such as Turkey,France,Persia and Afghanistan, first to conceive producing mulberry from silk cocoon,maintained and developed Lalbagh Botanical garden which was commissioned by Hyder Ali, commissioned a 70 ft high dam on Cauvery river a few KM from Srirangpattam, postal messenger ( courier ) service. His administration was bifurcated in 2 offices – "asaf" and "tukries". "asaf" was for taxes, land revenues while "tukries" was for law and order.
He abolished custom of giving "jagirs" to officers and instead rewarded with cash. All civil servants were to declare their assets. He is also known for his rocket technology and had a team of experts for rocket attack.
epilogue
Tipu died on May,4, 1799 during war with British at Srirangpattan. He is also one of the most controversial and misinterpreted sultans of his times.
Hits: 168