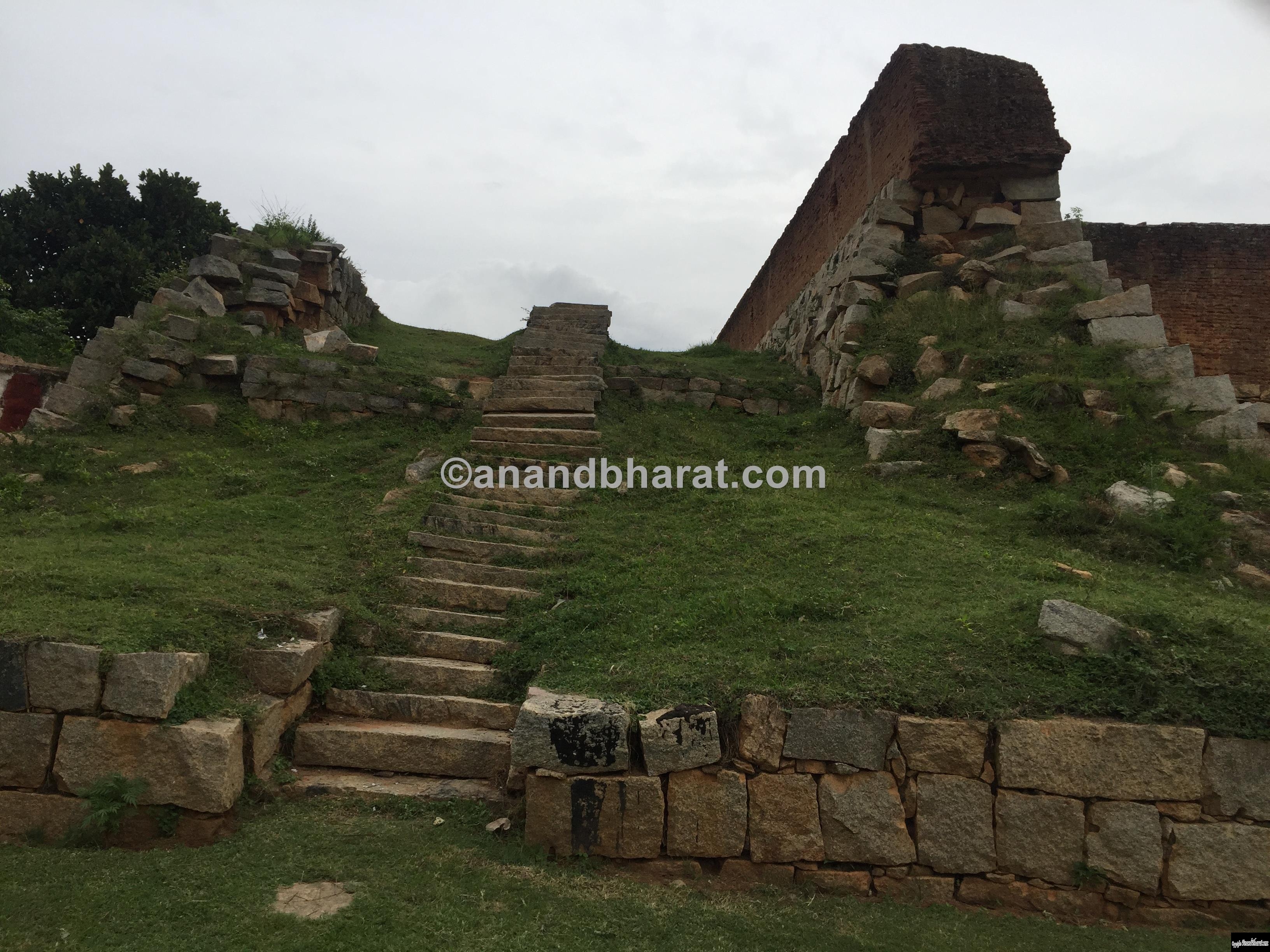 Visit to Devanhalli Fort ,Bangalore,India – A forgotten fort
I was on a weekend trip to explore some historical places near Bangalore and my one day plan was
| | |
| --- | --- |
| 10 AM | Visit Hanuman Temple on rock. ( 40 KM from Hebbal and near Nandi Hill) |
| 11.45 AM | Visit Jain Temple ( under construction and one temple is already ready). This is behind Hanuman Temple ( 40 KM from Hebbal and near Nandi Hill) |
| 2.00 PM | See Bhoga nandeesh temple (about 10 KM from Jain temple) (50 KM from Hebbal) |
| 5.30 PM | See Devanhalli Fort and Tipu Birth place place (30 KM from Hebbal on NH7) |
| 7 PM | Dinner at Bhagni on NH7 |
The plan was achieved comfortably and we were taking our dinner on time at Hotel Bhagni on NH7 while returning.
Here I am describing about Devan halli Fort. For other above mentioned places please search on this website.
Reached to this fort as per above plan though a much of time was taken by us in Bhoga Nandeeshwara temple performing  prayers. Entered the Fort main gate. It was as open as my own house entry gate.
Parked the car in one corner of house. I was much confused about the Fort as I never had seen so many people residing inside the premise of fort. After I confirmed from residents if this is the real fort I believed it.
By chance my vehicle was parked beside a haunted house where Hyder Ali and Tipu used to stay. This is a small house and I think Hyder and Tipu might be using it either to camouflage themselves or they just temporarily stayed here for short times..
Guide on Cycle
By the time I was to take breath a boy came on cycle and started telling about the history of place. I was somehow or I forced myself to be impressed with his knowledge ( as I already knew history of this fort) and my wife prompted me to assume him  to show me the fort in details as he is local here and must be knowing much more than us.
The boy was very good in explanation and in end he also took us to Tipu Birth place which is just about 800 meters from this fort. I was lucky to get this guide.
Contemporary History
In order to understand the Devan halli fort we need to understand the complete contemporary history around Wodeyars of Mysore, Hyder Ali, Tipu and British. In mid 16th century Vijaynagar Empire was on decline , Wodeyars of Mysore declared their independence and their first capture was Srirangapattana in 1610AD in Karnataka state, India. Srirangapattana remained with Wodeyars from 1610 to 1947 till India independence.
Hyder Ali ( birth 1720 – death 1782) was the Sultan and de facto ruler of the Kingdom of Mysore. Wodeyars were almost captive of Hyder Ali.
Just note that Tipu had several palaces\ forts  in Bangalore in his time such as on Nandi Hill, Tipu palace ( current KR market area),Srirangapattana and  Devan Halli Fort.
Now a little bit of history of Sriranpattanam, Mysore,India
In 1799 AD the Sriranpattanam was lost to British in Fourth Anglo-Mysore War. The war was between Arthur Wellesley, ( one who defeated Napoleon at the Battle of Waterloo later) and Tipu. Having secured the victory, the British proceeded to plunder Srirangapattana and ransack Tipu's palace. After victory a lot of jewelry, innumerable valuable artifacts , Tipu's rich robes, sword  were sent England as a loot and kept in Victoria and Albert Museum. Tipu Sultan ( 1750AD – 1799) was mortal  in this war.
Marathas
During 18th middle century Peshwas were ruling in Maratha regions and had frequent wars with Mysore kingdoms. Marathas were very powerful now and spreading their wings in all Maharastra, Orissa, Bengal, North of India, Gujrat regions. They had wars with Moguls and Rajputs and used to get taxes from them. Moguls were on decline.
With above description we know the powers of Mysore Kingdoms, Marathas,Hyder Ali and Tipu in this period and now we come to Devan Halli Fort.
History of Devan halli Fort
1501 – 1747 fort was founded  by Malla Baire Gowda and descendants. They had migrated from Kanjivaram (Current Tamalnadu,India)  and taken shelter in camp at village Avati near  Devan halli. They first built this ford as mud fort.
Subsequently from 1747-1791 Nanjarajaiah( Wodeyars of Mysore ), Hyder Ali and Tipu ruled over it. It was Hyder Ali who renovated the mud fort and built the existing stone fort.
In between The Marathas conquered it several times from Mysore, reclaimed by the Mysore army under the leadership of Hyder Ali. Hyder Ali and later Tipu Sultan rebuilt it extensively, making it one of the stronger forts in Mysore.
1791-1799 :  Lord Cornwallis captured it during the Anglo-Mysore War. Again it was captured by Tipu but again in 1799 British captured during Sriranpattanam victory.
The British held on to Bangalore fort until 1888, after which it was given over to the Mysore government. Fort was with Wodeyars of Mysore till 1947, year of India's independence.
Location
National Highway 7, About 30 KM from Hebbal flyover on right side just beside the service road you can see small  board of this fort as well as Tipu birth place board.
Current state of Fort
I have seen a few forts like Chakan fort, Induri fort in Pune,Maharastra and Sher Sah Suris fort in Mirzapur, state Uttar Pradesh,India, Golkunda and so on so forth. I think almost similar is the state of maintenance of this fort also by ASI. Compared to those forts  this fort maintenance is slightly better though I did not see any security guards here.
Fort is gradually going to dust with walls breaking gradually with age, lot of residential houses inside the 20 acre area of fort.
Fort is open as public residence. Some garbage is hidden inside fort secret tunnels, guard window, public nuisance and no guarding at all.  These heritage structures are slowly dying and i think it will come to earth in next 70-80 years.
Bangalore is slightly unfortunate in the sense that even  Bangalore Fort ( current KR Market area, Bangalore ) founded by Kempe Gowda I  in 1537 as a mud fort  and later consolidated by Tipu is now almost completely vanished and swallowed by public encroachment, hospitals, schools, houses, church and roads. All that remains  is the Delhi Gate and remnants of two bastions.
By the way Tipu Summer Palace ( it was inside the Bangalore Fort)  is still safe and healthy and is currently a tourist spot near Kalasipalyam bus stand, KR Market.
Fort Description
Area of fort  is 20 acres surrounded by 12 semi-circular bastions ( Now only 5-6 only I could see ) at regular intervals, brick parapets, the large semi-circular bastions and the design of the musket holes. The bastions are provided with gun points built with lime and brick.
Inside the Fort walls
I think there must be no less than 300 houses inside the fort. The house in which Tipu and Hyder Ali lived also exists till date. The house of Dewan Purnaiah,  a high-ranking official in Hyder Ali and Tipu Sultan's court, is also located inside the fort   Also there are several temples
All the fort walls are in dilapated state
 House of Dewan Purnaiah
 ( to be updated)
House of Hyder Ali and Tipu
( to be updated)
The Venugopalaswamy temple
one of the oldest among them. The courtyard, with a Garuda Stamba, is spacious and the walls of the temple depict various scenes from Ramayana and the feats of Lord Krishna as a child, and the pillars have beautiful statues carved on them.
A few yards away from the Venugopalaswamy temple is Siddalingeshwara temple.
The Chandramouleshwara Temple :
Oldest temple inside the fort.
It has a spacious inner prakara is built in Vijayanagara style. The Garbhagriha has a shivalinga, and there are two cells on either sides with images of Ganapati and Parvati enshrined respectively. On the left of the main road stands another temple dedicated to Anjaneya known as
Sarovaranjaneya temple
( to be updated)
The Nanjundeshwara temple
Small building with two cells in a line and a common navaranga. It is said that this was earlier called Kashi Vishveshwara and is regarded as the oldest temple in the town.
Hits: 173