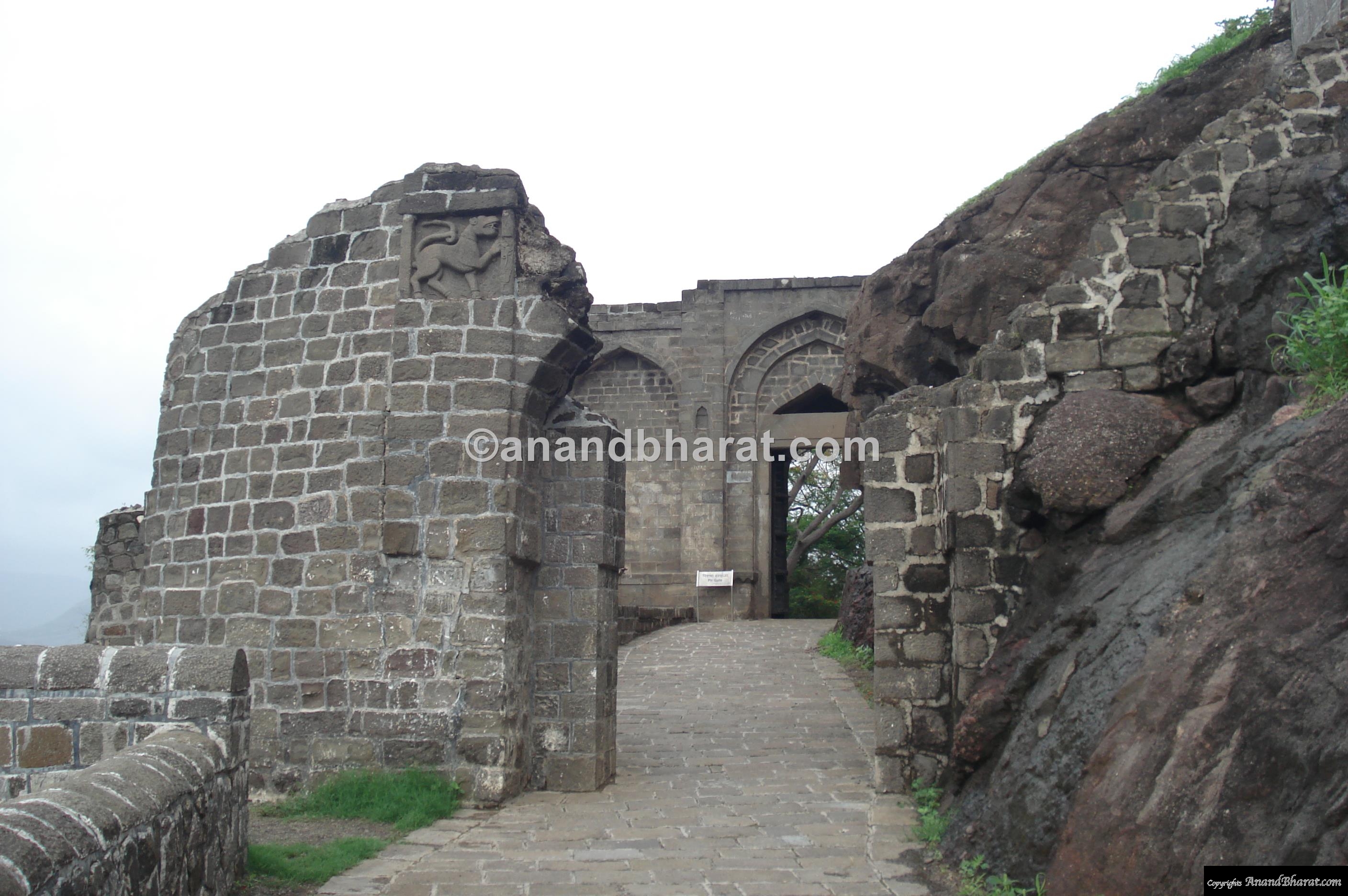 Shivneri Fort – Birth Place of Shivaji
                   Shivneri Fort – Birth Place of Shivaji Maharaj
शहीदों की चिताओं पर जुड़ेंगे हर बरस मेले
वतन पर मरनेवालों का यही बाक़ी निशाँ होगा
I had a plan to visit the Ozar Temple, lenyadri caves, Shivneri fort (birth of Shivaji Maharaj) and Chakan Fort in one stretch in a single day. The plan proved to be well feasible as all these fall in one line.
My entire Taxi itinerary (4 days) was
It was monsoon but luckily there was no fog or cloud there. From Lenyadri caves I reached Shivneri Fort in 20 minutes. We can see the fort from far in full glory. One feels proud to see the fort and also a thrill prevails that Shivaji was born here. When we enter the fort, one Forest department entry gate we should enter our names for our safety. I had missed this important formality but no one stopped me.
In my total trip to top of fort I saw about 300 tourists from North India and mostly from Maharashtra. Even 70 years ladies I saw following the stairs route. Every one was curious about the birth place of Shivaji.
The Fort is kept very very clean and several gardens are on the fort are maintained well by Forest department. I noticed that Pratapgad fort is not maintained properly and cleanly. It may be due to fact that since generations of Shivaji soldiers are allowed to stay on Pratapgad fort.
Best season to visit
June 15 to August is rainy season. If you are nature lover and love greenery and water falls all round just do it. I visited in rainy season and all view points were visible.
Best  season September to March. Out of this Nov is best season when not much crowd and no rains.
My catch
If you love historical places, nature and trekking this is an ideal place. You will remember it. I saw even 70 years old ladies reaching there.There are total 450 tough steps (2 hours). This was my one best trekking. Do not go alone if you have some health problem as there are no security guards nearby.
How to reach
There are 2 routes to reach the top of Fort.
Chain route
I did not see this route but guide told me that
The way on left hand side of this square leads to a temple about a kilometer away. A trodden lane in front of this temple leads to steep cliff of Shivneri fort. One has to climb the fort with the help of iron chain and steps hollowed out in the steep vertical rock. This route is little difficult and takes around 45 minutes as per guide.
Route through Seven Doors I followed
If one continues on left hand side, a tar road leads one to the steps at the bottom of fort. While taking this route one comes across seven doors. Total 400 steps you have to cross.
I covered this journey from bottom to top in 2 hours. It was not very easy.
On way you can see a very good view of lake, village, mountains, agriculture fields. The park is well maintained by forest department and you can either relax in park or on stairs.
Shivaji Statue in City
One has to come to the statue of Shivaji Maharaj installed in front of new Bus stand after entering Junnar town.
A few scenes around Fort
7 Doors       
These are serially called
It takes around 2 hours hour to reach fort.
Temple of Goddess Shivai
While coming on fort via Seven Doors, if one turns right from main stairs path after crossing the fifth door called Shipai Darvaja, we reach to temple of Goddess Shivai. There are 6-7 caves in the rock behind this temple. These caves are not suitable for overnight stay. There is idol of Goddess Shivai in temple. Currently this temple is under renovation. The main temple will remain untouched anyway.
Ambarkhana
After the entry in the fort from last door, Ambarkhana can be seen at the front. It has undergone lot of damage. Earlier it was used to store food grains.
Water Tank
On the way there are many water tanks. Main famous are Ganga, Yamuna. It seems the water is always there in these tanks. I saw about 4 more water tanks apart from Ganga Jamuna.
Shivkunj
This is a memorial of ShivajiMaharaj on Shivneri fort. Its foundation was laid by first Chief Minister of Maharashtra Shri YashavantraoChavan, and it was inaugurated also by him. Bal Shivaji (Shivaji in his childhood) rotating his small sword and describing his dreams to his mother Jijamata, is the theme of this memorial laid in Shivkunj.
Place of birth of ShivajiMaharaj 
In front of Shivkunj there is building where Shivaji Maharaj was born. This is a two story building, on ground floor of which Shivaji Maharaj was born. A statue of Shivaji Maharaj is installed there. In front of this building there is water tank namely Badami.
KadelotKada
The road going from the front of above place leads to KadelotKada (A precipice from where a person was killed by hurling down). This sheer drop was used to award punishment to criminals.
Badami Talab
Palace Ruins
Famous 5 Trekking destination of Maratha Forts
If interested in trekking you should experience Chavaand, Hadsar, Shivneri, Naneghat and Jivdhan forts.
Epilogue
Shivaji was born in 1630 (some claim 1627) in Shivneri fort,Maharastra, India. Maloji was his grandfather and Shahaji was father. Maloji belonged to a village near Daultabad (near Aurangabad, Maharastra). He was an employee under Nizam Shahi. Later he rose to new powers due to his valour and got Pune and Javali talukas as gift from Nizams. So Shivaji got Pune and Javali area of Maharastra in ancestory. Shiva ji left Shivneri fort in 1636. He won the first fort "Torna" in 1645 when he was 15 years. This fort is 80 KM from Raigad. As local guide at Raigad told me that Torna fort is just ruins now. List of  several forts won by him are North Konkan, Pratapgad fort, Raigad fort, Panhala, Mahuli, Lohgad, Chakan, Janjeera Fort and Purander fort etc etc.
There were continuous wars between Moguls (Aurangjeb) , Nizams and Adil Shahis and British. Shivaji and his father were respected by all these four kingdoms that time. They were experts of proxy wars of their time. Some times even all four forces combined could not defeat Marathas.
Later after death of Shivaji in 1680 the powers came to very capable Peshawas (appointed Prime Ministers of Maratha Empire) and they expanded the Maratha empire almost entire India. Last Maratha war was with British in 1818. From then on Maratha empire collapsed.
I just visited a few forts to understand the life of 17th century great Marathas who defended Hinduism and spread a slogan of "Swarajya".
कभी वह दिन भी आएगा जब अपना राज देखेंगे
जब अपनी ही ज़मीं होगी और अपना आसमाँ होगा
Hits: 334