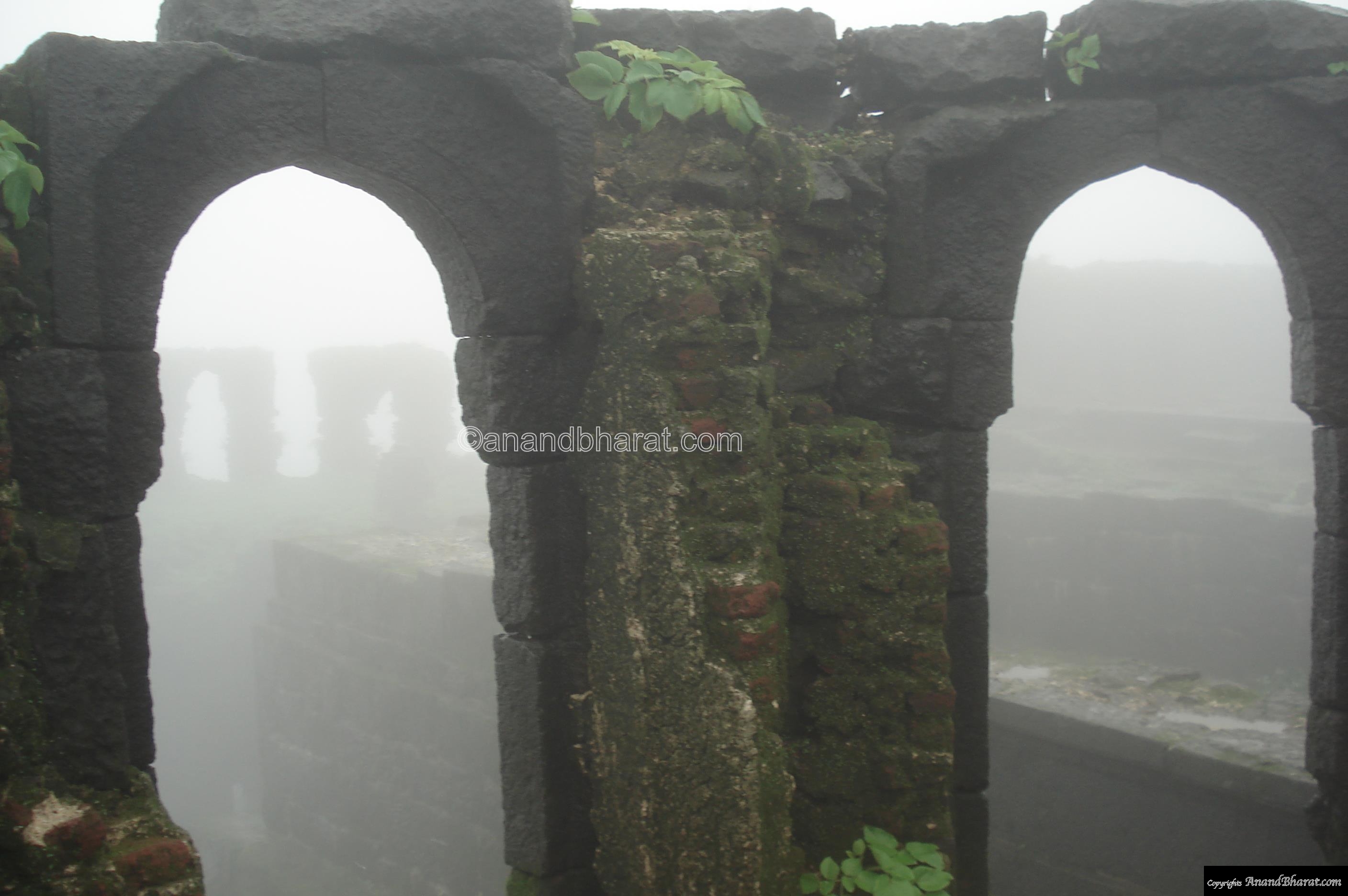 Raigarh Fort in Monsoon – Gibralter of East
Raigarh Fort in Monsoon – Gibralter of East
शहीदों की चिताओं पर जुड़ेंगे हर बरस मेले
वतन पर मरनेवालों का यही बाक़ी निशाँ होगा
Visiting Raigad fort was part of my trip to Mahabaleshwar as I never miss any historical places and these old places give you a good chance of trekking, think about past of India and enjoy scenic views. Since this is 85 KM from Mahabaleshwar I could enjoy a feel of outer Mahabaleshwar, Koyna and Savitri river flowing by the road, several water falls and intermittent drizzling, cloud over the hillsand in front of car, green forests and what not.
My entire itinerary (4 days) was
Location
Sahyadri mountain range in Mahad,district Raigad ,state Maharashtra,210 KM from Mumbai,25 KM from Mahad.
My experience
Do not miss this place when you are visiting Mahabaleshwar and Panchgani. I suggest to have this itinerary in monsoon season which will give you chance to see beautiful rain drenched views of Mahabaleshwar,waterfalls in youth, rivers in full bloom and  surrounding hills. In monsoon you can not see some points around fort but worth. Note that some tourists may not like the place if  they do not love to see historical places as this place is now almost in ruins.
Best Season
September to March. Summer will be too hot at this fort with scorching sun.
How to reach
Started from Mahabaleshwar at 9.20 AM by Taxi (Indigo) and reached at 12 PM. If you are coming from Mumbai or Mahabaleshwar, you have to cross Mahad in any way.
Many govt. buses from Mahabaleshwar\Mumbai to Mahad. From Mahad private jeeps operate and bring you to Raigad which is 25 KM. In season the govt. buses operate from Mahad to Raigad.
When you get down at Raigad, do not forget to ask private jeep guy about return time from Raigad to Mahad.
By Taxi
Better choose Pune – Bhor – Varandha ghat – Mahad – Raigad route while going and take
Mahad – Mangaon – Nizampur – Tahmini – Pune route if returning in night.
On way you can see Bhatghar dam, My Italian beauty,Neera – Deoghar dam,Waterfall in Varandha ghat, Backwaters of Neera – Deoghar dam,Varandha ghatVarandha ghat along with few water falls.
History
The fort was built by Chandrarao More in 1030.
Shivaji had seized the fort in 1656, then the fort of Rairi, from the royal house of Chandrar rao More  descended from the ancient Maurya  dynasty. The last More king  was a feudeutary of the Sultan of Bijapur. Shivaji renovated and expanded the fort of Rairi and renamed it Raigad (the King's Fort). It became the capital of Shivaji's kingdom. In 1689 Zulfikhar Khan (Aurangzeb army)captured Raigad and Aurangzeb renamed it as 'Islamgad'. In 1818 the fort was bombarded and destroyed by using cannons from the hill of Kalkai.
On way
It was monsoon so I could see Savitri River and Koyna river in full bloom at different points  flowing just by road side. Saw several water falls and groups of tourists dancing around the big waterfalls. One advantage of travelling in monsoon  is that you can see all fresh greenery. Green forests all around the road, clouds on the mountains and occasional showers  of rain bringing you to nostalgic childhood.
Place to stay in Raigad
I saw MTDC resort (The only hotel at top). They have 10 rooms and all were vacant that time.Some items were available for lunch. But in general this place is deserted in monsoon. Also in bottom of hill there is a lodge run by private party who also run the rope way. The rents at bottom and top hill are same.
To reach top of Hill
On reaching Raigad I saw the electric traction ropeway. Better hurry up to catch the current trip as you may have to wait for another 30-40 minutes as until there are 12 passengers or some trip coming from up, they will not operate the ropeway. The trip cost was Rs.250 (up and down). Option is of one way ropeway also if you want to come dwon on foot from the fort top.Since it was monsoon season I preferred both way ropeway. But as locals told , going up on foot takes about 2 hours (1737 steps) while coming down about 1 hour. Just in 5 minutes I reached top by ropeway. Being rainy , I am completely drowned in cloud.
Exploring Raigad ruins
I saw the govt ticket counter and took Rs.50 entry ticket. private guides were there and I settled in Rs.300 bargain for showing 13 points. Some points you can not really see as they are covered by cloud. The guide was looking in hurry , I do not know why. Anyway 128 steps were waiting for me to reach the first gate of Raigad fort. The steps were not very tough and I think I covered in 10 minutes.
When we enter the place note that this is back side of fort.
Note that it was rainy so due to massive clouds on the fort the photos are not clear.
Mena Gate: As guide told since queens used to pass through this gate it is called Mena darwaza (gate). Mena is a bird. Shivaji had 8 queens.
Daasi Bada (Maid servant house): Cross the Mena Darwaza . On right side you will see the ruins of maid servants (daasi) rooms who used to look after queens. Now we can just see the foundation walls here.
Queens rooms: On left side you will see a series of 8 big halls (badas)  one after the other where 8 queens of Shivaji  used to live. Each compartment is divided in 2 compartments called Diwane Khas (for guests) and Diwane Aam for queens  room.
So there were 8 Diwane Aam and Diwane Khas , one set for each queen. On left side of queen's room there was a small passage (20 feet), then toilet with drainage system and a small balcony window one for each queen.
Shivaji Room : We can see Shivaji room, toilet, bathing room. Is just very near to queens houses. Drainage system around Shivaji room.
8 Mantri houses (ministers) :On further right of Shivaji room we can see 8 Mantri houses (ministers). There were 8 ministers of Shivaji
Secretriate (Office) : Further go ahead and right side  we can see simple Secretariat (Office)
Secret meeting room :  Left side we can see stair case which goes to underground hall. This hall was use  for punishment or making some secret plans.
Victory Tower (Vijay Stambh)
 Now we can see only ruins of this. Earlier it was 8 storied tower and top of it was a water tank. The copper pipes were connected to this tank. When water flowed through these pipes, it will form a fountain. In front of Victory tower we can see several windows where guards used to stand and see through window for any enemy activity.
Palki Darwaza :This is the gate on left of guards. From this door Shivaji's mother Jijabai used to come and meet Shivaji. It is very near to Shivajis room.
 Raj bada :This is by side of Shivaji room. Now we can only see the pillar foundations. It was like Shivaji office.
Grainery (Aanaj Kothri):There are 3 grainary. Each of 25 feet, 22 feet and 15 feet. These were used to store grains. As per guide earlier historians guessed it to be for prisoners but since these are just behind queens living rooms so now  logically it is thought to be grainary.
Crowning Place,Throne and Raj Darbar :This is the palce where Shivaji was coronated in June,1674.  There is very big open place for sitting public on floor in front of Shivaji throne and 1 feet higher from ground  sitting places on either side for VIPs. The open place seems to accommodate about 2000 people including VIPs. There was drummer sitting place inside the opposite gate. The King and VIPs used to enter from the big gate opposite to throne.
Tak saal (Coint Mint Place):On left side we can see the room where kings coins were minted. There are 2 fire places to melt the metal. 3 platforms to give shape of coin, and one small water tub for quenching hot coins. Shivaji started his own coins from this place.
Holika Festival Maal : Here every where Holi was burnt and Shivaji used to throw coconut into the Holi fire.After fire gold  used to be donated by king.Currently this is just a field and when Indira Gandhi visited this place a Sihivaji statue is installed here. Behind the statue you can see the drainage system.
Bazar Peth : After Holika Maal we can see market place. 22 shops places on either side. So total 44 shops. Here gold, textile etc used to be sold.
Jagdeeshwar temple : About 1.5 KM further we can see a temple which is Shivaji tomb. Top of temple is given shape of masjid so that Moguls or any other muslim kingoms do not damage it. It has a small gate so that if we enter the Shivaji tomb we have to bend to pay respect. Shivaji was burnt about 1.5 KM from this temple.
Points missed to see
Below points missed to see due to monsoon.
Also we could not see below points as we could not go down on foot due to rains.
Maha Darwaja: It has two huge bastion on both sides of the door which are approximately 65–70 feet height. the top of the for is 600 ft higher from the location of this door. Fort was having only once access route which goes through this Maha Darwaja.
Khubladha Buruj, Nane Darwaja, Hatti Talav (Elephant Lake), Gangasagar are the famous attractions of the fort which I could not see due to rains..
Tomb of Jijabai:  Shivaji's mother. can be seen at base village Pachad.
Hirakani Buruj : The fort has a famous wall constructed over a huge cliff. Its story is that a woman by the name of Hirakani from a nearby village at the foothills of Raigad had come to sell milk to the people living in the fort. She was inside the fort when the gates were locked by sunset. The love for her infant son back at her village gave her the courage to climb down the cliff in the dark. She repeated the feat in front of King Shivaji, and was rewarded for it. In appreciation of her courage, Shivaji arranged for a wall built at this location.
Epilogue
Shivaji was born in 1630 (some claim 1627) in Shivneri fort,Maharastra,India. Maloji was his grandfather and Shahaji was father. Maloji belonged to a village near Daultabad (near Aurangabad,in Maharastra).He was an employee under Nizam Shahi. Later he rose to new powers due to his valour and got Pune and Javali talukas as gift from Nizams. So Shivaji got Pune and Javali area of Maharastra in ancestory. Shiva ji left Shivneri fort in 1636. He won the first fort "Torna" in 1645 when he was 15 years. This fort is 80 KM from Raigad. List of  several forts won by him are North Konkan, Pratapgad fort, Raigad fort, Panhala, Mahuli, Lohgad, Chakan, Janjeera Fort and Purander fort etc etc.
There were continuous wars between Moguls (Aurangjeb) , Nizams and Adil Shahis and British. Shivaji and his father were respected by all these four kingoms that time. They were experts of proxy wars of their time. Some times even all four forces combined could not defeat Marathas.
Later after death of Shivaji in 1680 the powers came to very capable Peshawas(appointed Prime Ministers of Maratha Empire) and they expanded the Maratha empire almost entire India. Last Maratha war was with British in 1818. From then on Maratha empire collapsed.
I just visited a few forts to understand the life of 17th century great Marathas who defended Hinduism and spread a slogan of "Swarajya".
Famous 5 Trekking destination of Maratha Forts
If interested in trekking you should experience Chavaand, Hadsar, Shivneri, Naneghat and Jivdhan forts.
कभी वह दिन भी आएगा जब अपना राज देखेंगे
जब अपनी ही ज़मीं होगी और अपना आसमाँ होगा
External reference
Wikipedea
Hits: 204