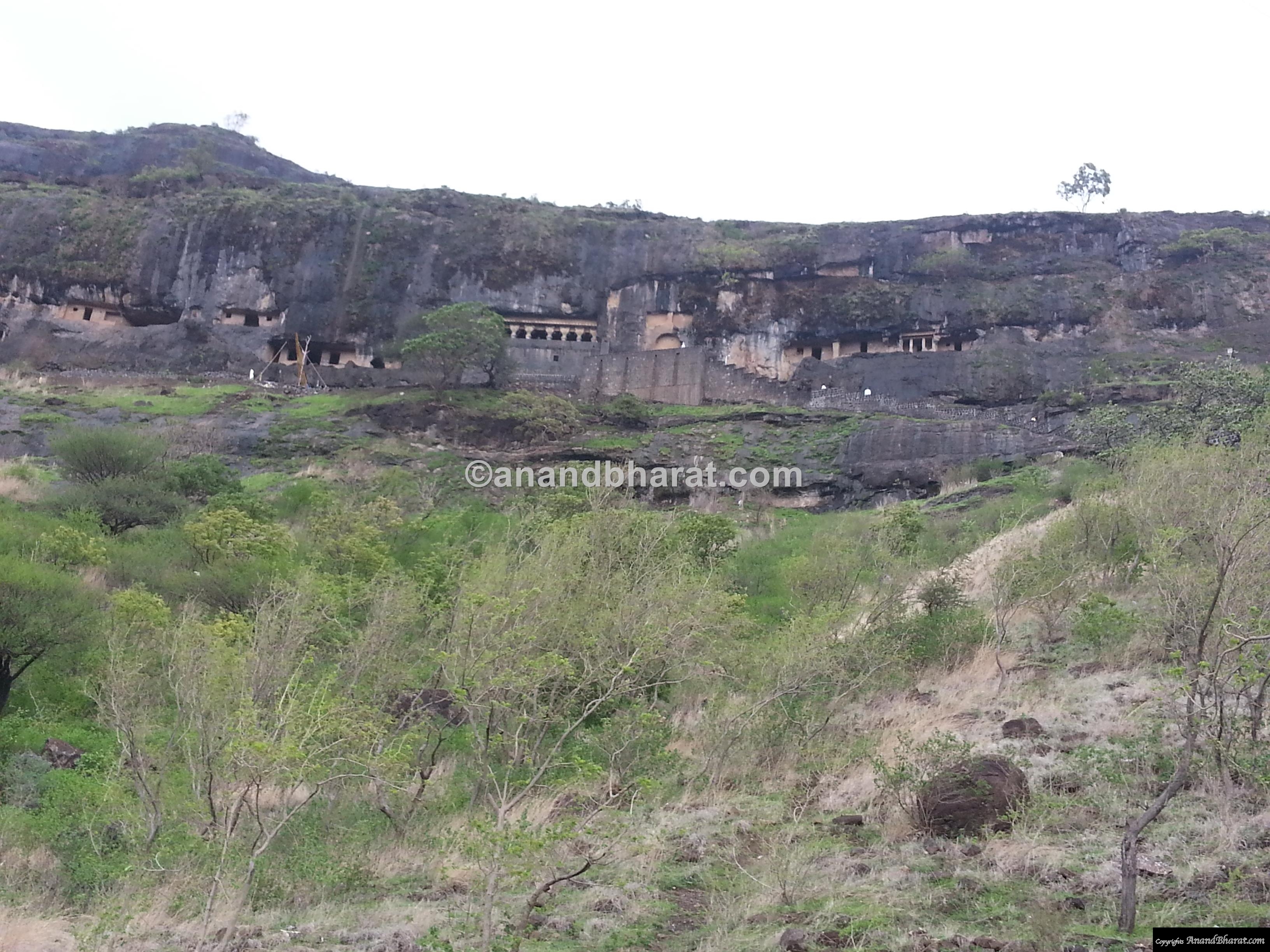 Lenyadri Caves- Mini Ellora Caves
                           Lenyadri Caves- Mini Ellora Caves
I had a plan to visit the Ozar Temple, lenyadri caves, Shivneri fort ( birth of Shivaji) and Chakan Fort in one stretch in a single day. The plan proved to be well feasible as all these fall in one line.
My entire itinerary ( 4 days) was as
Location and history of Lenyadri
Caves
Lenyadri is group of 30 caves located in Junnar taluk in Pune district in Maharastra,India. It is 95 KM from Pune. These caves are about 2000 years old and belong to  100 AD to 300 AD era and were built by Satavahan Kings who were ruling in entire maharastra,Andhra,part of Gujrat and all Karnataka. They were tributary of Mauryan empire and rose ot full power after mauryan empire fall. Lenyadri is said to be the place where Parvati performed penance(about 11 Lakh years ago) for 12 years to get ganesh as her son. And Ganesha spent his 12 years of childhood here.
Lenyadri is made from "len" means rock in Marathi and "Yadri" means mountain. That makes mountain cave.
Journey to Lenyadri
Started by taxi from Pune airport at 4.30 AM and reached Ashtavinayak Temple, Ozar. At 7 Am. After seeing this temple I started for  Lenyadri caves. The caves are nearly 5 KM from Ozar  Ashtavinayak Temple. I reached Lenyadri by 8 AM after a handful of photographs of surrounding village and nature views.
Note : There are 2 Ashtavinayak Temples near by. One at Ozar which I saw first this morning and other is  in cave number 7 of Lenyadri.
My catch
If you love historical places, nature and trekking this is a  place to see. This place has high religious value due to Ashtavinayak temple here. The steps are slightly tough to traverse.You will not be able to see caves other than cave 7 of Ashtavinayak due to monkeys menace. It is disappointing.
Reaching at top at Leanyadri
At the bottom of the hill there were several shops on foot hill of Lenyadri and yet a very serene and scenic place all around. Some sparse village houses are seen in the foot hill and mostly all land is used for agriculture purpose. I saw stiff pack of stairs (283 steps built (by devotees) in stone masonry over eight flights lead to the entrance)  in from of me to cover. I had to take rest at 2-3 rest points. I think it took 45 minutes to reach top.On way I saw some palki walas also carrying very old people. One palki costs Rs.700 up and down.
Monkey menace is huge
Cave number 7 ,house of Ashtavinayak is easily approachable. When I was nearing the temple on top , ferocious and fearless monkeys greeted me. Somehow with chasing me inside the temple.I was able to see Cave number 7 which houses a very famous Ashtavinayak Temple. Photography of Astvinayaka inside the temple is not allowed. Government should do something to deal with the monkeys. It is risky for tourists to visit this palce due to them. I had all desire to see all the 30 caves but I did not dare this in presence of monkeys.
cave 7 (  Ashtavinayaka Ganesh temple )
This cave was originally a Stupa and mediation center for Buddhist monks but later it was converted to Hindu temple. I remembered of Ellora caves when I first saw the cave number 7. I looked as mini version of Ellora though both are contemporary. The hall has 6 pillars and 57 by 51 feet. There are 2 windows on either side of the entrance. The left and right walls are having buddhist monk cells. The pillars have same design as I saw in many south temples. There are two other smaller entrances to the hall. All entrances bear marks of sockets for fixing wooden doors, added during the conversion.
Description of Icon ( Ganesha Statue)
Photography is not allowed in side the temple. The Ganesha form worshipped here is called Girijatmaja ( the son of Parvati)  who herself is daughter of the mountain Heenvan, a personification of the mountains of Himalayas. The features of the Ganesha icon, seen on the back wall of the cave, are the least distinct vis-a-vis the other Ashtavinayak temples. Though the temple faces the inauspicious south, – according to a local tradition – the deity faces north, with his back to his worshipper and his face visible on the other side of the mountain. The Peshwa rulers even tried in vain to locate the face of Ganesha on the other side. The central icon was covered with brass-plated wooden armour, given as a gift by Junnar. Brahmins, The armour is not present currently. After it was removed, Ganesha could be seen with his trunk turned to the left side, facing east, with one of his eyes visible. The icon is covered with sindoor and is directly formed/sculpted on the stone wall of the cave. Like all Ashtavinayaka temples, the central Ganesha image is believed to be svayambhu (self-existent), a naturally occurring stone formation resembling an elephant-face.
Legenary story
According to the Ganapatya scripture Ganesha Purana, Ganesha incarnated as Mayureshwar (peacock God), who had six arms and a white complexion. He was born to Shiva and Parvati in the Treta yuga ( 11 Lakh years ago), for the purpose of killing the demon Sindhu.
Once Parvati (Girija) asked her husband Shiva who he was mediating on. He said he was mediating on "the supporter of the entire universe" – Ganesha, and initiated Parvati with the Ganesha Mantra "Gam". Desiring to have a son, Parvati underwent austerities meditating on Ganesha, for twelve years at Lenyadri. Pleased by her penance, Ganesha blessed her with the boon that he will be born as her son. Accordingly, on the fourth lunar day of the bright fortnight of the Hindu month Bhadrapada (Ganesh chaturthi day), Parvati worshipped a clay image of Ganesha, which came alive. Thus, Ganesha was born to Parvati at Lenyadri. Later, he was named Gunesha by Shiva. Shiva gave him a boon that whosoever remembers him before starting a job, will successfully complete that task. For 15 years Gunesha grew up at Lenyadri. Sindhu, who knew that his death would be at the hands of Gunesha, sent demons like Krur, Balasur, Vyomasur, Kshemma, Kushal, and many more, to kill Gunesha, but all of them were instead killed by him. At the age of six, the architect-god Vishwakarma worshipped Gunesha and endowed him with the weapons Pasha (noose), Parashu (axe), Ankusha (hook) and Padma (Lotus). Once, little Gunesha knocked an egg from a mango tree, from which emerged a peacock. Gunesha mounted the peacock and assumed the name Mayuresvara. Mayuresvara later killed Sindhu and his army-generals at Morgaon, the most important Ashtavinayaka temple.
Cave number 6
It is stupa and meditation center for monks. Now no monks live here. There is hall 9.2 feet by 44 feet resting on 5 pillars. There are no monk cells inside this.
Cave number 14
This cave has a stup, has a flat roof. However, it has no pillars in the hall is very small. Veranda; pillars are in octagonal shape. The stupa is in three steps with a base of 8.5 ft diameter.
All other caves
All other caves were used for jain monk living cells. Note that earlier it was Jain temple but later Saatvahanas adopted hinduism and some caves converted to Hindu temples.
Epilogue
95 KM from Pune. Normally  most of the tourists miss this place though it is one of the contemporaries of Ajanta and Ellora caves. Lenyadri caves are group of 30 caves ( sadfully we can see only 2-3 caves due to fierce attacking monkeys here) built form 100 AD to 300 AD by Satvahan Kings who ruled all Maharasta, Andhra,part of Gujrat and all Karnataka. These are some places which carry our glorious history of Hindu kingdoms. You can club Shivneri fort ( Shivaji birth fort) from here which is just 10 KM from here. Pl go through whole article in this link to make a memorable itinerary if you love history.
Knowledge reference : Wikipaedia
Hits: 267