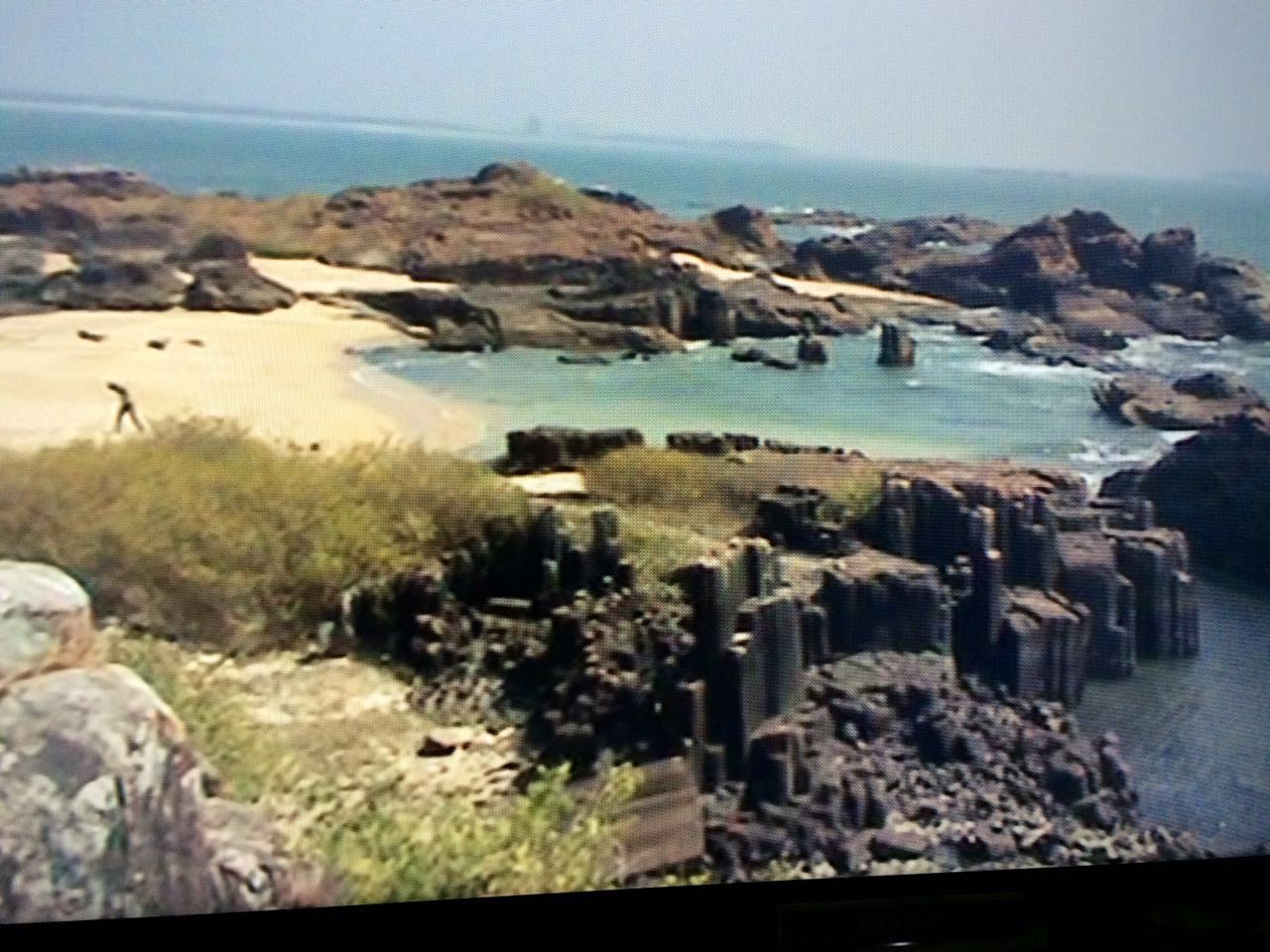 Udupi,St. Mary's Island- Vasco da Gama set first foot??
Place : Udupi, Karnataka, India March,2014
Udupi District in Karnataka State, India ,a center of pilgrimage, is famous for the Krishna Temple and mutt and lends its name to the popular Udupi cuisine. It is also known as Lord Parasurama Kshetra, and is famous for Kanakana Kindi(Window).
It was month of march when I had to go to Surathkal to visit my son. Thanks to that I got to visit Udupi as well!
Started from Bangalore by the Kannur-Karwar night train and reached Mangalore railway Station at hampankatta. From station you have to walk about 1.0 KM to catch bus.
There are plenty of local buses from Mangalore to Udupi from the station .Government buses are very few here, which is surprising. Volvos run every 1hr between Mangalore and Udupi. You can always wait for them.
We first had to go to Surathkal which was 0.5 hr from Mangalore is en route to Udupi to visit my son. From there we again caught the Volvo to Udupi. I wonder they ply it too fast and I feared during the journey. Still it took around 1.5 hrs to reach Udupi.
We found Udupi to be a small city more like a town. Good market if interested in marketing.
                     Malpe Beach
From Udupi bus stand it took 20 minutes to reach Malpe beach. Beach I wonder is not sandy. Cars\buses are allowed to be parked till very near (150 meters) to Boat point.
In addition to being a port Malpe is a fishing hub. We saw commercial ships construction. It takes 1 to 1.5 years for building a moderate size Ships.
Malpe also houses temples of Balarama and Ananteshwara. The temple of Balarama was built by Mogaveera king Maindan.
Four Islands near Malpe Beach
The islands are generally aligned parallel to the coast line, which provide clues to the phenomenon of uplift of the west coast of India.
Daria-Bahadurgad : Has a fort built by Basavappa Nayaka of Bidanur: Island is 10 KM from Malpe
Kari-Illada-Kallu : the southernmost island
Daria-Gadara-Kalluthe : situated in between the above mentioned two islands
St. Mary's Islands : also called thonse paar or Cocunut Island : 6 KM from Malpe.
Where to stay : No accommodation facilities available on St Mary's Islands. There are several resorts at Malpe and Udupi . Udupi can be used as a base for a day excursion to St Mary's islands.
My catch : If you visit Udupi any time the St. Mary's Island and ancient Krishna temple must not be missed.Very refreshing,memorable and even now I feel Island is smiling at us and sending a warm waving from far. Good for 1 day picnic.Government should pay serious attention to its maintenance.
                      St. Mary's Island
Starting from Malpe Beach to St. Mary's Island
We got ticket from counter at the beach to go to St. mary's Island. It was Rs.120 per person. Took 30 minutes to reach the St. mary's Island.
History
According to folk legend, in the year 1498, Vasco da Gama supposed to have landed at St. Mary's Islands on his journey from Portugal, fixed a cross on the island and named one of these islands, O Padrao de Santa Maria, as a dedication to Mother Mary, before proceeding to Calicut in Kerala. It is from this name that the islands got their current name.
Rocks
These type of hexagonal rocks are not found anywhere in India.Geological studies indicate that these islands were created at the time that Madagascar and Africa separated from India 88 million years ago. The rocks are hexagonal in shape, columnar in form, and made of basalt.Considering the importance and rarity of such an occurrence, these islands were classified as a National Geological Monument in 2001 by the Geological Survey of India.
Around the St Mary's Island
The Island is just enough to cover in 90 minutes. But land profile is unique and attracts tourists. The Golden sand, the emerald water, the hexagonal rocks, the coconut trees, the crabs, greenery , small hillocks ,the clear skies with white clouds and an endless view makes the a real attraction.
Cleanliness of Island 
We were a little disappointed to see the very poor maintenance of the Island. There were plastic bags scattered, water bottles, garbage all over the island. There was no arrangement of water or even a small canteen. Some uncompleted structures are den of garbage and stink badly. Government should pay all attention to the maintenance before it becomes unpopular. Govt. should make a small canteen with some snacks,sea food items,arrangement for garbage,Security.
                 Krishna Math Temple
The visit to Udupi will remain incomplete if you do not visit this ancient temple. Therefore visit to this temple was already in our plan.
After  Malpe we returned to the Udupi bus stand by afternoon from where the Krishna Math is hardly 1km.
The temple is closed in the afternoon and opens to worship again in the evening at around 3-3.30 p.m if Im not wrong.
This is a famous Hindu temple dedicated to God Krishna located in the city.
The matha area resembles a living ashram, a holy place for daily devotion and living. Surrounding this are several temples namely the 1000 year old Udupi Anantheshwara Temple. The Krishna Matha is known in world for its religious customs, traditions, and learning in Dvaita philosophy. It is also the centre of Daasa Sahitya, a form of literature that originated in Udupi.
History
This math was founded by Vaishnavite saint Shri Madhwacharya in the 13th century.He was the founder of the Dvaita school of Vedant. All Gods are placed facing West in this temple.
In night due to earthquake a wide rift created in wall enough wide to have darshana ( sight ) of God. Till today, devotees still worship Lord Krishna by praying through the same window. Udupi is also famous for this Window darshana ( Udupi Kinki).
Nearby Excursion Places
We also heard from some locals about a nature retreat place called Agumbe. This was 54 Km from Udupi. This place is called Cherrapunji of South India. Here is second highest rainfall  in India after Cherapunji. I had made a separate visit to this place and details can be found at link Agumbe.
Epilogue  When visiting Udupi you can plan to visit these 2 places mandatorily. Have a taste of Udupi food which is world famous.
Hits: 226