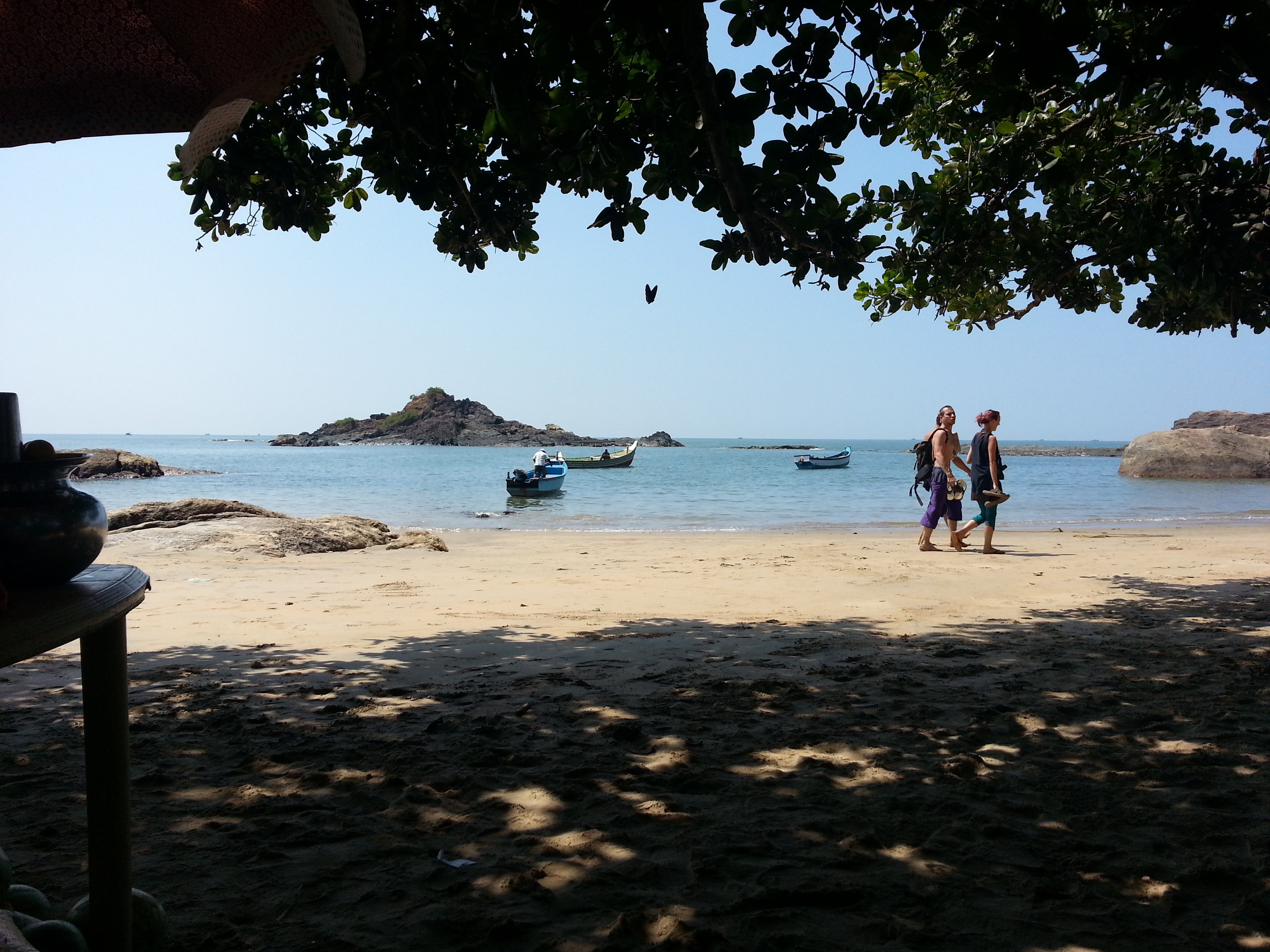 Gokarna is about 583 km from Bangalore, 238 km from Mangalore and  59 km from Karwar.
Travelling to Gokarna
I happened to visit Gokarna in my final year(Feb 2014) of  college in Surathkal with friends.You have plenty of trains from Mangalore . Hence it isn't crowded at all.We took the afternoon train from Surathkal  and traveled in the general compartment as this trip was totally unplanned .The train journey is about 3-4 hours.
We reached the Gokarna Road (GOK), the nearest railway station around 5.30 p.m. You can get down at Kumta (35 km) and Ankola (20 km); from there public or private transportation is available during day time. The Gokarna road has nothing around it. We were lucky to find a tempo traveler there by chance.You have an auto stand near the station where the drivers greet you with exorbitant prices.
It took us another 40 min by the traveler to reach Om beach which is the only beach accessible by a decent road.We reached the place by 6.30-7 p.m.
By Bus : If coming from Goa catch bus from Madgaon or Canacona to Karwar, then catch another bus to Gokarna. Private buses also operate to/from Hampi/Hospet.
By Train : Gokarna Road is the nearest railway station. Direct train is from Bangalore. Gokarna is accessible by rail from Karwar, Ankola, Kumta, Mangalore and Madgaon (also called Margao). Gokarna town is 8 KM from GOK and Buses,autos,taxis are available.
By Air : Nearest Airport is Mangalore, Dabolim at Goa
Reaching Gokarna is scenic, with the rocky mountains and Western Ghats on one side and the Arabian Sea on the other. Gokarna means Cow's Ear. It is believed that Lord Shiva emerged from the ear of a cow (Prithvi, the Mother Earth) here. It is at the ear-shaped confluence of two rivers Gangavali and Aghanashini.
About Gokarna
Gokarna is known as Kashi Of South as Lord Shiva is believed to live here.Blessed with some magnificent beaches. If you want to get acquainted with Hindu mythologies, culture , thoughts and natural beach beauty please visit Gokarna.
In season we can see many foreigners specially from Europe, Russia and Israel.
Mythological History(An interesting account)
Demon king Ravana's mother wanted Ravana to worship Shiva for the "Atma linga". So Ravan reaches Kailash mountain in Himalaya an abode of Lord Shiva and started his penance.Shiva being pleased by his devotion gifted Atma linga on the condition that he should take it back on foot and never put it on earth. Even once if kept on ground, it will get embedded in earth and can never be moved again.
Ravana started carrying the holy linga towards Lanka his home.
Legendary God Lord Vishnu noticed this and he did not want to make demon king Ravana to be invincible in presence of Atma linga so he requested Lord Ganesha to foil Ravana's venture. Ganesh took the form of a Bhrahmin boy and followed Ravana. When Ravana was nearing Gokarna Lord Vishnu used his magic wheel ( Sudarshan Chakra) and shadowed Sun.
Seeing that the sun was setting Ravana wanted to perform his rituals. When he saw a Brahmin boy ( In disguise Lord Ganesh). Ravana requsted the boy to hold the atma linga so he could  performs his evening ritual. The boy agreed to do so on one condition that if he got tired he would call Ravana thrice.If Ravana failed to respond to his call he would put the linga on earth.Ravana failed to come to Ganesha's calls and hence the "Atma linga" was put on Earth.
Ravana could then not move the Atma Linga from here ,THE GOKARNA.
Gokarna Season
Oct to Feb but rents will be almost double\triple in this season. Visit during Shiva Ratri (February-March) festival. The celebrations are a tremendous sight to watch as thousands of pilgrims descend on the town. Temperature varies from 28 to 31 degrees.
My catch
This place is no.1 to enjoy solitude beaches away from hustle bustle unlike Goa. I suggest you spend a night here to experience the beauty and awesomeness of this place.
This is one the greatest , scenic beach and tranquility rules here.
Also you can club trip to Karwar, Gokarna,Mirjai Fort and also might be Goa if you have more time.
Stay Gokarna
The Om beach is the best place to stay .However if you are a bachelor and Indian no way in hell will you get a place to stay here. Fume all you want but you are absolutely uninvited here .The owners as they put it for us ' don't want to make their foreign customers uncomfortable'. We spent almost 2 hours searching for a place to stay on this beach but all in vain. We however had a lavish dinner at the resort at the entrance of the beach .More like a consolation prize. We then went to the Kudlee beach as advised by one of the shack owners which is where they don't discriminate on renting out stay. Kudlee beach, offers cheap accommodations with rent as low as Rs.600/- in off seasons. Internet and travel booking are available on Kudlee and Om beach, but there are no ATM facilities.
                                    Beaches
There are four beaches in Gokarna.  All next to each other.
Kundlee beach : 20 minutes by walk from the town
Om beach : Further 20 mins from Kundlee
Half-moon : Further 20 mins from Om beach
Paradise Beach :Further 20 mins from Half-moon beach
In high season, during daytime there are boats cruising between the beaches and picking up the passengers.
In fact out of the 5 beaches, only Gokarna and OM beach are approachable by road. This usually means there are more Indian folks on the beach. For the other 3 beaches including Kudlee, hiking or taking a boat ride are the two ways.
Gokarna Beach
Gokarna beach is several kilometers long and is situated along the town. It is quite popular with pilgrims and Indian groups but less with foreign tourists.
I suggest to walk about 2 KM north from town along the beach, and things are much nicer and more pristine. The part of the beach closer to the Gangavalli River is actually quite stunning and not crowded at all.
To the left end of the Gokarna beach, a narrow path goes up a hill, where you cross a (Rama) temple en-route. This temple also has a natural water spring which according to the locals never stops running. The water is drinkable.
After climbing up some stairs, you will find flat ground and some breath-taking views of Gokarna beach.
 Kudle Beach  ( most famous, mostly foreigners)
This beach looks very unkempt, desolate and dirty in off-seasons. But come season time between November – February, this beach will be dotted with hippies.
Sunset-Cafe , on Kudle beach, is heaven if you are lazy and like to dig yourself into a rice pudding (and dozing off in between).
 Om Beach (Mostly Indians)
Om Beach is further along the coast from Kudle, and named for its shape as it is split by a rocky island.
It can be reached by auto, with a downhill walk from there.The second half of the beach is packed with restaurants offering cheap accommodation in the form of bamboo or concrete beach huts.
In the rainy season there are very limited options for boarding and lodging. This beach is reasonably clean all year round.
 Half Moon Beach
It is a very small and less developed beach when compared to Om Beach, and is reached by walking over the headland from Om. Facilities are limited, there are a couple of small restaurants and a limited number of huts.
 Paradise Beach
Paradise beach is the farthest from Gokarna town, but does not offer any facilities. The lodges and restaurants have been demolished by land owners (actually the forest department) and the police visit this beach at times to evict any residents and extort large bribes from anyone seen smoking charas.
There is only one guest house here . Pretty much isolated from the crowd, Paradise, the name suits this beach well. Its an absolute paradise! Its a very rocky beach, with sand in between. Waves are very strong, and it is quite dangerous to go out very far into the sea.
Evergreen cafe is the first shack on this beach, It has a few basic huts. Rooms on this beach are basically huts on the hillock. Cafe Paradise had fantastic food as well.
We did not spend much time here as we went to the beach on our boat ride and were on clock. But it would have been nice if we could chill out a little here.
Religious places
If you want to further venture out in the area apart from beaches .I did not visit these places as I didn't know about them then .
Here is a list of places you might like to see :
The Mahabaleshvara Temple : Famous Shiva Temple and it houses the 'Atmalinga'.Dravidian style of architecture, was first constructed by Mayurasharma of the Kadamba dynasty, who ruled between 345 – 365AD.
The Maha Ganapati Temple : is just meters away from the Mahabaleshwar temple. It is in honour of Lord Ganesha having played a hand in taking the Atma Linga from Ravana. It is common protocol to first visit the Ganapati Temple & then move to the Shiva Temple.
Koti Tirtha is an artificial water tank used for ritual bathing and is regarded as very holy by the locals. Koti Tirtha with its surroundings has an old world feel to it and makes an
interesting trip.
Excursion Trips
Mirjan Fort: 11 KM from town this is a big fort.The fort is
located on the banks of the Aganashini River, built in around 1550 AD. It is awesome to see this fort even if not aware of

history. Though origin is not ratified according to one version, Queen Chennabhairadevi of Gersoppa (under the Vijayanagara Empire) was initially credited with building the Mirjan Fort in the 16th century. She ruled for 54 years and also lived in the fort.During her reign, the port at Mirjan, which is 32 KM from Karwar, was used for shipping pepper, saltpetre and betel nut to Surat. Gersoppa.
Karwar : 59 KM.  Another stunning  serene sea beach tourist spot. Best time to visit Karwar is winter.
Hits: 302