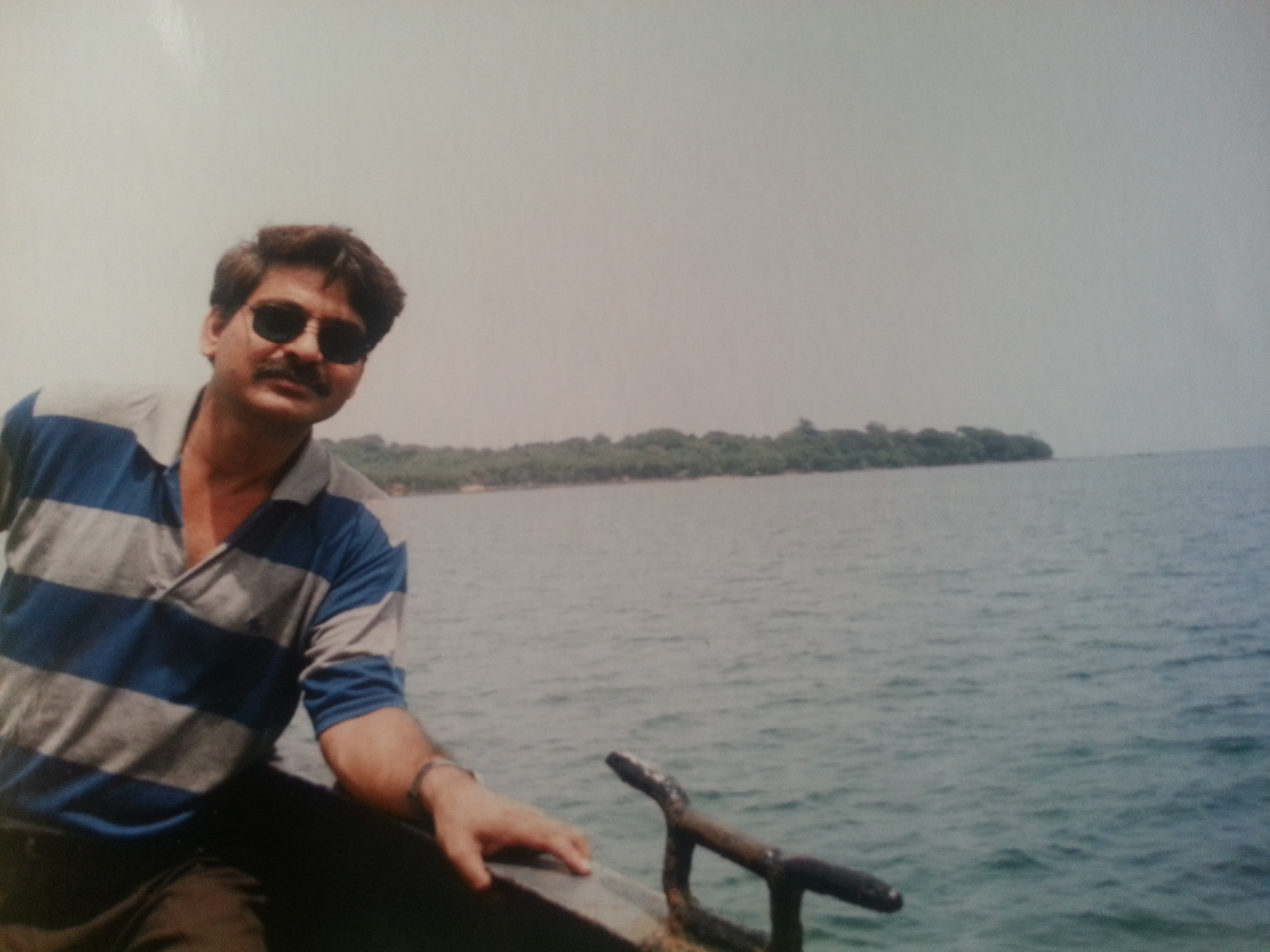 Andaman – Nicobar Islands- A Witness of Isolation
August, 2003
I was really curious about visiting Andaman and Nicobar Islands since School when I used to read about " The Kala Paani"  (Black water penal island),the remote place selected as penal island by British in 20th century for India's freedom fighters. As a kid I always imagined it to be a horrific place for imprisonment something that is hard to survive.Years later I finally visited Andaman in Aug,2003 with family.
To Andaman Nicobar Islands
We took train to Chennai from Bangalore.
From Chennai we took flight at 6.25 AM and reached Veer Savarkar Airport at Port Blair at 9 AM (2 hr. 30 mins).
I wanted to go to Port Blair by sea but time did not permit. By sea it takes about 66 Hrs one way. All ship fares are almost same.
We came out of airport and moved out with our small luggage. We started walking and started inquiring about hotels for stay. The hotels nearby were average but slightly expensive compared to their facility. To our surprise we found that most of the hotels were already full. I think after an effort of 1.5 hours we got accommodation at hotel Sompen and it was about 3 KM from Airport.
The flora and fauna in Portblair is not like that of the shore cities in India, it is a lot greener with a very different vegetation. It was August and so was a bit hot and sultry there. The view from my hotel was beautiful. I could see small hillocks from window of my hotel. We did not face any fooding issue.
I found the island to be dominated by a large Bengali and Bihari population.I later studied that during Bengal division in 1905 and partition of India in 1947 many Bengalis had migrated to Andaman.
I did not feel that I have come to some very different place compared to the main land except that this place was beautiful and innocent. It was hard for me to prepare and collect information about ship booking and since ship travel needed more preparation and fares were comparable to flight I preferred flight. Also in few months of season there are more chances of sea sickness as journey is about 60-66 hours.
Being with family I could not explore Andaman in detail by visiting all of its important islands and volcanoes. Just describing a few handful spots visited by me in my 3 day stay.
Water Sport 
It is in Port Blair so no need to take any ship. We visited this around 1 PM. Is is well spread in very large area and has many games. We had a good stroll along the very long walking path which may be about 3-4 Km long as I remember. The place is very beautiful with the sea laid out in front of you.This park is maintained very well and is clean. Just one restaurant is there on this Water sport park. We took some "pakodas" at about 4 PM .
There is a green beautiful and big park called Marina adjacent to Water Sport Park. It is very big park and can pass a good time here if you love parks and seeing the setting sun in quiet. By 6 PM we came out of park and just wanted to walk on streets of Port Blair. It is an average city with average cleanliness.Roads are not too wide and maintained as any small city in Indian main land.
Ross Island :
Next day we visited Ross Island by a ferry which is a big boat and carries about 20 people . Since the island is just 2 KM away from Port Blair we reached it in about 30 minutes.
We happened to meet an awesome guide who told us all about the British rule.The Japanese invasion during the II world war . Their ruthless oppression on the people then. So had a few very interesting stories about hidden treasures and under water canals.Secretly I do hope at least a few are true.A very interesting woman she was. Would definitely want to meet her again if I get to go to Andamans again.
The island is very small and you can walk along the shores to reach other end in not more than 10 minutes. This Island has many monuments as it was capital of Andaman – Nicobar till 1941 and after the earthquake the capital was shifted to Port Blair. As we can see several old govt buildings here in dilapidated state such as Church, Cemetery, Swimming Pool and Chief Commissioner's residence. A small museum of Indian Navy.
Habitation is prohibited in this island.
Viper Island
A small island derives its name from the vessel Viper in which Lt. Archibald Blair came to Andaman and Nicobar Islands in 1789. The vessel, it is believed, met with an accident and its wreckage was found near the island.
Another story says that the name originated from the presence of vipers, snakes, on the island.
We visited this Island the next day in a bigger boat. This island is 23 KM from Port Blair and took 45 minutes to reach here. This island is visited by almost all tourists as this is a place of utmost historical value.
Prior to building of cellular jail in Port Blair this was the isolation prison. We saw the building where the prisoners were taken to gallows and in total around 200 prisoners were hanged here. Sadness spelled on all of us to see the hanging altar. The entire execution building is now in dilapidated state and covered by creepers. A bell was there which used to ring when hanging was over.
Cellular Jail 
Entrance block has freedom fighters photo and exhibition gallery, Art gallery, Netaji gallery, Eternal flame is glowing,sound and light program is organised every day evening. The program is in 3 shifts. It remains closed on Sunday. Completed in 1908 in 12 years.
Stands three stories high and contained a total of 698 cells. Light and sound show of cellular jail is highly emotional. This is a must watch in Andaman and Nicobar. You will really know the importance of this place if you hire a guide to show you the jail. He will show you Veer Savarkar's cell and other famous prisoners. He will tell you the cell of Savarkar brother also and the two brothers did not know that they are here in same jail.
Chidiya Tapu  ( Birds Island )
This place is famous for its sandy beaches and the 'Sunset Point'. There is  another famous spot here known as 'Munda Pahad Beach'.  All the benches here are made up of old trees. You can also enjoy trekking here. Best visiting hours at evening sunset time.You are in for a treat if you love photography.
The forest guest house situated on top of a hillock provides (facing sea) is just adjacent to Chidiya Tapu tower. We climbed the tower had a fabulous view of isolated islands and one of the most beautiful sun set. Though the name is Chidiya Tapu (Birds Island) we did not happen to see even any birds there.
It seems in 2004 earthquake\Tsunami this tower took a pretty bad hit. You can also contact the local shops just before the entrance of the Chidiya Tapu for snorkeling equipment.
I am just sharing a few useful information which I feel will be useful for travel to Andaman Island. When I was travelling I did not have these information and I feel if I had these info my travel would have been far success and time economic.   
My catch
When travelling to Islands keep a small diary having geography and information about the Islands.7 days stay will justify the Andaman visit. I recommend to at least see Ross,Viper, Mount Harriet ,Neil Island, Barren Island and obviously you cant miss Port Blair.  Specially do visit Barren Island which has an active volcano just 500 meters in sight of yours.                 
Some useful Tourist info about Andaman
Travel by Sea
I am just giving as brief idea about how to book and plan your voyage to Andaman. Detailed info you can get from government web site (http://www.andamans.gov.in/) . There is no online portal for booking of ship ticket for Andaman. Tourist need to visit counter personally at kolkata,Chennai and Vizag to purchase the ticket.
For booking please contact the below offices.
The tourists have to come to Kolkata,Chennai or VIZAG at least two days in advance at port.
The tickets for all the passenger vessels are issued by Shipping Corporation of India
Kolkata : Shipping Hosue,#13, Strand Road, Kolkata-17.Phone no-(033)284456
Visakapatnam :  M/S A.V. Bhanoji Rao Garuda Pattabiramaiah & Co. Ltd., Post Box no-17, Visakapatnam
Chennai Dy. Director (Shipping Services), Chennai adjacent to Gate No.1 of Chennai Port, Opposite Customs Office, Rajaji Salai, Chennai-1.
Important Note : All above information is taken from internet from different sources when I was planning to go to Andaman. The info / phone number might be slightly old. Last updated in June,2016.
Information for Foreigners
http://www.andamans.gov.in/
Foreign nationals entry: Require RAP ( Restricted Area permit) which is easily available on arrival on Port Blair Airport or also if we arrive by ship. This is valid for 30 days. Can be extended for 15 days. A few islands only day visit allowed and some are prohibited.
Tourist Information Centre : Directorate of Tourism, Andaman & Nicobar Administration Port Blair.
Phone: 03192: 232694/232747
Transport in inter Islands
It is very convenient to travel in between islands. Some islands are connected by bridges so local buses and auto can ply. If islands are not connected then ships are available at good frequency. Note that only day stay is allowed in some islands. Some islands are strictly prohibited for public. To visit tribes islands special permission is needed from District Magistrate Office.
Where to stay in Govt Guest Houses
For Booking information in Govt see http://www.andamans.gov.in/GovtAccomodation.html. I am not sure of their responses. But I have seen Chidiya Tapu Forest Guest House and looked very good and faces sea exactly.
 Body
 Name of Place\Island
 Contact Number
Port Blair Municipal Council (PBMC)
Port Blair
03192 -243237
ANIIDCO
Horn Bill Nest,Port Blair,Megapode Resort, Port Blair

http://aniidco.and.nic.in
03192 -232207,232380

APWD
Guest Houses are at Kadamtala,Rangat,Campbell Bay,Hut, Bay,Diglipur.Baratang,Mayabunder
Forest Department

Bakultala,Baratang,Long Island, Mayabunder ,Diglipur,Wandoor,Chidiyatapu, Mount Harriet
03192 -240986  (chidiya Tapu ). For others sea above web site link.
Directorate of Tourism
Hawabill Nest, Neil Island
Tourist Information Service
Port Blair :- 03192- 232694/232747, 232694
For Accommodation Email id : accomodation6@gmail.com
Activites at different Islands and approach
 Island Name
Distance from Port Blair
 Information/Activities
Havelock Island(day /night visit)
39 KM  Ph 03192-233270,9933223848

4-5 hours by a motor boat

Most famous Radhanager Beach, Elephant beach, Kalapather beach,Elephant training centre, Scuba diving. Rated best beach in Asia by Time magazine in 2004. Recommend to stay 1 night at least.
Neil Island(day /night visit)
03192-232694, 233270

Boat will take 1 hr 45 Mins,

Lakhmanpur beach,Sitapur beach,Bharatpur beach

Private hotels are available here. Foreigners stay here for 3 weeks. A full day tour to watch underwater coral and marine life through glass bottomed boat.
Little Andaman
120 KM from portblair

7-9 Hrs

Surfing,trekking,Elephant ride,trekking, Hut bay beach,Butler beach,Kalapather beach. Entry to tribal areas is prohibited.
Barren Island
The only way to reach Barren Island is by Ship. Every Tuesday, Thursday and Saturday of the week, a passenger ship with a capacity of 75 pax goes to Barren Island from Phoenix Bay Jetty, Port Blair. The ship starts from Port Blair at 09.00PM and comes back next day 11.00AM
Active volcano. This island is about three kilometers in diameter and has a big crater of the volcano, about half a kilometer away from the shore.
Mount Harriet Natuional Park( only day  visit)
About 55 km from Port Blair by road (15 km by ferry

and road),

The summer headquarters of the Chief Commissioner during the British Raj, this highest point near Port Blair is an ideal place for a picnic or a trek. Mount Harriet has a Forest Guest House with lovely huts at a height of 365 m. Nice for sunrises and sunsets.
Wandoor
03192-232694, 233270  29 KM from Port Blair

03192-273258

Mahatma Gandhi Marine Park
Rajiv gandhi water sports complex
Located close to Cellular Jail .This is a sport complex as well as a harbor for boats to Ross island. It has a number of adventure water activities that going people can take part like Speed boat rides,banana ride,group boating ,sofa ride etc.Adjacent is Marina Park
Cellular Jail
 In Port Blair
Entrance block has freedom fighters foto and exhibition gallery,Art gallery, Netaji gallery, Eternal flame is glowing,sound and light prog. Completed in 1908 in 12 years. Stands three stories high and contained a total of 698 cells.

light and sound show of cellular jail It is very emotional. Hire a guide to show you the jail.

Ross Island ( Only day visit)
2 KM from Blair. boat ride from Water Sports Complex.

Area   square kilometer

Sound & Light show narrating the history can be seen on all days except Wednesday at 5.30 pm

 Initially this was capital of Andaman. After earthquake of 1941 capital shifted to Port Blair. Important ruins include a Church, Cemetery, Swimming Pool

and Chief Commissioner's residence. A small museum of Indian Navy, has a good collection of old records. No habitation is allowed on this Island.

Viper Island
 23 KM
Prior of Cellular jail construction in 1906 , this Island was the prison. It has ruins where prisoners were taken to gallows.
Chidiya Tapu
 17 km away from Port Blair.

You can reach by Bus from Port Blair

This place is famous for its sandy beaches and the 'Sunset Point'. There is an another famous spot here known as 'Munda Pahad Beach'. All the benches here are made up of old trees. You can also enjoy trekking here. Best visiting hours at evening sunset time. Fantastic click time there who loves photography. The forest guesthouse situated on top of a hillock provides a fabulous view of isolated islands
Samudrika Museum
Port Blair City
Run by the navy. It is divided into five sections: history of the islands, their geography, people, marine life and archaeology. Its a place where u can see the marine life of the islands…the boats..the people..the different types of corals, shells..and fishes…lot of information about different tribes of Andaman is mentioned…if u want to dig dipper about the culture of these islands..u must visit. This is a small place with 5-6 different rooms. Spend 2 hrs. History of formation of Andaman Islands
Corbyn's Cove,
7 Kms., from the town,
is the coconut-palm fringed beach, ideal for swimming, Nothing much here. It is a small ordinary beach. There are some water sports available here. There are couple of resorts / restaurant.If do not have time you can skip. Nothing much here ti see.
Nicobar Islands
No Tourism is permitted in Nicobar Islands. Just for introduction giving some information about Nicobar.Nicobar divided in 3 groups. Area 1,648 Sq KM. Out of this Great Nicobar is largest island (900 SqKM).
 Group of Islands in Nicobar
  Name of Island
 Comment
Northern Group
Car Nicobar
Central Group
Katchal + 8 other islands
2004 Tsunami about 6000 people were killed out of that 4600 were killed in Katchal alone.
Southern Group
Great Nicobar ( largest island of the Nicobars)

Little Nicobar
Time taken by ship from Port Blair to different Islands
Neil
37 KM  1.45 Hrs
Havelock Island
39 KM  1.45 Hrs
Ross Island
2 KM  Boat
Little Andaman
120 KM from portblair

7-9 Hrs

Barren Island
Viper
23 KM 45 Mins
Mount Harriet
15 KM 45 mins
Long Island
82 KM
The Mahatma Gandhi Marine National Park at Wandoor

29 KM
Best wishes and have an opportunity to pay your homage and deepest respect to those freedom fighters who sacrificed their golden years to see the freedom of their country.
Hits: 358