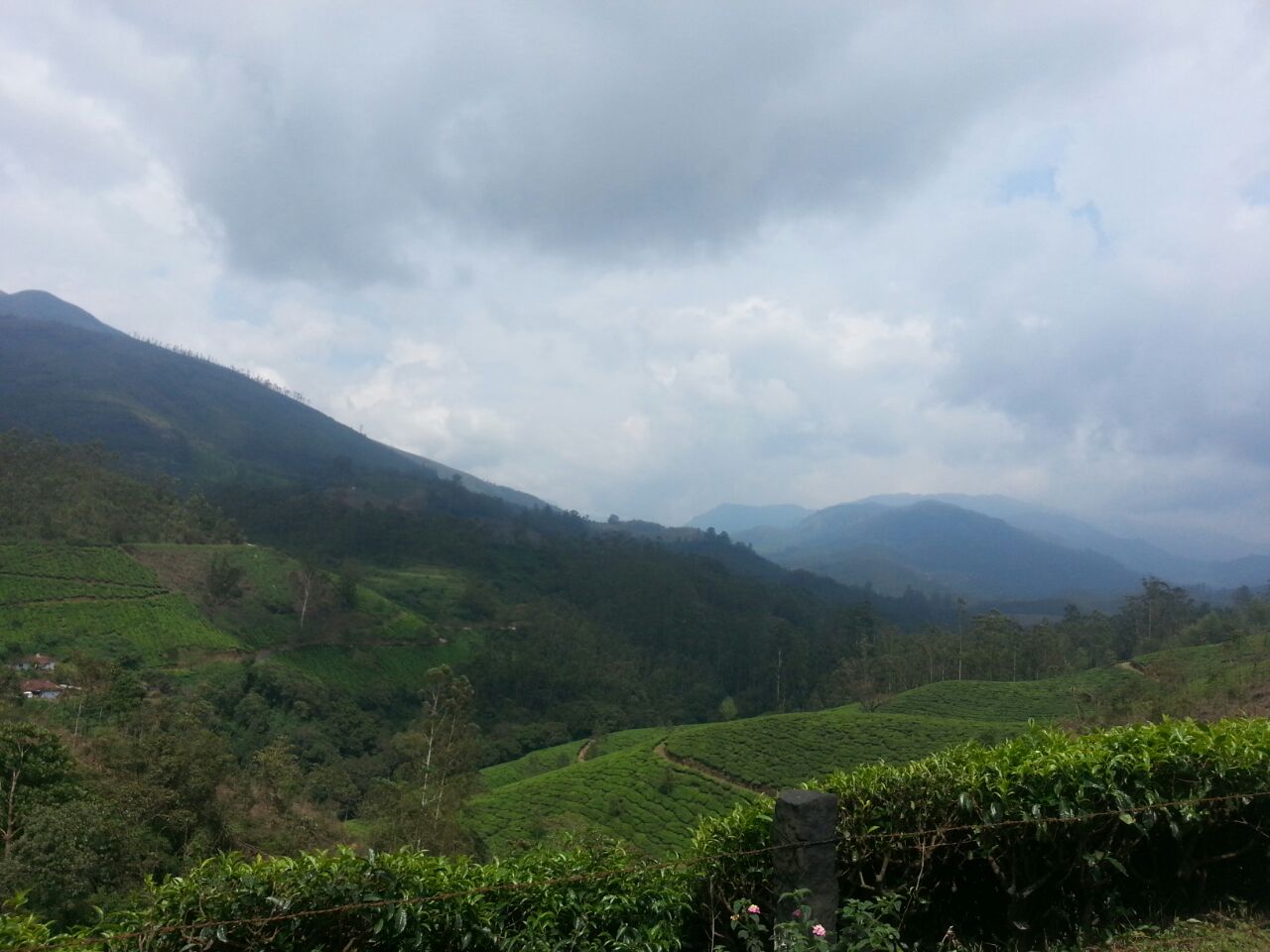 Munnar is a town and hill station located in the Idukki district of the southwestern Indian state of Kerala, India.
It is situated at around 5,200 ft in the Western Ghats range of mountains. The name Munnar meaning "three rivers", referring to its location at the confluence of the Mudhirapuzha, Nallathanni and Kundaly rivers. Munnar town is situated on the Kannan Devan Hills village in Devikulam taluk and is the largest panchayat in the Idukki district covering an area of nearly 557 Sqkm. The nearest major railway stations are at Ernakulam and Aluva. Nearest airport is Ernakulam(105 KM).
Distance from Earnamkulam is 105 km,Thekkadi 83 km, Coimbatore 157 km, Madurai is 230 km.
How to reach Munnar
These are some route options. Duration of stay you can decide based on your capacity and stamina.
If we follow via Coimbatore route we can come across to see more tourist places on way.
Option 1.    Routes are given in proper sequence.
Reach Coimbatore early morning. Same day  head for Munnar Via Pollachi. On the same day you can choose to visit Perur Pateeswarar Temple at Perur , Kovai kutralam Falls then Panchamuga Anjaneyar Temple at Vadavalli , Marudhamalai Subramaniya Swamy Temple , Echanari Temple on way. Stay at Pollachi/Coimbatore. Next day early morning move to Munnar via Chinnar Wildlife Sanctuary. Chances of seeing animals early morning.
OR
Reach Coimbatore early morning. On the same day you can choose to visit Echanari Vinayaga Temple , Alaiyar Dam, Alaiyar Monkey Falls ( Small ) – Valparai Hill Station ( Tea Estate ) – Solaiyar DAM – Chinnar Wildlife Sanctuary – Marayur – Eravikulam national park -Munnar
OR
Reach Coimbatore early morning. On the same day you can choose to visit Perur Pateeswarar Temple at Perur after that Isha Yoga Centre later Kovai Kotralam water falls.
Option 2. Coimbatore- Udumel pettu – Chinnar Wildlife Sanctuary – Marayur – Eravikulam national park -Munnar.
Option 3 If you are on LTA and want to cover all major tourist cities then follow itenary as Mysore-Ooty – Coimbatore- Kodaikanal – Madurai-Thekkadi-Munnar-Madurai-Rameshwaram-Trivendrum-Kanyakumari
My catch 
Munnar is an extremely scenic beauty. This place is more to rejuvenate  you. Do not exhaust yourself in chasing beautiful spots as all spots are great in Munnar. Try to cover outer Munnar as well and see villages around to read Kerala.If very much interested in seeing Blossom Park then go early morning else there will be long long que waiting for you.
Caution : Munnar is at full youth in rainy season but you may face some hours traffic jams in this season. If travelling with children keep enough eatables and water in store. Also at some points roads are narrow there are chances of some accident. We had a escape. So take care. Crowd is more in season time so it is not bad idea to visit this place in off season.
Stay of 2 nights and 3 days are sufficient.
Here is the program we followed 
Day 1: Since we were with old people we could not take hectic route of Option1 , we chose this option. We reached Coimbatore at about 1 PM , took Lunch and arranged an auto ( Rs.1000) to visit Marudamalai Temple. This temple is 1200 years old. Many types of herbs are found in this place and sold. Spent 1.5 hrs at temple and came back.
Day 2:  Early morning we caught an auto and reached Coimbatore bus stand to catch a bus to Udumel pettu (73 KM). From Udmalpet we hired a safari jeep and headed towards Munnar. On way we entered Chinnar Wildlife Sanctuary and Eravikulam national park and reached Munnar at about 6 PM evening.We did not see any animals in sanctuary but is was a cooling experience passing through this jungle. On way we saw Lakkom Water Falls.
Our hotel was in Devikulam about 20 KM from Munnar city. The route was really narrow and there were lot of issues due to narrow road. At one place really the car escaped from going off road due to narrowness.
We checked in at hotel and took rest. The hotel was at very scenic place and we could see the green hills.
Day 3,4 : Visited some local site seeing and different tourist points in this sequence : Devikulam -Kundala Lake – Mattupetty Dam -Tea Museum, Pothanmedu – Eco Point – Top station – Indo swiss farm -Devikulam
Next day we visited again some scenic points of Munnar, strolled in Munnar market, did some small trekking in tea garden areas. We also went to Blossom park we saw a very long que there so dropped idea of seeing the park.
Note : Once you can make a separate visit to Valparai Hill Station ( Tea Estate ) a very scenic place to relax. Hotels are available there.
Hits: 193