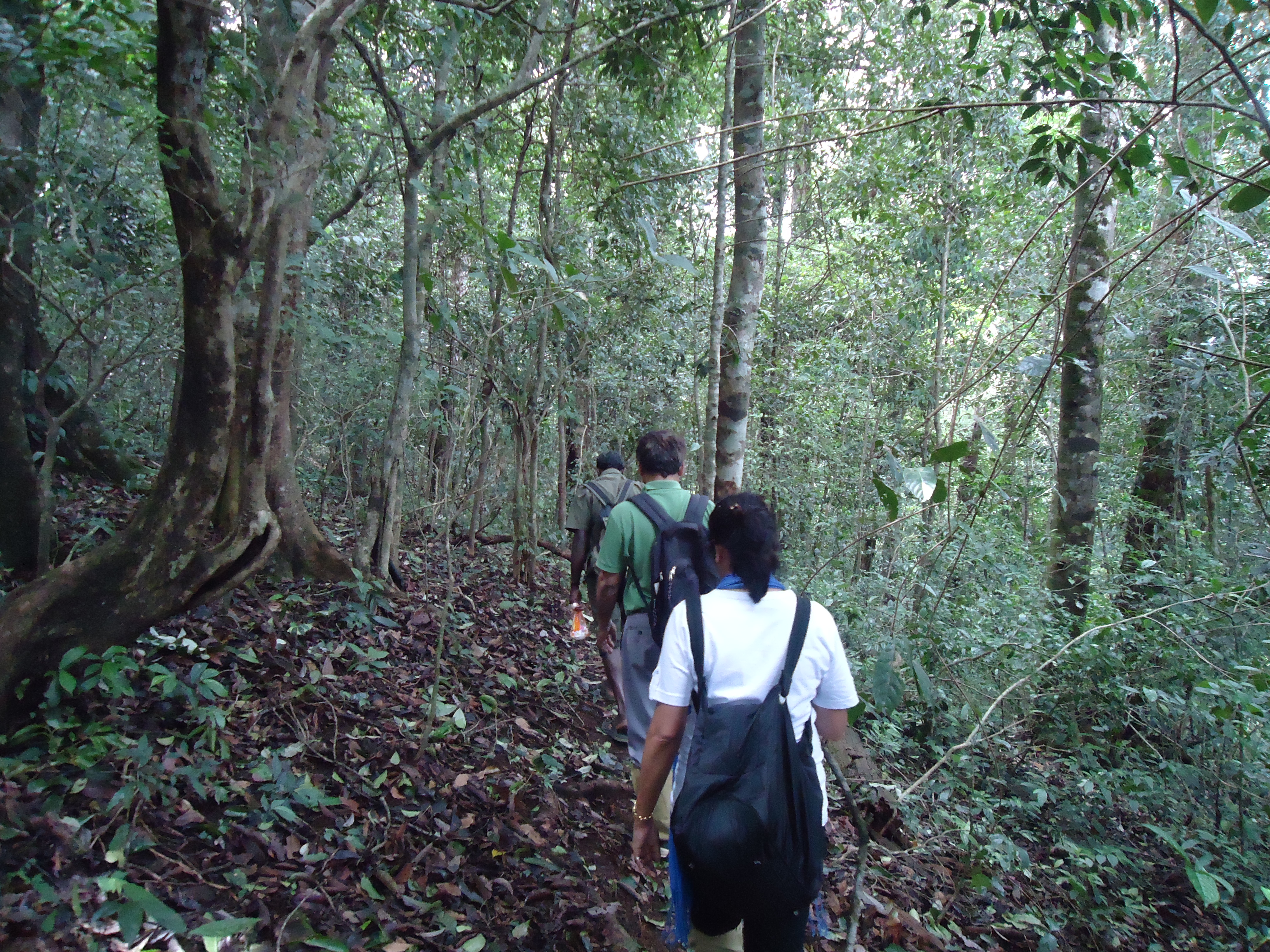 Thekkady- A not to miss place
Started from bangalore by Tutikoran exp 9.27 PM  and reached Madurai at 7.20 AM  on June,2013 and reached Madurai. Came out of rly station and contacted a travel agent in some shops just outside the railway station. With slight higgling he agreed for Rs.1500 taxi ( Tata Indica). Thekkady is about 137 KM( NH49, via Theni, Kumily ) .It was good scenic journey and road condition  was fairly good from Madurai
and took about 3 hrs to reach. On way took breakfast on road side hotel which was run ONLY by women.It was clean hotel.Saw unending wind-mills field . It was a good scene.
Other option from Madurai to Thekkady
There are plenty of buses from Madurai to Kumily from 1 AM night to 10.30 PM and bus will take about 4 hours. Thekkady to Kumli is just 10 mins by auto. Direct bus from Madurai to Thekkady is less frequent.While returning back we had taken bus in view of more safety than taxi.Please note that there are several bus stands in Madurai and confirm the correct bus stand name and location before proceeding to Kodai kanal\Thekkady\Coimbatore etc.While returning we took Govt Bus from Kumily and reached Madurai in exact 4 hours.
History 
Historically Thekkady does not have significant treasure . Pandyas ruled this region till 12th century. Then Kingdom of Travancore a Princely state till 1947( Evolved from Cher Kingdom) ruled here from 1729 AD.Last king of Travancore Chithira Thirunal Balarama Varma declared the forests around Periyar lake as a reserve place. In 1895 the Mullaperiyar dam was constructed which eventually created an artificial lake in 1899 .Lake extremely beautiful and now animals come here to enjoy, frolic and drink water. The area was declared as a forest reserve called the Periyar Lake Reserve Periyar Wildlife Sanctuary Thekkady Idukki District Kerala : 777 Sq Km total. 360 SQ KM forest. Periyar lake is 26 Sq KM.
Best season to visit   October-November to May.
Where to stay 
I am just jotting down some very good Government hotels as there are plenty of private hotels.I generally prefer to stay at government \forest\PWD hotels\guest houses only as they look more friendly and are away from crowded areas.
Lake Palace (KTDC) : ( Kerala Tourism Dev Corp)
Room rates start from 11K to 16K per day. Lake Palace, a former summer palace of the King of Travancore, is situated on an island in the middle of the Periyar Lake – 20 minutes by boat from the mainland. Located inside the Periyar Tiger Reserve, this is where the British Viceroys and Governor-Generals used to take time off from the world to listen to the call of the  wild. This lakeside jungle resort with 6 rooms and antique interiors within the Periyar Tiger Reserve is ideal for guests to watch elephant herds playing by the lakeside or take a trek across the jungle in the trail of the majestic tiger. Life couldn't get any more royal than this. You can book online : http://www.lakepalacethekkady.com/
Forest Guest House just beside Lake :  Just beside the Periyar lake there is a guest house run by Forest department. Room rates are reasonable and it is worth staying there if you want to enjoy the reserve. May be you can see elephants coming and drinking water.Better check with Kerala Forest and Wildlife Dept. Phone:0486 9222027
ये प्रकृति शायद कुछ कहना चाहती है मुझसे
ये कान के पास से गुजरती हवाओ की सरसराहट
ये पेड़ो पर फुदकते चिड़ियों की चहचहाहट
ये समुन्दर की लहरों का शोर
ये बारिश में नाचती मोर
कुछ कहना चाहती है मुझसे
ये प्रकृति शायद कुछ कहना चाहती है मुझसे
ये चांदनी रात
ये तारों की बरसात
ये खिले हुए सुन्दर फूल

ये उड़ते हुए धुल
कुछ कहना चाहती है मुझसे
ये प्रकृति शायद कुछ कहना चाहती है मुझसे
ये नदियों की कलकल
ये मौसम की हलचल
ये पर्वत की चोटियाँ
ये झींगुर की सीटियाँ
कुछ कहना चाहती है मुझसे
ये प्रकृति शायद कुछ कहना चाहती है मुझसे
Memorable Visit to The Periyar Wild life Sanctuary ( Periyar Tiger Reserve) :
Day before we had booked the trekking Jeep through hotel. After a brief bargain the rate came down from Rs.2,500 to 2000.
Lunch,breakfast, high tea was include in this. Note that inside the reserve forest department licensed vehicles only can get entry. Next day exact 5 AM he knocked our door. We swiftly prepared ,took water bottles,biscuits, light eatables and started. It took 30 Minutes to reach the entrance of sanctuary. Just within 15 minutes waterfall welcomed us from far. Morning 5.40 AM entered the forest. After my childhood I never entered any dense forest at 5 AM.
Soon we saw a junglee murgi was our first encounter. Then we saw morocco Squirrel. On way we saw beautiful water fall. Early morning sun was just rising when we saw 3 elephants with one elephant child on a hill far. The driver was expert and he knew where we can see the wild animals. We did not see the animals further. Then we reached Periyar lake at about 11.30 AM.
We undertook boating in lake and then trekking. Trekking was divided in 2 -3 groups. The trekking was very good and not so easy. We did trekking for 2 hours and then saw some cardamom farm. And then by 2 PM we came back for Lunch. Lunch was organised by Forest department as package tour and was really very nice lunch. We are thankful to forest department for giving us best possible standard of lunch in the area. The area where the lunch was served was near to lake and I have seen Switzerland a lot and even today I say the scenes were no less than Switzerland. We did a lot of photography here. After lunch at 3 PM we started back. On way back we saw several biasons, deers grazing on hills though they were quite far. Apart from these no animals we saw. But it was really memorable trip.
Other things to do at Thekkady
To accomplish all this we need to stay in Thekkady for at least 5 days. We just did Plantation tour, Saw tribal evening program. For the Periyar Tiger Trail- adventure Trekking & Camping :   Need to go to forest dept office which is in Thekkady market, give application and they conduct all the below programmes. You can choose some of their packages.The cost is very reasonable. The KTDC and Forest department office are in town only. Check with your hotel staff.
Plantation Tours: – The tour covers visits to spice, coffee and tea plantations, tea factories tribal settlements etc.
Elephant Rides: – The Forest department, Thekkady offers facilities for elephant rides through the Jungle.
A day with elephant
Boat cruises on the Periyar Lake :- The Kerala Tourism Development Corporation Ltd conducting trip from Thekkady Timing: – 0700, 0930, 1130, 1400, 1600 hrs
Village Tour: – Trips on Bullock carts Rs 500 per head.
Trekking Areas :- Kurisumala near Kumily, Pullumedu, Ottakathamedu, Grampi
Nature walk
The bamboo grove
The Periyar Tiger Trail- adventure Trekking & Camping :   Need to go to forest dept office which is in Thekkady market, give application.
Border Hiking – Protection oriented range hiking
Bamboo Rafting -Dawn to dusk range hiking
Jungle Patrol – shepherding the jungle
Jungle Inn – Jungle in the night
Bullock Cart Riding
Mangala Devi Temple
It is situated about 15 km from Thekkady at an altitude of 1337 m above sea level. It is surrounded by lush greenery and is closed throughout the year except during the Chitra Pournami festival. At other times tourists can still visit it by getting a special letter from the forest ranger.
Pandikuzhi : (4 km from Kumily) : Catch bus \auto. Or if regular walking habbit just walk to this place from Thekkady. Don't ever miss the cascading waterfalls of Pandikuzhi. The waterfall, splashing from 1200 feet height, is a sight, which you can never miss.Great place for those who, love nature. Valleys. foggy in rainy season, beautiful waterfalls, villages and people around there will make the scenes unforgettable for you.
Pullumedu : We did not know about this point. (43 km from Thekkady, 26 km from Periyar) the winding journey to this hill town, along the Periyar River offers a stunning view of the hills.
Options to visit other places from Thekkady
If you are on LTC or wish to visit pilgrimage then I suggest to consider below options
Mysore-Ooty – Palani ( temple)-Coimbatore- Kodaikanal – Madurai-Rameshwaram-Trivendrum-Kanyakumari
OR if you are at Thekkady then
Thekkady- Madurai-Kodaikanal -Madurai-Rameshwaram-Trivendrum-Kanyakumari
OR if time is less
Thekkady-Munnar-Ernakulam-Trivendrum-Kanyakumari
When travelling from Thekkady to Munnar on the way you can visit Chinnar Wildlife Sanctuary Almost 34 species of mammals including panthers, spotted deers, elephants, tigers can be found here. It is also a bird watchers paradise. 245 species of birds live here.
Distance from Madurai
Distance  by road KM
Bus

Time from Madurai

Train frequency
Thekkady
137
2.Hr 30 mins
–
Rameshwaram
170
4 Hr. 10 min
1 Train at 4 PM 3 Hrs 40 Mins
Munnar
90
5.5
–
Kodai kanal
120
4
–
Kanyakumar
235
9 trains  4-5 hrs
Coimbatore
235
5hr 10 min
1 train 1.20 AM 6hr 15 mins
Tanjavur
170
5hr 10 min
3 trains 3 hr 45 Mins
In the end I wish you a very nice trip to Thekkady.I feel that this  place and Munnar  should not be left unvisited if Ooty and Kodaikanal are on your target.
Hits: 179