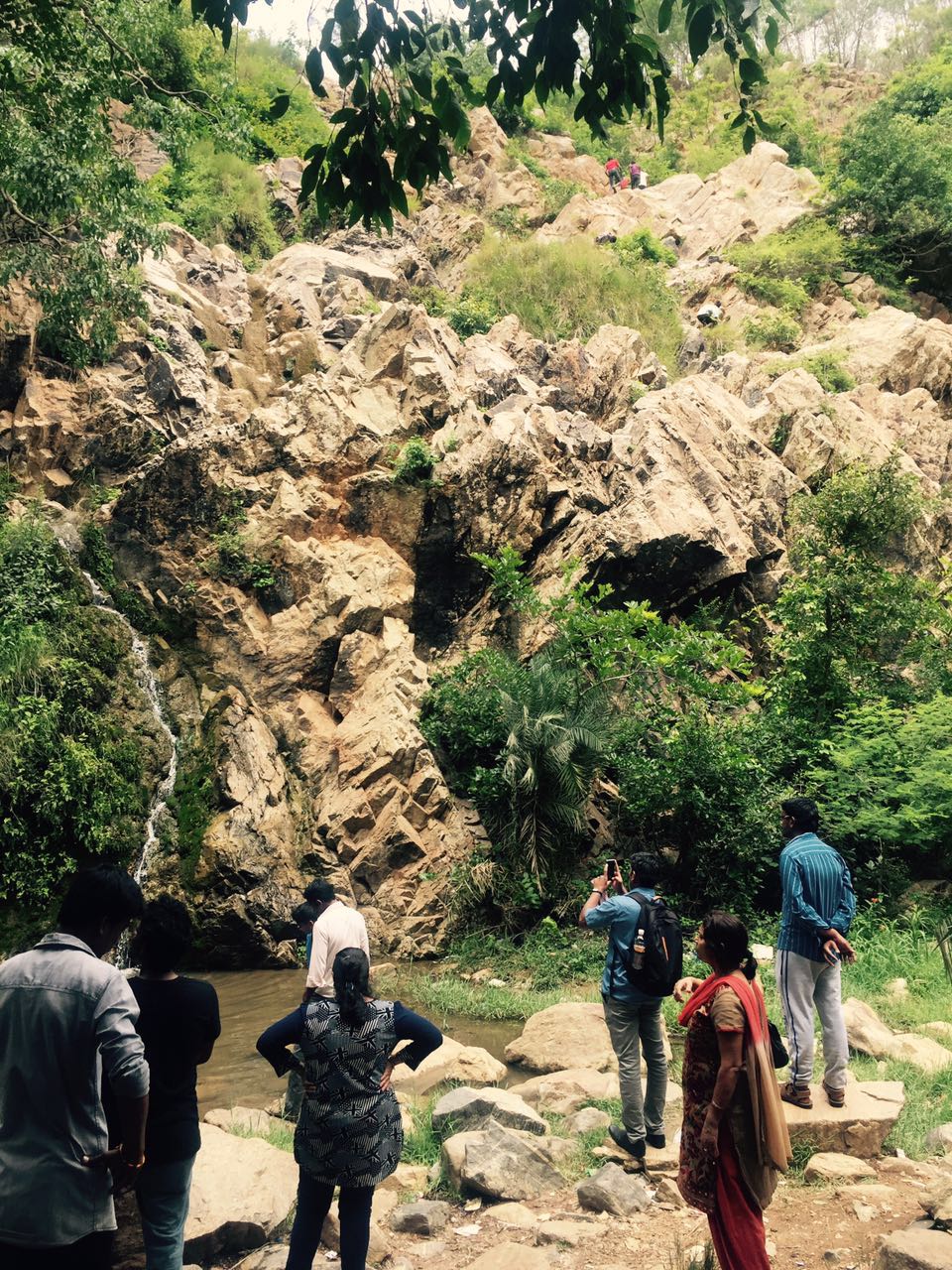 Pearl Valley Muthyala Maduvu -Trekking treat
I had been reading on net about Muthyala Maduvu ( Pearl Valley) for quite sometime. Finally on May 29,2016,a Sunday to visit the place and end my curiosity.
Here is brief of our journey.
How to reach
33 KM from Silk Board via Anekal. From Anekal it is around 8 KM
Why Name Pearl Valley
WiKi  says that the water falling from the waterfall gives an illusion of pearl hence the name. However we were not fortunate enough to see this happen. Visiting the place in summer wasn't the best choice because there hardly was any water. As heard by KSTDC hotel staff that best season is to visit just after monsoon till Nov end.
Staying at the Pearl Valley
KSTDC Restaurant which also has 5 rooms ( Rs.1000 per day).
Also found an decent resort "Happy Home"about 1.5 KM from spot, Rs.800 per person outing with food. It has tents facility, ,few indoor and outdoor games for children , 2-3 Emu big birds , swimming pool, rope games etc.I will say it is average looking staying place.
My catch
You may like this place very much or not like it at all. If you are here only for the falls you will be disappointed,However together with the trekking it becomes a pretty good picnic package. If you are nature lover and like trekking in jungle you will surely like it. But Trekking I think is totally at your risk as there is no one deputed to save you. Better follow the water stream while trekking.
Note:You will have to climb a lot of stairs when returning from the water fall.
Our Journey:
Started from house at 10.00 on Sunday and reached Silk Board at about 11.30 (this is when I had little traffic at KR puram, Marathalli).
From Silk Board this place is 33 KM. We chose Anakel route and had a breakfast at a below average hotel.I suggest to have breakfast before start as you may miss some hotels due to either one way traffic or just hoping that you will find a better hotel ahead.
About 6 KM from Anekal take right and follow a green tar road for about 3 KM leading you to the valley.
Pay Rs. 30 entry fee ( per vehicle).
It was good scenic road flanked both side by beautiful trees. We could not stop taking fotos on this road like others.
Again I had to pay Rs.20 as parking fee for the car. We saw about 15-20 cars parked there and a fair amount of crowd.
We reached the place by 1.15PM. The steps to the falls is right next to the parking area.After climbing down about 150 steps we reached the water falls.
Trekking place – Do as long as you can go
We ourselves were motivated to do some trekking in green forest along the river stream. Had a good experience. If some one wants to do decent trekking deeper into forest, I guess this is the RIGHT place to visit.You bring your own tent and try ,though not sure if its allowed.Be sure to check on that first!
Earlier I had done trekking in Yelagiri for a total of 4 hours but I found this trekking much closer to virgin forests.
Also you can try hands on fishing, teach your children fishing.
Return from Pearl Valley
We had to climb up about 120 steps to come out of the valley. In this process all fresh blood circulated in body from top to bottom and on reaching top we were tired but still feeling very fresh.Took lunch with monkeys in same plate :-).
One fenced natural water pond is also there near to KSTDC and we saw people swimming there. 4.05 PM we started from the place and reached 5.15 at silk Board ( I am slow driver).
Overall
Good trekking place for young guys. Try hands on fishing small jalebi fish. As per review 80% visitors did not like the place but I support this place fully and say you should pay it a visit for a day outing.
Government can make this place more attractive by providing some small zoo or snake park , deer park etc to attract more children and families.
Hits: 237