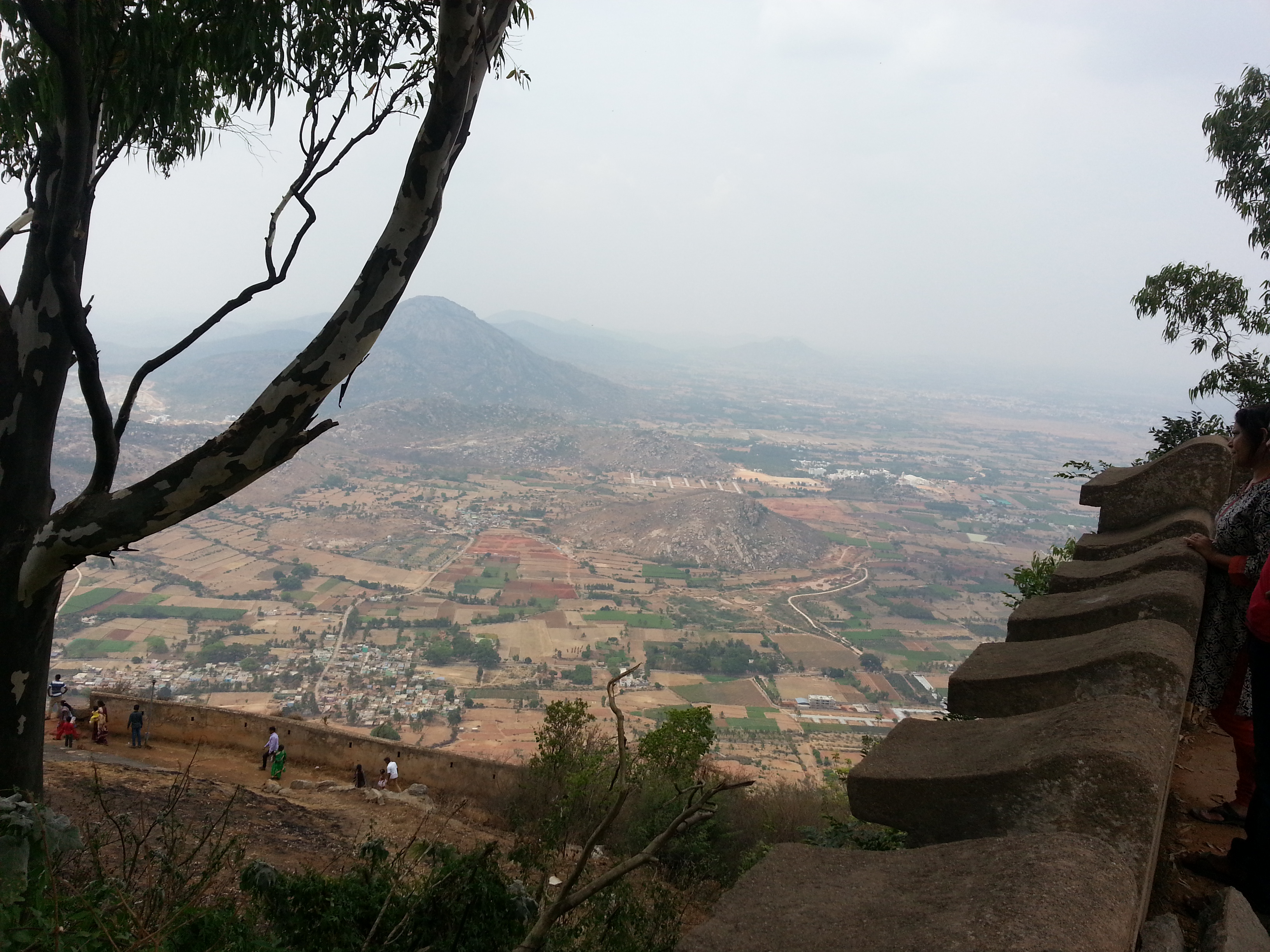 My first visit in 2006 to Nandi Hills was in a hurry because of which I really couldn't enjoy the place.After a wait of 10 long years I finally happened to visit it again in April,2016.The time was at my disposal.
My catch during this visit:
The places to visit here are scattered and confusing. Hiring a guide here from the Ice Cream parlor near the temple on the top might prove to be helpful. There was no single board which displays all the spots on this hill. .This place is sadly an example of apathy of concerned department for poor maintenance.People have also complained about the place not being safe.Here though  I didn't notice such.
Here are a few things you would like to know before you visit Nandi Hills.
Height from sea level : 4,851 ft. Just to compare Shimla : 8,051 ft, Yelagiri :3,643.7 ft,Yercaud : 4970 ft
Why the name Nandi : It is said that Nandi ( Cart of Lord Shiva) performed some devotions here. It may also be so because the Nandi Hill looks like sleeping bull from top.
Recommended length of trip : 6 hours.Better stay for a day by trying booking room\cottage to see sunrise.
How to reach : 60 KM from Bangalore . Follow NH7 beyond BIAL.About 6 KM from airport you will see a sign board for Nandi Hills.Take left and go straight..
The road to Nandi hills is absolutely good and safe. On the way you will find some good green and black grapes( Rs.100 per Kg) being sold.The slope of hill is not too tough and an average driver  can drive here with ease. There are about 8 hair pin bends here.
Government Accommodation
Nandi Hills provides modern, well-furnished accommodation for tourists.Nehru House, formerly Cubbon House, build by Lord Cubbon has 18 rooms , conference hall available for tourist.
For booking rooms: http://nandihillsreservations.in/
It prestigiously held the 1986 SAARC meeting. It was hosted by Indira Gandhi.
VVIP dining hall accommodates 25 people.
Policemen are available around the clock.
CCTV surveillance is enabled.
1 Room / Single or Double Occupancy 1 day (24 Hrs.) – 12 noon to 12 noon 2000+240(Luxury Tax)
I saw an engagement function taking place on same day in Nehru Nilaya.
Restaurant :  The Horticulture Department runs a vegetarian restaurant. The Karnataka Tourism Department(KSTDC) also runs a vegetarian / non-vegetarian restaurant "MAYURA".The food was average and not bad.Looked clean.Dont keep really high hopes with the food here.
On Reaching the Hill entry :
At  Hill entry fee point  we have to pay Rs.100 per vehicle after which you have to pay no other fee.
As soon as we enter we saw that entire road to reach hill top ( destination to temple) is under construction.
After passing the entry gate there is no problem in driving car as road is wide enough but we have to slightly struggle for parking as there was no one ( except some volunteers- courteously to pay them Rs.10 while leaving) to help.
On cursory look on the place looks like not well maintained spot even though we saw large number of people coming there for visit.State Government  attention is urgently needed  for better maintenance as large number of visitors I saw here than at least at yercaud/Yelagiri.
A few scenes at the point 
Temple
Tipu's Drop Point
As per historians, the site was the punishing point, from where convicts were pushed down to their death from a height of about 1900 feet. Located on the hill top, the location provides a beautiful view of the hill ranges. Along with the site, there is a shrine, known as Yoga nandeeshwara temple built by the Chola Kings.
Tipu Sultan's Fort
I could not really locate the fort. I think it was just an attempt to cover the whole hill by some walls. In some places we see this. I heard that fort is there but is not open to public.
Tipu Sultan Lodge
Measuring 12mX7m (904 sft) Regular 2 story building
Brick,mortar,wood. Tipu used to stay in this building whenever he visited Nandi Hill for hunting or expetitions.There is a fireplace, some glimpses of painting are visible on the walls still today.
Nehru Nilaya
Nehru Nilaya is one of the historic testaments of the region, which draws attention of tourists due to its distinct British architecture.At present, the bungalow is converted into a guest house by horticulture department of India. Along the sides of the bungalow, there are seating and playing arrangements, which are open for public.
Gandhi House
Mahatma stayed here. Reservation is done here only for important dignitaries.
Sunrise
We could not see sunrise as we had started late. In next visit we plan to stay at the Govt. Nehru Nilaya and watch the sunrise next morning.
Planned development in Future
I heard that Govt has plan to renovate this place but I did not notice any such activity there except that road was peeled of to make it ready for new tar layer.
Renovate Tipu Lodge.
Horticulture to setup up a one crore food court.
A 30 lakh music stage located on a three-and-a-half acre grove.
Horticulture department is developing 140 acres of land in the Nandi Hills region with the creation of a large scale exotic botanical gardens.
A Planetarium with an initial one crore investment is also being constructed
A Gondola Lift
Needs Maintenance
It was saturday when I visited this place and saw hundreds of visitors. But noticed that this beautiful site is victim of apathy of the concerned department.Though certian schemes like above are planned. Below are some pictures.There is no one to guide for parking.
Hits: 247