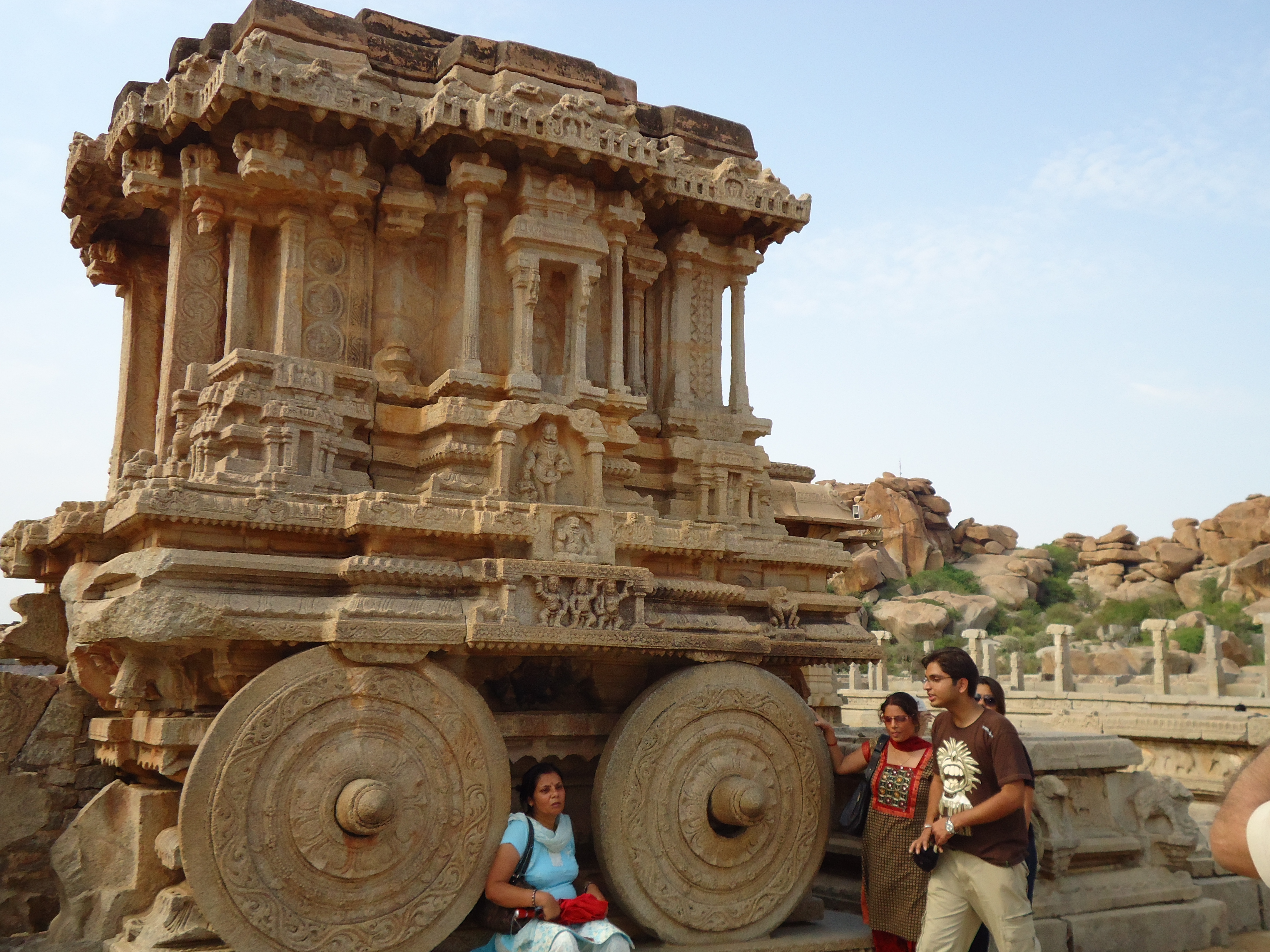 Hampi -The pride of India
Vijaynagar Empire (Capital Hampi) is noted to be one of greatest empires in its contemporary era by historians.
History :
Contemporary India History : Established in 1336 by 2 brothers Harihar and Bukka.
They are said to be serving in Hoyasala Empire before coming to Bellary after the empire weakened. They  met a saint named Vidyaranya in jungle during hunting and he inspired to make a  kingdom to save from Muslim rulers (Behmani in North most Karnatak, Maharstra and little of south Gujrat).
Decline of Vijaynagar started in 1565 till end in 1646.
Contemporary world during this time :  Timur (Mongol) prevailed in almost all South Europe, Ming dynasty in China (They drove out mongols), beginning of the Ottoman Empire with decline of Byzantine. Vasco-da-gama arrived in India in 1498. Qutub Minar was 100 years old by this time.This period saw Delhi Sultanate in North from Iltutmush to Khilji Dynasty till Mogul empire establish in 1526 AD .
Vijay Nagar Kingdom at peak : All south India except little of north Karnataka, little of north Andhra,whole Maharastra. Hoysala Empire, Kakatiya dynasty, Madurai Sultanate, Pandyan dynasty, Reddy dynasty were at decline when Vijay Nagar was originating. Behmani kingdom (feudatory of Allaudin Khilji as a result of revolt), Kartiks in Orissa were their neighbor kingdoms. There were frequent wars between Behmani and Vijay Nagar empire. Finally Behmani was responsible for plunder of Vijaynagar.
Started by train from Bangalore : Around 9.30 PM , reached Hospet at about 6 AM
Hospet to Hampi is about 25 KMs. We opted to stay at KSTDC hotel ( 8 persons 2 rooms Rs. 800 each per day per room).It was nice, homely, neat, safe and gave a feeling of a govt guest house. Hotel is lonely place so was good to stay here. Staying in Hospet would be right decision with economy point of view but I thought if we had stayed in Hampi and roamed around the place at 12 'O'clock midnight in Vijaynagar Empire would have been a still more memorable. Describing a few important monuments and I emphasize to take a guide for 2 full days to know Hampi in real.
Day 1 
Hotel reception booked a small cab (20 seater) for Rs.2200 for full day with Guide.
Reached Hampi in 1 hr. It was a very nice journey seeing big rock boulders, one very long wall which was constructed to save the city from enemies.
What to see in Hampi :  It is more that to see more we need to feel. We should go there after going through entire study on Hampi. There are around 100 monuments to see in Hampi. So one needs guide for 2 days.
Beautiful temples ( Inverted image show by guide from a hole in the Virupaksh temple), Hanuman statue, Narsimha statue, beautiful river nearby, palace where queens lived and protected, how they made their rooms air conditioned, elephants stable, how the punishment was given to culprits, Government office civil structures inside Hampi, secret government meeting places, how they displayed the Arabian horses in bazar, Citi Bazar of Vijay Nagar time…..
it was really a very informative cab tour. The weather was very hot but still it was so interesting.
Actually we need to go to these places not for picnic but if go there to feel the places, it will be a great experience and we can do justice to such places.
Virupaksha Temple
This temple is just next to where the local bus.Before Vijay nagar stated there was a small shiva shrine. Later this shrine developed into big temple by Vijaynagar kingdom Raja Krishna dev Rai in 7th century later Chalukya,Hoyasala Kingdoms contributed to its expansion. In 1565 Vijaynagar was destroyed by Behmani but
religious senct of thois temple did not destroy till today. The sanctum contains the idol of lord Virupaksha
in the form of a Linga.Sorrounding this shrine are sub shrines are that of Goddess Pampa and Bhuvaneswari,consorts of lord Shiva. In front of main temple there is the giant north tower, called Kangiri Gopura.
Vittala (lord Vishnu)Temple
This is the very extravagant piece of architecture dated 15th century.
Richly carved musical Pillars hall, stone chariot. Different pillars will produce different music.There are 4 halls.
Northern: Narasimha slaying Hiranyakashipu.Prahlada is seen sitting at the base in a praying posture
southern hall : mythical creatures called Valis sculptures
Eastern Hall: Musical pillars.
Chariot
Located inside Vittala Temple this is one of the most important monument in Hampi.This famous chariot is in corridor of famous Vittala temple Chariot once contained the icon on Garuda Garuda(Eagle) chariot who is mythologically transport for Lord Vishnu. All around this base platform is carved with mythical battle scenes.In front of the chariot two elephants are positioned which were
brought from elsewhere and positioned here at a later stage. Symbolically these elephants are pulling the chariot.
The Hemakuta Hill
This is the place where Lord Shiva married goddess Pampa ( daughter of Brahma) and all gods gathered on this hill and showered flowers on this hill.
Pampa Sarovar
Related to Shiva and Parvati featured in Ramayana, Sabari a devotee of Rama met here. Nearby is Laxman Mandir.
Achyuta Raya's Temple
The temple dedicated to Lord Tiruvengalanatha, a form of Vishnu , was constructed in 1534 AD by a high officer in Achyuta Raya's court. This Achuyraya is same who had donated some land to Kempegowda who founded Bangalore on the same land.This temple has carvings like lord Krishna playing flute and the calves watching it with interest, lord Vishnu blessing an elephant.
Day 2 
We just wanted to enjoy Hampi and see the places on foot without any pre-occupations.
We just roamed here and there, sat below the trees shadows, explored some more places on our own by walking on foot. This is an interesting aspect when you feel the place.
Zenana Enclosure
It was reserved for the royal women.This walled harem houses many interesting highlights. The major attraction is the Lotus Mahal.The whole area was the private enclosure for the royal women folks. The Queen's Palace(visible only the basement) is located at the  middle of this area, on the left side of your path. Measuring about 46 x 29 meters, this has been the largest palace base excavated
in the Hampi ruins so far.The hijras used to guard the queens.Nearby this is the elephants astable.
The whole Zenana enclosure is encircled with a tall and broad walls made out of cut stones arranged in interesting patterns.
Pan Supari Bazar :
Not certain when this bazar started functioning but Pan Supari Bazaar can be found in an inscription
by Devaraya II (1424-1426 A.D.), the 9th king of the Vijayanagara Empire.
Presence of the market place indicates that the VijayanagaraEmpire was truly a very wealthy kingdom that attracted traders from even far off countries and kingdoms.
Dasara Tibba, King Balance,Narshimha temple :
At Dasara Tibba  all public gathering used to take place. Performances  were given by artists.
Nearby is King Balance.This is a tall balance where king used to be balanced with gold, silver and precious stones on special occasions like lunar/solar eclipse and this wealth used to be distributed among poor and priests. In one of the pillars we can see kings carved images.
By 3 PM we were tired and took bus from Hampi to Hospet.
Evening at 7 PM we went to  Tungabadra Dam which was at walking distance from our KSTDC hotel.
Wonderful garden, Musical fountain.The Musical fountain garden is very big and I could compare it with Vrindavab garden. It is so big. At night boarded train for Bangalore (8 hrs) to reach Bangalore at 7AM
Optional : If you have more time you can go to a place called " Badami- World Heritage" 5 hrs by jeep from Hampi. But Badami visit will need 2 days full to have real taste of monuments.
For those who are interested in History:  Read the history from 1300 AD (All-ud-din Khilji), Behmani, till 1526 (Babar) to understand Vijaynagar Empire.
Hits: 594