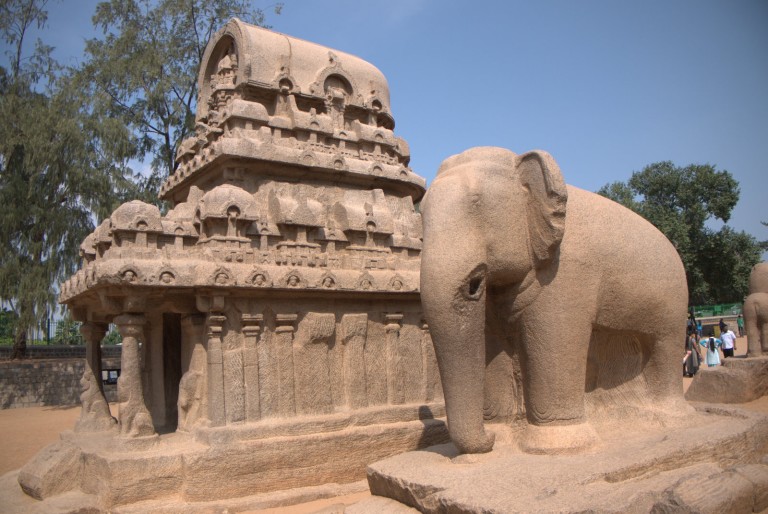 Mahabalipuram- A Jewel on Bay Of Bengal
In Oct,2013 we happened to visit Chennai. Our hotel manager told that since you have time you could visit Mahabalipuram. On his advice we took a SUMO taxi (Rs.2000) and proceeded.
Contemporary History :
Visit this place if you want to see the beauty of Dravidian architectures/temple built by South India Kingdoms ( 7th Century Pallava Kings Narasimha Varman I and  II).
In 7th century South India had powerful kingdoms.Vijay Nagar empire came after their decline,
Pallava were kings in Tamilnadu \South Andhra  region and contemporary kings were Chalukya that time in Karnataka and upper Maharashtra.
Chalukya were the people who constructed Badami caves, Contributed in Ellora cave temples etc etc.
Seeing contemporary world that time Roman empire had vanished, Byzantine were ruling in Europe, North Africa, Iran, Iraq, Turkey. There were some trade links between Europe and Pallavas those days and a sea port was built at this place by them. By the time these temples were being constructed  Islam was just in offing when Mohammed Sahab was born in 630AD.There were all tribals in middle east that time.
Started at 8 AM
Reached Sri Perumbudur 10 AM   :  On the way, 40 KM from Chennai you will pass the Rajiv Gandhi momorial.This is where he was assassinated. It is ver well maintained and sholuld be visited. The exact spot of the event are clearly chalked out  as well.
The momorial has beautiful gardens and is definitely place worth 2 hours of your time.
Samsung Mobile HW company is very near to this monument.
.
Reached Kanchipuram  12 AM   :
We took lunch and proceeded to Kanchpuram( 70 KM from Chennai). This city was capital of early Cholas during 300 BCE – 200 CE.
To understand contemporary history.
Chalukya the powerful Karnataka kingdom ( Pulkeshin II who had defeated King Harsha the powerful ruler in North and central India) used to attack Kanchipuram occasionally. But Pallavas defended the city,their pride well
Due to shortage of time we could only see Varadharaja Perumal Temple(12th century ) built by  Cholas.
Basically if you really want to feel the history and this ancient city spend 2 days here. Many temples are there which were constructed by Pallavas and cholas. Buy Kanchipuram saree from here to gift to beloved ones. Sri Sankaracharya lives in this city.
Reached Mahabalipuram 3 PM:
Then we moved for Mahabalipuram:
The actual site seeing place is not very big and site seeing spans within 3 sq KM.
The beauty of this place was stunning and I did not expect to see such an old monolithic temples and beautiful architecture elsewhere.
Shore Temple :
Constructed in 7th Century by Pallavas ( Narasimha Varman II).There are 3 temples in this 2 Siva temples( Facing East and West) and one Vishnu temple. Other parts of temple are Brahma, Ganesh, Skanda and their wives.
This temple is built from top to bottom unlike other temples. 3 generations of Pallavas took part in this.
Arjuna Penance: This is at walkable distance and is another great piece of architecture.
Once you stand here and feel the presence of some of the greatest kings of the times who may have shared the same space as you ,you will really feel the greatness and power of these creations.This rock is shaped like a huge wale
Panch Rathas:
Single rock carving in form of rathas. You will be left wondering how could these magificient structures be constructed with technology of 7th century.
The five rathas are (i) Draupadi's Ratha, (ii) Arjuna's Rath, (iii) Nakul – Sahadev's Rath, (iv) Bhima Rath and (v) Dharamraja Yudhistar's Rath.
People believe it should be given a place in world's wonders list.me included.
Dating about 650 AD the caves depict Krishna lifting Goverdhan mount to save Mathura from floods.
And also some sculpture showing Krishna frolicsome with Gopis(milk maids).
Mahishasura Mardini :
Mahishasura was a demon who intended to destroy all the Devas since they were the enemies of Asuras(demons). The legend of Mahishasura is important in Hindu mythology since the goddess Durga was born to slay him.This place is very close to Five Rathas.
There are several other places in this area. like the museum,art sculpture shops,and some more places worth visiting if younhave the time.
Tips:
1.If you are the person who likes historical places then you can/t afford to miss this! Do visit having read a little history of south India from 500AD to 800AD to pay homage to the works which our ancestors  have left us behind to remember them and their legacy.
2.You can take motorcycle on hire or auto on hire,Most of the monuments are within 2 KM radius so you can either higher auto or motorcycle.
3. There are many good resorts and hotels in Mahabalipuram.
4.It will take 8 hours to see all monuments and if you are in hurry then you can try and rush things to complete the tour in 4 hours.
On way back to Chennai we visited Golden Beach. Big beach but worth seeing if you have children with you. Otherwise tickets are costly.
Reached Hotel at  10 PM the same day.
Hits: 155