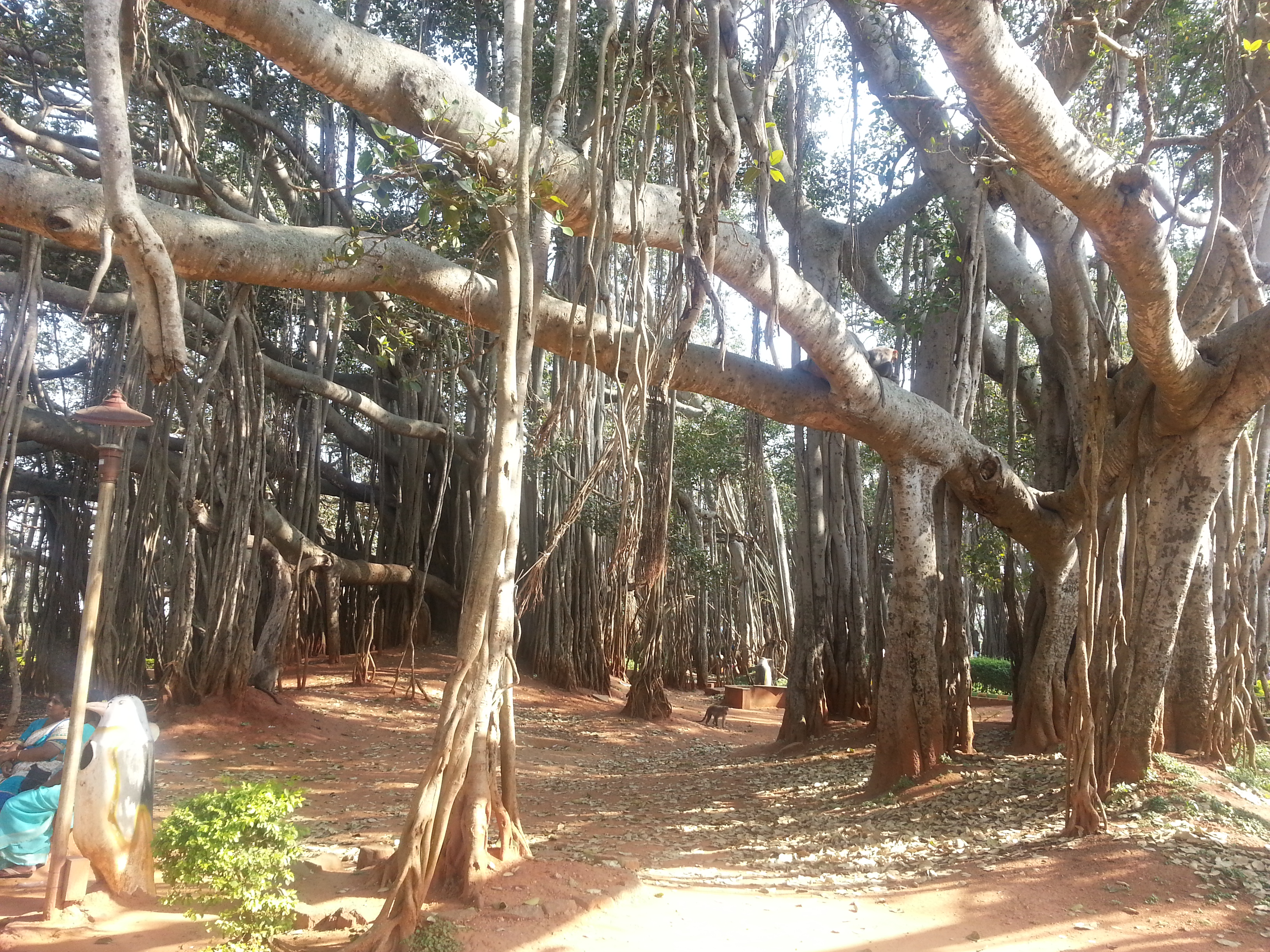 Big Banyan Tree – A witness
On the long christmas weekend last year we had nothing to do.So out of the blues  we decided to pay  "The Big Banyan Tree" a visit.
Decided this at 9 a.m in the morning made a fee calls to people and by 10a.m had a bunch of people all set to go!
We had all heard and read about the big banayan also called the 'dodda alada mara' translated to the big banyan tree nut never were able to plan a trip . So though sudden and unplanned we were in full zeal to pay our homage and respect to this beloved.
Please note that this tree is neither the biggest nor the oldest in Karnataka. Many people mistake it to take it as biggest or oldest trees in Karnataka\India thanks to its name. But being one of the biggest
And one of the oldest trees enjoys the tourist attraction as we know every thing old is gold.
Tree name : The big Banyan Tree (Ficus bengalensis)
Age of tree : Estimates to be around 400 Years old.
4th biggest tree after Kolkata, Andhra Pradesh, Adiyar tree in Chennai
Area covered : Circumference 150 meters, 3 acres, Highest trunk 95 feet high
Location : Kettohalli Village
How to reach : Direct buses from KR Market or Majestic to Kangeri and then from Kangeri to Big banyan tree. By car it took 2 hours from Hebbal-Nice road-Kettohalli Village.
Interesting facts :
* Please note that this is not oldest tree but famous in terms of its area covered.
* There are 10 other oldest trees in Karnataka ranging from 130 years to 883 years.
* Listed below some great 10 trees of Karnataka.
Nearby places : Naga Temple and Krishna temple, Savanadurga hills,Manchanabele reservoir.
We also visited the machanabele dam. Entry is restricted so we just could see the scenic reservoir from far. It is about
8 KM from Banyan tree. It is surrounded by beautiful hills. Some youngsters come there cycling all the way from bangalore!Met a couple of them on my way too.
Caution :
No proper restaurants in that area. So better take lunch in good dhabas just 5 KM from the tree in industrial area.
Monkeys all over. Children will enjoy. Do not carry food items in hand.
Historical attachments :
Being about 400 years old we can only imagine historically what all the silent tree would have seen over the years?
Since it is very difficult to summarize the long history of 400 years which this tree has witnessed,
I still will give it a try to summarize all possible brevity as per my understanding of history.
Bangalore was already founded in 1530s by Kempegowda who was a chieftain of Yalahanka kingdom before this tree was planted.
Contemporary India :
Maratha Empire was almost in full bloom in india.
Sikhs ( Ranjit Singh\Sikh confederation)in Kashmir, Laddakh,  Siachin,  curent Aksai chin area, Pakistan and Afgainstan,
Durrani Empire in Andhra region ( They were actually from Afganistan).Earlier they had ruled Kashmir and Sikhs won Kashmir from them.
Succession war of Shah Jehan sons ( Aurangzeb, Dara etc).Red fort and Agra construction started and finished in mid 17th century.
Expansion of East India Company :
In 1617 the British East India Company was given permission by Mughal Emperor Jahangir.
Battle of Plassey in 1757. This lead to political foundtation of British in India.
Contemporary Karnataka:
All glorious kingdoms which flourished In India declined and vanished by start of century when this tree was in offing..
The Nayakas of Keladi (1500AD – 1763AD) were ruling the coastal regions,Shimoga,Hassan.Repelled the Portuguese and Bijapur sultans,
They carried forward the principles and traditions of Hindu religion after the demise of Vijayanagar empire.
The most famous among them was "Shivappa Nayaka" He was famous for military skills,taxation,agriculture system.
Rani Channama (Queen of Kittur) fought with the Mughals to rescue Shivaji's son Rajarama. She is symbolizes the begining of agitation for independence movement in India. Died in 1829
1831AD – CE.1947 AD British took over
Tipu of Srirangapatana who 1761AD – 1799AD) who fought Britishers in Parts of Karnataka, Andhra
Mysore was given back to the Wodeyars under Jayachamaraja Wodeyar
Modern India Independence
When youve decided to pay a visit to this grand old member of the city we all love so much.It would also be great to know a little about the city as well.
Bangalore City History :
Kingdom of Yelhanka prevailed in current region in early 16th century.The then chieften Kempegowda saw a rabbit chasing a dog. Seeing this as a sign of fortune he built a fort and laid foundation of Bangalore.
A chieften of Vijay Nagar Achutaraya ( have been lucky to see one his one temples in Hampi) pleased by this initiative of Kempegowda gave him land and money around his fort where he built guarding towers and his emblems in all the four directions of the city at places like
Hebbala, Lalbag,Ulsoor and Kempambudi lake. Even today they can be seen and it remains as his memories. These towers are used as emblems of Bangalore city corporation.
Where are the oldest trees in Karnataka and are under state consideration for state heritage :
A 400 years old banyan tree at Jade village in Soraba taluk of Shimoga district covers almost two acres.
A tamarind tree at Devarahipparagi village in Sindagi taluk of Bijapur district is almost 883 years old,and it is 39.39 metres in height. Bijapur taluk has two baobab trees ( Adansonia digitata) aged 359 years and 600 years.
The four-century-old ' dodda alada mara' ( Ficus bengalensis) at Kettohalli in Bangalore
The youngest among these trees is a 130-year-old ' kempu booraga mara' near
Palace Gate in Mysore.
Other trees recommended for heritage status are: a 200-year-old neem tree at
Venkatapura village in Shidlagatta taluk of Chikballapur district; a 260-year-old Ficus bengalensis tree at Chikkahalli in Mysore district; a 160-year-old 'peepal' tree at Manasagangotri (Mysore University campus); and a 140-year-old 'Araucaria cookii' plant at Lalbagh in Bangalore.
Hits: 257